How to Use Siri to Control Spotify
You can now use Siri to control Spotify on your iPhone, iPad, Apple TV or HomePod. You can even control Spotify with Siri in the car using CarPlay voice commands.
There is a one-step setup process to set allow Siri to play music on Spotify, and then you will need to specifically tell Siri to play in Spotify, or the assistant will default to Apple Music.
With the new Spotify Siri integration, you can play an album, play a song, play an artist or you can play a Spotify playlist. This guide will show you how to use this new feature.
Currently, you cannot use Spotify and Siri on the Mac, but that may change with macOS Catalina, which arrives this month.
The first thing you need to do is update the Siri app and install iOS 13 or higher. You need both of these installed to use this service. If you are on an older version of iOS or on watchOS 5, you cannot use this. The Spotify update rolled out on October 7th.
Once your phone and app are up to date, activate Siri and say, "Play artist name on Spotify." This will open a prompt to allow Siri to access your Spotify data. You need to allow this access in order for Siri Spotify controls to work.
Once you tap on Yes, Spotify will start playing the artist you asked for and you can start using Siri to control Spotify just like you would with Apple Music. The only difference is that you need to make sure you tell Siri to use Spotify. This can sound like "Play Spotify playlist", "Play name or song on Spotify", "Play song using Spotify" or a similar version. Here are the Spotify commands you can use in Siri;
Play song name in Spotify
Play Album name in Spotify
Play the latest song by artist name.
Play artist name using Spotify.
Play playlist name in Spotify.
Play Daily Mix 1 in Spotify.
You can play pre-made playlists, like Your Daily Drive, This is [Artist name] and many others. We could not get Spotify to play podcasts using Siri, which isn't a huge deal for us since we listen to podcasts in a dedicated app.
At this point, I cannot use my Apple Watch with Siri, but that may be coming in future updates. You may need iOS 13.2 to use Siri and Spotify on your HomePod. You can use your AirPods and Hey Siri, which is a handy way to change the music on the go.
19 Cool Things AirPods 2 Can Do
Take a Call Automatically When You Put Them In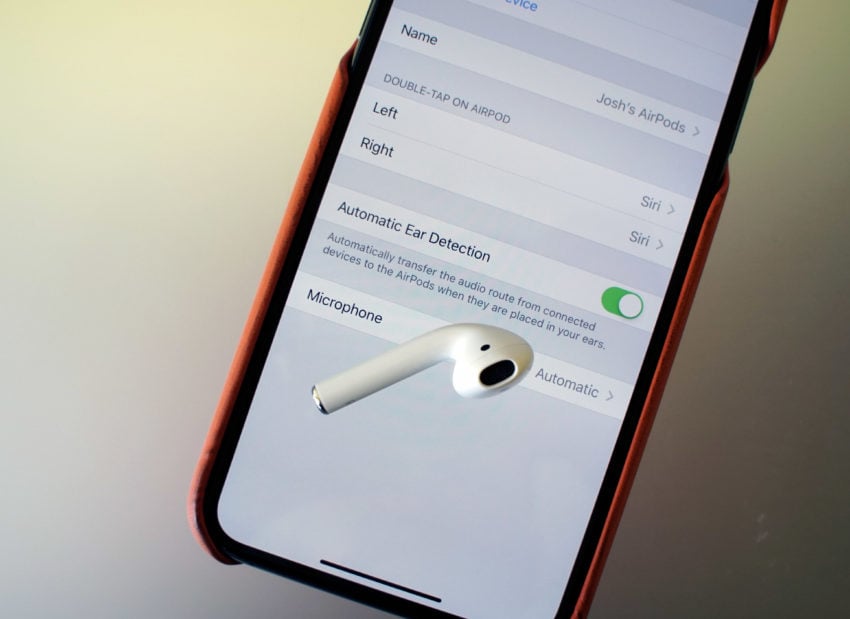 When you put an AirPod in your ear it will automatically switch a call from your phone to the AirPod as long as you have "Automatic Ear Detection" set to On.
This is on by default for most users, but you can check this by putting your AirPods in your ears, connecting to your iPhone and going to Settings. Tap on Bluetooth and then on the i to the right of AirPods. Make sure Automatic Ear Detection is set to On.
Now anytime you put an AirPod in while you are on a call, the call will automatically transfer as soon as the AirPod connects. This works with both the original and AirPods 2, but the newer model connects faster.
I love using AirPods to take calls so that my hands are free to work on something or simply take care of our dogs. This is also super handy for FaceTime calls so that you can talk without everyone around you hearing what the other person is saying.

As an Amazon Associate I earn from qualifying purchases.