iOS 9 Review: Should You Upgrade?
Small, Smart iOS 9 Changes
Apple also includes a number of additional small, useful changes in the iOS 9 update. While these may not make the top ten list, they certainly improve using iOS 9.
There is finally an iCloud Drive app that users can install to the home screen. With this installed it is finally possible to browse your iCloud Drive storage outside of a specific app, and then choose the app you want to open that file with.
Inside the Messages app you will now see contact photos, which makes finding a conversation slightly easier. This was available on the iPhone 6 Plus on iOS 8, but now it is also on the iPhone 6.
Apple switches to a new font for iOS 9 which makes better use of the screen space and is easier to read. While this seems like a small change, it is an important one.
The iOS 9 keyboard now shows letters in caps when shift or caps lock is on and there is better support for shortcuts on the iPad with the on-screen keyboard and with a Bluetooth keyboard attached. On the iPad you can place two-fingers on-screen at the same time to use the keyboard similar to a mouse for better text selection.
iOS 9 Security
Apple delivers several smart security upgrades in iOS 9. The most obvious is a new six digit passcode option. After using iOS 9 for a few days the iPhone informed me that I needed to change my passcode to a new six digit version that makes it harder for someone to guess your passcode. It's not clear if everyone will need to upgrade, as Apple still includes an option to use a four digit passcode in settings.
There is also better support for two-factor authentication that will help keep your iPhone, iPad and Mac on OS X El Capitan more secure.
iOS 9 Performance
Overall the iOS 9 performance is good, but there are some stutters using the iOS 9 GM, which should match the final build that Apple delivers on September 16th.
The iOS 9 iPhone 6 performance is where we see the most stutters. Some of this may be due to apps not updated to support iOS 9 yet. When there is a small lag on iOS 9 it usually disappears fast enough that it isn't a major deal, but it is still worth mentioning. We have yet to test iOS 9 on the iPhone 5s, iPhone 5 or older devices.
We'll update this performance section in the next week as we use iOS 9 on more devices and offer device specific iOS 9 performance reviews.
Should You Install iOS 9
The biggest question after reading about all the new iOS 9 features is, "Should I install iOS 9?" Like many updates this depends on the device you own and how you use it.
For users with a newer device like the iPhone 6, iPhone 6 Plus, iPad Air 2 and iPad mini 3 or iPad mini 4 installing iOS 9 is almost a no brainer. While there are some small hiccups in performance the overall experience is solid and the new iOS 9 features outweigh any issues I've observed.
If you own an older device, like the iPad 2, iPhone 4s or iPhone 5 — you should exercise more caution. With iOS 8.4.1 on these devices the overall experience is the best we've seen since the iOS 8 release last fall, and on older devices there is more of a chance that performance will suffer or problems will appear. We suggest waiting a few days or a week after the iOS 9 release date to see specifically how iOS 9 performs on these devices before you upgrade.
iOS 9 vs iOS 8: What's New in iOS 9
iOS 9 vs iOS 8 Walkthrough - Home Screen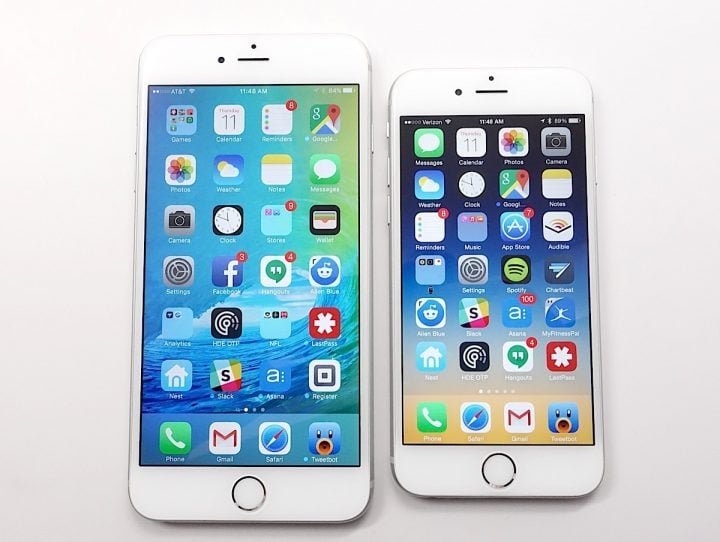 The image above shows that the iOS 9 home screen looks very much like the one on iOS 8. This is not surprising, but you will notice one major change to this screen.
The new iOS 9 font on the home page carries over through settings and apps. It's surprising how much the look of the system can change with a small tweak to a new font.
From the home screen you can now swipe left to a new search screen, and you can still swipe down to Spotlight from any of the home screen pages.
When you upgrade you will also see options to add iCloud Drive to your home screen.
Apple adds two new default iOS 9 apps that you cannot delete. Find iPhone and Find Friends apps now come with the iPhone by default. You can hide them in a folder, but you cannot delete the apps. The Find My iPhone app is a very good addition, while Find My Friends is still not as widely used.

As an Amazon Associate I earn from qualifying purchases.