Which iPhone 8 Storage Size Should You Buy: 64GB or 256GB?
Choosing the right iPhone 8 storage size for you and your needs can be tricky so we're here to help you decide between the 64GB model and the larger, more expensive 256GB iPhone 8.
The easiest thing to do is to just buy as much storage as your bank account allows, but many of you don't need 256GB of internal storage on your phone.
There are several important factors to consider before you settle on one storage size or the other and we're going to break all of those down for you in this guide.
iPhone 8 Storage Options
The iPhone 8 and iPhone 8 Plus come in three colors, but there are only two storage options to choose from. The previous model, the iPhone 7, came in three storage sizes (32GB, 128GB, 256GB).
The decision to eliminate the 32GB model was a good choice (32GB simply isn't enough space for most people), but the lack of a third option actually makes the decision a little bit tougher because there is such a wide gap between 64GB and 256GB of internal storage space.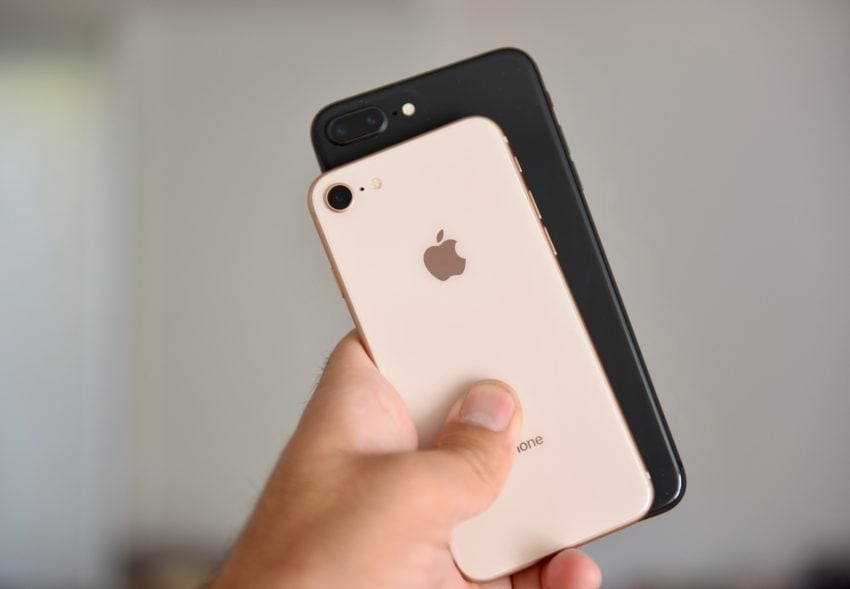 Apple's 64GB iPhone 8 is $599 or $24.99 per month through a payment plan via Apple without a deal or trade-in. The 256GB model is $749 or $31.99 per month via a payment plan at Apple.
The 64GB iPhone 8 Plus is $699 or $29.99 with a payment plan at Apple without a trade-in or deal. The larger 256GB iPhone 8 Plus model is $849 or $35.99 via a payment plan at Apple.
Unlike Android phones, you can't add storage with a microSD card. Apple's iPhones don't come with expandable storage. If you want to add storage you need to add it via the company's iCloud service or with a Lightning drive.
We don't expect Apple to add any additional storage options in 2019 so you're stuck with 64GB or 256GB for now.
Pay for Storage Now or Pay Later
In our iPhone 8 review we determined 64GB isn't enough for a lot of people. If you plan to shoot 4K video, download a bunch of movies for travel, or play games, you'll need more space.
In the months since the phone's launch we've managed to fill up 100GB of space on a 256GB iPhone 8. We aren't storing any huge movie files or 4K videos on the phone, rather, we've filled it up with important apps, 1080p videos, photos, and to a lesser extent, messages and music.
Some of you might be able to survive on very low amounts of storage, but many others will likely wind up having to pay for additional storage.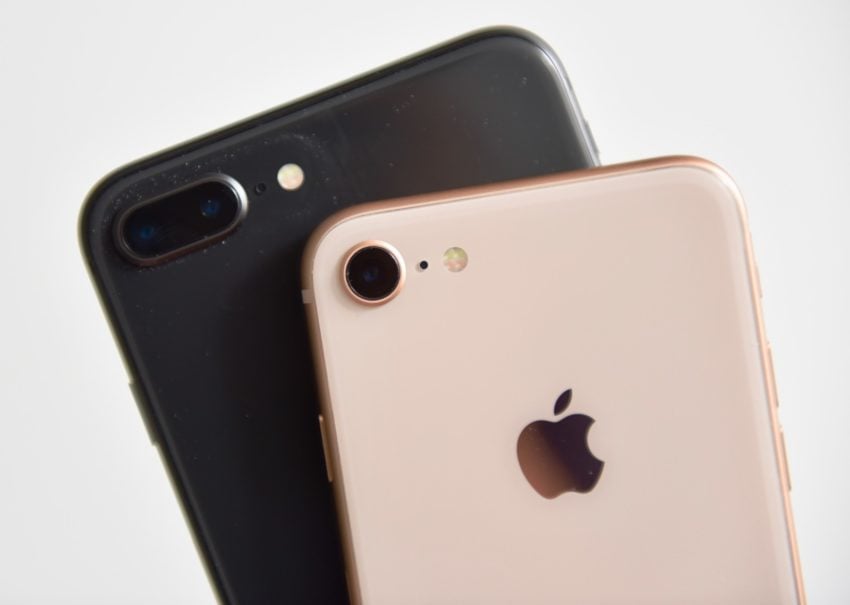 Typically when we're helping people solve issues with their iPhone it revolves around storage and the amount of space photos, videos, and apps are taking up on the device's internal storage. A lot of times, they simply don't have enough storage on their computer to properly store their files.
You can survive on 64GB of space, but you'll have to pay close attention to your storage space and app usage and you'll most likely have to buy into an iCloud Storage Plans. Remember, you can share iCloud storage with your family members.
You also might have to rely on streaming movies and other content should you run out of space. This in turn could lead to overage charges or picking a bigger data plan to better handle your needs. This costs money.
So you have a choice: Pay for the extra storage now or wind up paying for it later on down the road.
Who Should Buy the 64GB iPhone 8
So who should buy the cheaper 64GB iPhone 8 or iPhone 8 Plus? You'll save money on the upfront cost of the phone and that makes it tempting to those looking to get into Apple's ecosystem on a budget.
You stream most of your movies and music.
You don't plan to record a lot of 4K videos.
You plan to store your photos in iCloud Photo Library or on a computer.
You have plenty of room on your current iPhone.
Who Should Buy the 256GB iPhone 8
The 64GB will be the perfect size for some people, but others might want to the peace of mind that comes with the 256GB iPhone 8 or iPhone 8 Plus. Here's who should think about buying the larger model:
You store a lot of your Movies and Music locally.
You need or prefer to keep photos stored locally.
You plan to shoot tons of 4K video.
You are close to using up all of your current iPhone storage.
We should also add if you hate managing the storage on your device, the 256GB is the way to go. If you get the smaller model and you start nearing the threshold, you'll need to spend time combing through your files figuring out what you need to delete or move off the device.
How to Check Your Current Storage
If you're currently using an iPhone, you should check your current storage before you decide on 64GB or 256GB. A quick check will provide great insight into your habits. Here's how to do this:
Tap on your Settings app.
Tap on General.
Tap on iPhone Storage.
This will show you how much free storage you currently have and how much you are using. It'll also tell you exactly what's taking up the most storage. For many of you, it'll be your photos and videos, apps, and messages.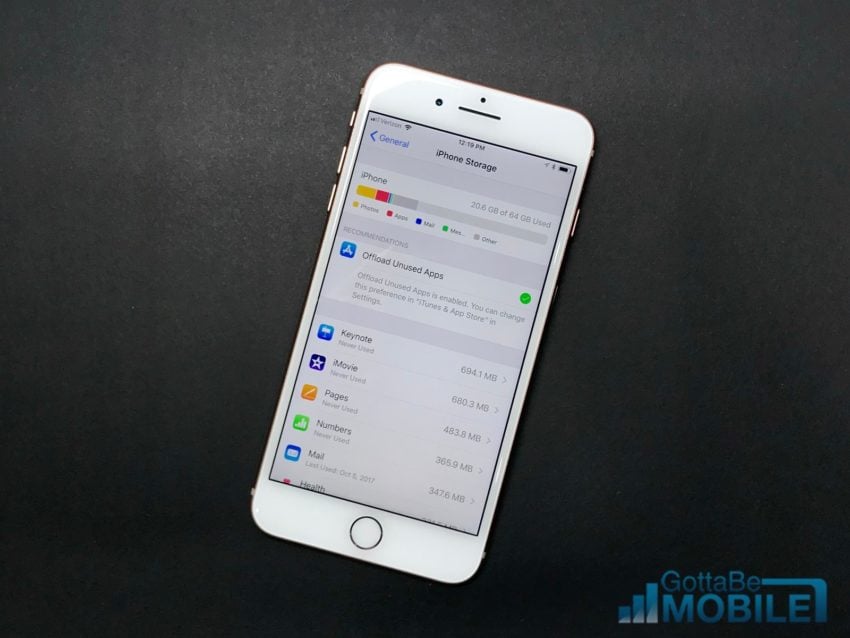 If you're using Apple's iCloud service, you should check on your iCloud storage usage:
Open Settings.
Tap on your Name at the top of the screen.
Tap on iCloud.
This screen shows your iCloud storage use and your current plan. If you tap on manage plan you'll get a better breakdown of how you use cloud storage.
Which iPhone 8 Storage Size Should You Buy?
We've found both the 64GB and 256GB iPhone 8 models to be manageable though it depends on how you use your current device and how you want to use your next iPhone.
If you aren't using up all of the space on your current device, you might opt for the 64GB iPhone 8 or iPhone 8 Plus.
If you only plan to use the iPhone 8 for a year before upgrading, there's less pressure to go with the big storage size. You can simply make do and upgrade to a larger model when the time comes.
If you don't plan to upgrade for awhile and plan on shooting lots of photos and videos and downloading lots of content (apps, movies, music) the 256GB model is a safer bet.
You should be able to avoid iCloud and spending additional money this way.
4 Reasons Not to Install iOS 13.7 & 11 Reasons You Should
Install iOS 13.7 for Better Security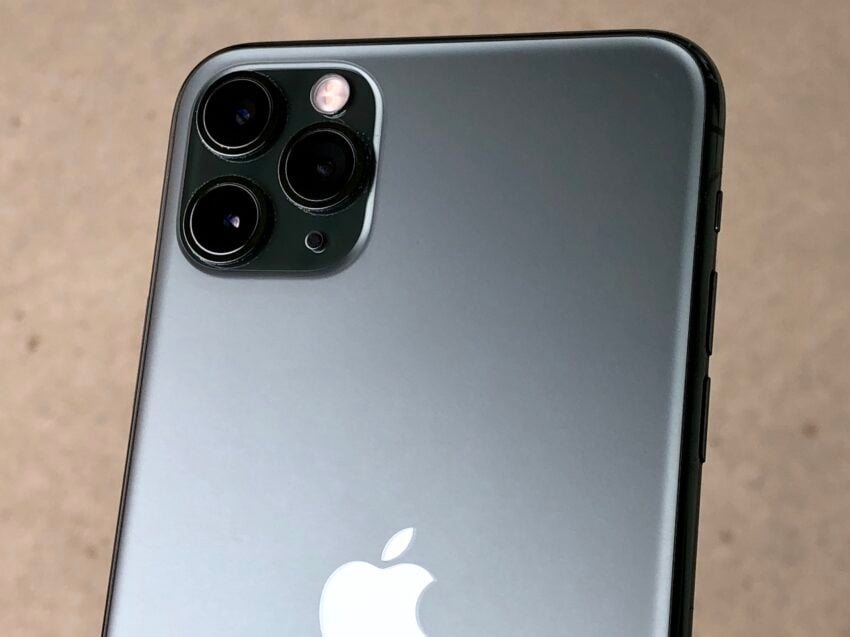 If security is important to you, think about installing the iOS 13.7 update.
iOS 13.7 doesn't have any known security patches on board. That said, if you skipped iOS 13.6 or an older version of iOS, you'll get security patches with your upgrade.
iOS 13.6 had more than 20 patches for security issues on board which made it an extremely important update. If you skipped iOS 13.6, you get the patches with iOS 13.7.
If you want to learn more about iOS 13.6's security patches, head on over to Apple's security site for more information.
If you skipped iOS 13.5.1, you get its security patch with your upgrade to iOS 13.7. You can read more about it on Apple's website. The patch is for an exploit used by jailbreak developers.
If you skipped iOS 13.5, iOS 13.7 brings iOS 13.5's 41 new security patches with it. Apple's posted the details on its website and you can dig into the particulars if you're interested.
Among them, patches for the company's Mail app, Wi-Fi, AirDrop, Bluetooth, FaceTime, Messages, and Notifications.
If you skipped the iOS 13.4 update, you'll get iOS 13.4's 28 security patches with your upgrade. You can read about all of them on Apple's website right here.
iOS 13.4 also brought several improvements to Apple's Intelligent Tracking Prevention. Apple's John Wilander outlined them in a blog post and it's worth checking out.
Reports have outlined a vulnerability in Wi-Fi chips made by Broadcom and Cypress Semiconductor that left billions of devices susceptible to attack.
Dubbed Kr00k, the vulnerability allows nearby attackers to decrypt sensitive information that's relayed over-the-air.
Fortunately, it looks like the issue was patched up with the release of iOS 13.2, an update that arrived all the way back in October.
So if you're running a really old version of iOS 13, you'll really want to move your device up to the newest version of iOS 13.
If you skipped iOS 13.3.1, you get its patches with iOS 13.7.
The iOS 13.3.1 update included 21 new security patches that will help protect your device from harm. The company's outlined those patches in detail if you want to dig in.
If you skipped iOS 13.3, you get its patches with iOS 13.7. iOS 13.3 brought 12 new security patches to the iPhone and you can read about each one over on Apple's security page.
The iOS 13.3 update also added support for NFC, USB, and Lightning FIDO2-compliant security keys in the Safari browser.
If you missed iOS 13.2, it had 16 new security patches on board. You can read about all of them on Apple's website right here.
iOS 13.1.1 brought a security patch for a third-party keyboard issue to your iPhone. If you're interested in the particulars, you can read about them over on Apple's website.
If you passed on installing iOS 13.1, you get an additional patch with your iOS 13.7 update. You can learn more right here.
If you're moving up from iOS 12, you'll get iOS 13.0's nine security patches with your upgrade to iOS 13.7. Read about those here.
If you skipped iOS 12.4.1 or any older versions of iOS 12, you'll get their security patches with your iOS 13.7 update.
iOS 12.4.1 only had one patch on board, but Apple's iOS 12.4 update brought 19 security patches to the iPhone. If you're interested in the specifics, you can read about them on right here.
In addition to those patches, iOS 13 itself comes with some security and privacy upgrades including improved anti-tracking features in Safari and the ability to get rid of location metadata in your photos.
You also now have the ability to block apps from using Bluetooth and the ability to allow apps to access your location just once.
iOS 13 will also send you reminders about applications that track your data.