Creative Sound BlasterX G6 Review: Upgrade Your Game Audio
Are you looking to upgrade your console gaming sound with more than headphones? The Creative Sound BlasterX G6 is an external sound card for your Xbox One, PS4, Nintendo Switch, and PC.
I tested the Creative Sound BlasterX G6 with Sound Blaster headphones and the Xbox One. While this is an all-around upgrade to sound, I found it particularly helpful in PUBG, with one catch.
[letsreview]
The Creative Sound BlasterX G6 is a 7.1 channel External USB Sound Card that allows you to toggle on additional sound modes that can give you an edge in many shooters. Scout mode amplifies footsteps, weapon switching sounds, and healing cues. The Sound BlasterX G6 is available at Amazon for $145.15.
In a semi-stealthy game like PUBG, it allows me to hear enemy footsteps with more detail and from a farther distance. In practice, this means hearing an enemy walking in a building from 50% farther away.
This alone isn't enough to get you a win, but it is easier to know when someone is near and then to place their position once you adjust to the new sound profile. In PUBG on Xbox One, this helped me last longer in matches and get more kills.
This sound profile also amplifies your own footsteps, which means when you are running it is difficult to hear the enemy. This is the same as when you're on the move with normal headphones, but with everything louder, it's a challenge you still need to deal with.
This is a huge edge in one on one combat. It also amplifies gunshots, making it easier to know where fights are taking place, so you can prepare for threats.
The biggest catch to using the Creative Sound BlasterX G6 on Xbox One is that you cannot use a microphone with this setup. That means it's not an option for playing duos or squads. This wasn't a deal-breaker for me, as I normally play solo, but it will be for some gamers. This is due to how Microsoft handles audio, so you do get full chat support on other systems.
When I switch to a game like Madden 20, I turn off the amplification and enjoy great true-to the game sound. This also sounds great in sports games and in games like Forza Horizon.
Normally I wrap up a late-night gaming session with part of a movie or show on Netflix or HBO and the external sound card handles this nicely as well. It's a great all-around solution to give your Xbox One sound a boost to headphones.
This is a wired headphone setup, so you may need to invest in a 3.5mm extension cable if you game on a TV and sit farther back than a traditional desk setup. I typically game on a SecretLab Titan, but I still like the extra length that I get with an extension cable. You can get one pretty cheap on Amazon. You can connect any headphones to this setup, which is part of the magic. For this test, I used the Sound BlasterX H6 with 7.1 surround sound.
No products found.
11 Reasons to Buy the Xbox One in 2020 & 3 Reasons To Skip It
Xbox One S and Xbox One X Offer Tons of Value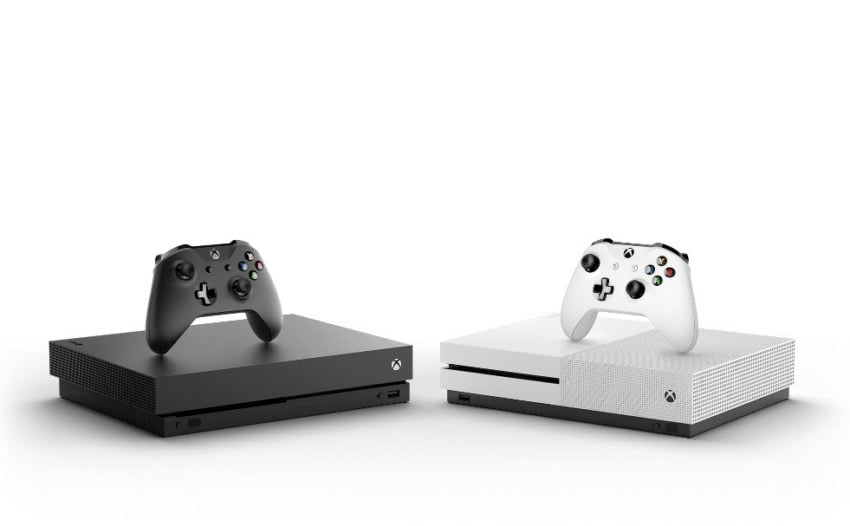 The Xbox One S and Xbox One X are very different from the original Xbox that launched back in 2013. There are new features and when it comes to gaming and entertainment it's hard to beat the value that you get from an Xbox One S.
You can even find Xbox One S deals that cut the price down to $199. We've seen Xbox One X deals cut $100 off the price of the more powerful model as well. You can also buy a bunch of different Xbox One S bundles that include at least one game starting at $249.
Keep in mind that the Xbox Series S starts at $299, so if you can't find a deal on the One S, you should look for the Xbox Series S in stock since it does offer more value at full retail.
Both the Xbox One S and Xbox One X support HDR gaming and play all the Xbox One games. You also get access to tons of Xbox 360 and even some older Xbox games thanks to backward compatibility.
In addition to gaming, you can use the Xbox One to watch Netflix, Hulu, Fox Sports Go, HBO, Showtime, and tons of other entertainment apps that let you upgrade your entertainment hub as well as meet your gaming needs.
Last update on 2023-12-01. This post may contain affiliate links. Click here to read our disclosure policy for more details. Images via Amazon API

As an Amazon Associate I earn from qualifying purchases.