Will the iPhone X Fit in My Pocket?
Apple is ready to announce the iPhone X this week and with a huge 5.8-inch screen many buyers are wondering if the iPhone X will fit in a pocket easily. We have an iPhone X dummy unit that allows us to test how the iPhone X will fit in your pocket.
It's not too long ago that the a 5.8-inch screen belonged on a Phablet like the Galaxy Note, but major design changes mean the iPhone X will be smaller than the iPhone 7 Plus, even though it has a bigger screen.
This iPhone X dummy unit fits in a plethora of iPhone X cases we have on hand for testing and we expect that it will be nearly the same size as the new iPhone Apple unveils on stage.
Here's a look at how the iPhone X fits in a variety of pockets on mens and women's clothing so you can get an idea of how well it will fit into your pockets and into your life. We'll also share how you can test to see if the iPhone X will fit in your pockets.
iPhone X Pocket Test Video
In the video below you can see how well the iPhone X fits in pockets. This is without a case on, but most cases will only make the phone slightly thicker. We didn't have any trouble putting the iPhone X in men's jean pockets or in a suit jacket pocket. The iPhone X fits in the pocket of women's jeans much better than the iPhone 7 Plus and iPhone 6 Plus do.
Apple gets rid of most of the iPhone bezels on the iPhone 8. That means the home button is gone and so is much of the empty space at the top and bottom of the iPhone. Instead of being tall and wide like the iPhone 7 Plus, the iPhone X is pretty small. We're impressed with how small Apple was able to make the phone with such a big screen on it. The iPhone X is slightly shorter than the LG G6 and the Samsung Galaxy S8. It's just a little taller and wider than the iPhone 7, and much smaller than the iPhone 7 Plus.
If you wear jeans with shallow pockets, the iPhone X will fit OK in many instances, but it may still stick out some. This will be an adjustment for users who currently use an iPhone 5s or iPhone SE. Here is the iPhone 8, iPhone 7 and iPhone 7 Plus in jeans.
iPhone 7 in pocket
iPhone 7 & iPhone X in pocket
iPhone X in pocket
iPhone 7 in pocket
iPhone X in pocket
iPhone 7 Plus in pocket
iPhone 7 in pocket
iPhone X in pocket
iPhone 7 Plus in Pocket
iPhone 7 Plus in pocket
iPhone 7 Plus in pocket
Ladies will face the biggest issues carrying the iPhone X in a pocket due to many clothes featuring very small pockets. This is still much easier to fit into a front pocket than the iPhone 7 Plus is, but it may end up being a back pocket carry for a good deal of users still. Overall the iPhone X is very pocket friendly, but it's not the perfect size for all pants and situations.
You can test this yourself by borrowing an iPhone 7, Galaxy S8 or LG G6 and seeing if it fits into your pockets easily. All of these phones are close enough in size to the iPhone X that you will be able to tell if you can carry the iPhone X in your pockets easily when you upgrade. We tested the iPhone X with cases from several top case companies and didn't have a major change in size that changed how well the iPhone X fits in your pocket.
iPhone 8: 5 Reasons to Wait & 4 Reasons Not To
Wait If You Want the Best iPhone Software Support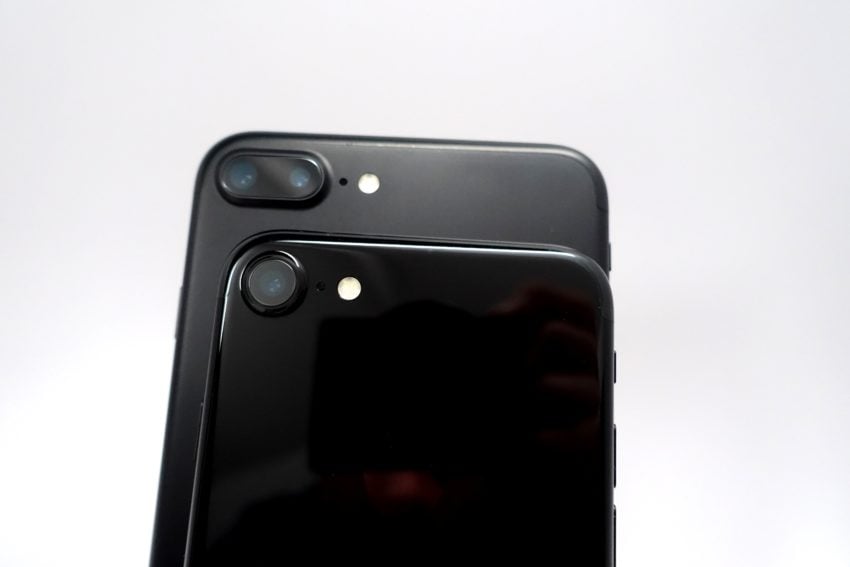 If you want the best iPhone software support money can buy in 2017, you'll want to hold out for the iPhone 8.
If you're the type of person that upgrades your phone once every three years (or so), it makes sense to wait for the iPhone 8.
Apple probably won't confirm this on stage but this year's iPhone model will likely get at least four years of software support. That means four years of bug fix updates, milestone upgrades, new operating systems, and security patches.
While it might be tempting to go with a cheaper option like the iPhone 5 or iPhone 6, their software support will be coming to an end much sooner. The iPhone 5 won't get upgraded to Apple's iOS 11 update this fall and the iPhone 5s will likely lose support next year.
The iPhone 8's hardware will also ensure that the device gets all of the new features coming in the iOS 11 update and beyond.
If you love getting all of the latest features and bug fixes and value your device's security, you probably want to wait for the iPhone 8 release.
It'll feature the most robust version of iOS 11 and it'll be well-protected with security patches and bug fixes for years to come.