Xbox on Windows App: 5 Things to Know
The Xbox on Windows app installed on your Windows 10 PC is a gamer's dream. With it, you can turn your laptop, desktop or tablet into an Xbox One, complete with Xbox games, Achievements, community management and more.
Here's everything you need to know about the Xbox on Windows app to get the most out of it. Use it to play Halo 5 Forge, Halo Wars 2, Quantum Break and manage your console once you've mastered it.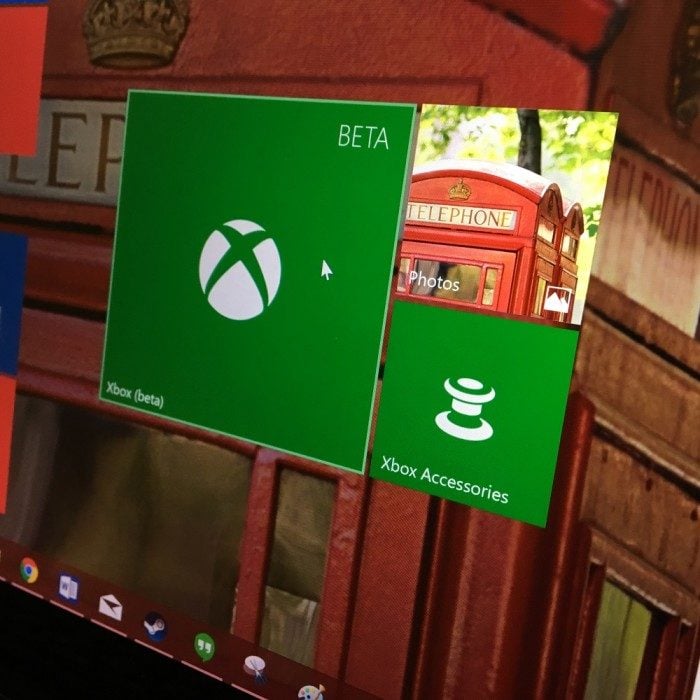 What is the Xbox on Windows App?
The Xbox on Windows app is a single place for you to do all your gaming on Windows 10 PCs. It's called Xbox because – unlike the apps and services it replaced – it uses the same technology that Xbox One consoles use. When you create a party in the Xbox on Windows app, Xbox One owners can join in. The same Xbox Live service that connects gamers on Xbox One connects players through the Xbox on Windows app.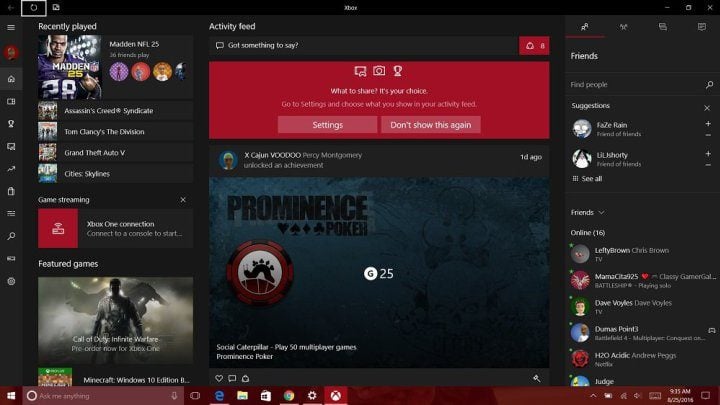 Xbox on Windows also shares the Xbox One's accessories. So, if you have an Xbox Wireless Controller with Bluetooth, you can pair it with your PC and use it to play your favorite games. Some PCs come with enhanced support for Xbox accessories built-in, like the Lenovo IdeaCentre Y710 Cube and Surface Book 2. If you have one of these PCs, you can connect more than one Xbox One Controller and get stereo sound through the controller's headset jack.
The new Xbox Wireless Adapter adds official Xbox wireless support to PCs that don't have the Xbox wireless standard built-in.
Read: Best Xbox One Accessories in 2018
What You Can Do With the Xbox on Windows App
You choose how you want to use the Xbox on Windows app.
If you prefer gaming on your Xbox One instead of a PC, the Xbox on Windows app is very helpful. Use it to join parties when you're not in front of your console or voice chat with friends when someone is already playing on your Xbox. It has access to your messages, profile settings and Xbox Live Gold deals.
The Xbox on Windows app is ready for gaming too. Voice chat, game clip recording, streaming and screenshots work in whatever game you're playing. Just press the Win + G to open the Games Bar. A special game mode built-into Windows 10 prioritizes game performance over background apps and notifications.
You can use a mouse and keyboard or an Xbox One Controller for Xbox on Windows games.
How to Get Games in the Xbox on Windows App
There are three main ways to get Xbox on Windows games for your Windows 10 PC. Some users recommend just buying games from Steam, but there's nothing wrong with mixing titles from different sources to put together a solid library.
Xbox Live Games
Look for Xbox games on the Windows Store for the best experience with the Xbox on Windows app. These titles start at $9.99 and go up to $59.99. Most games only offer online play with other Xbox on Windows users. Gears of War 4, Forza 7, Halo 5: Forge and Halo Wars 2  let you play against Xbox One owners as well.
Steam Games
Keep building your Steam library and use the Xbox app as a launching point for gaming. Open the Xbox on Windows app. Click on the My Games button on the left edge of your screen. Come here to launch your Steam games.
Read: 7 Valve Steam Tips & Tricks for New PC Gamers
Xbox Game Pass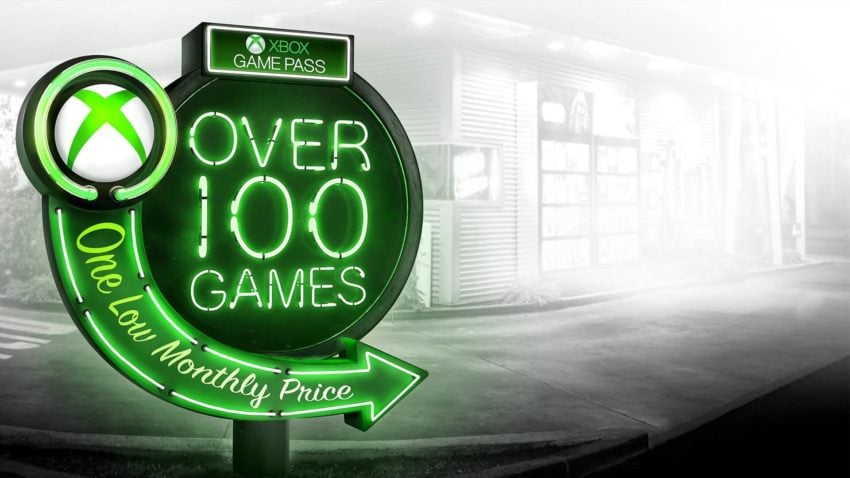 Xbox Game Pass subscribers pay $9.99 a month for access to 100 games from the Xbox One, Xbox 360 and original Xbox. Most of these games don't work with the Xbox on Windows app, but a few – like Halo Wars 2 – do because they are Xbox Play Anywhere games.
Beginning with Sea of Thieves, every new Xbox exclusive game will come to Xbox Game Pass the day that it launches. Every new Xbox exclusive is already an Xbox Play Anywhere game, so that's more titles for you to play using Xbox on Windows.
Xbox Play Anywhere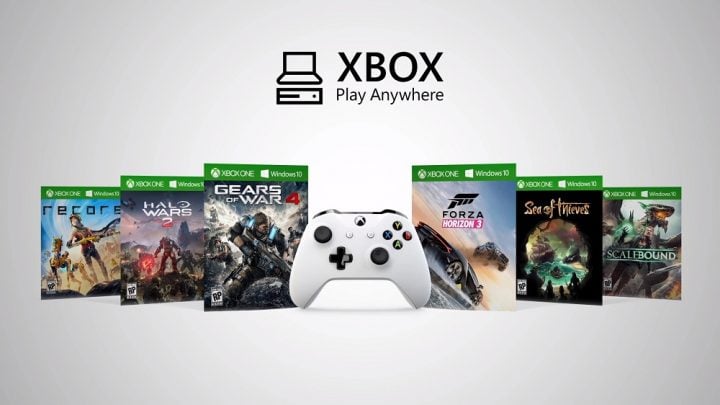 Any Xbox Play Anywhere game that you purchased on your console unlocks a companion version for Windows. You may have a few games that qualify in your library.
You can find these games in the Microsoft Store. Open the Microsoft Store app. Click on the three dots in the top-right corner of your screen. Select My Library from the menu. Now, look through the digital Xbox games you've purchased and see if any of them are also available for PC.
Read: Xbox Play Anywhere: What You Need to Know
Remember, your progress syncs to and from your Xbox One with an Xbox Play Anywhere game. Any DLC you purchased also syncs from console to PC.
How to Use Xbox on Windows 10 as a Remote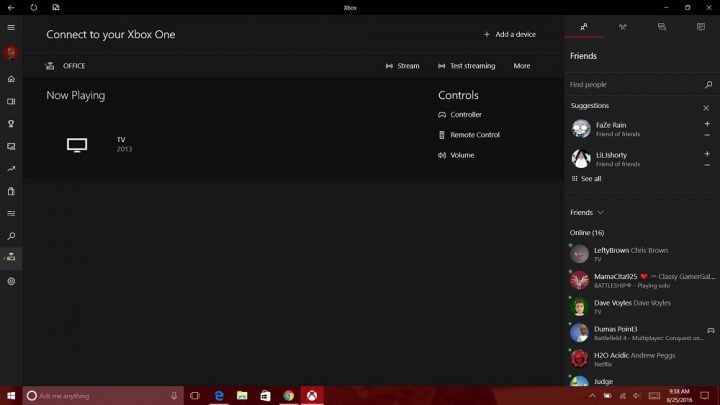 You can also turn the Xbox on Windows app into an easy way to control what's on your console. It's great for quickly moving around the console when your controller is feet away from you. It even acts as an external keyboard for the console.
To do this, tap or click on Connection item in the menu inside the Xbox on Windows app. Wait for the app to finish looking for Xbox One consoles on your network. Add your console if it doesn't automatically see it.
Xbox on Windows Tips
Here are some tips for using the Xbox on Windows app.
When setting up the app, make sure Notifications are on. With them on, you can see party invites, Look for Group posts and messages on your PC.
Unless you tell your PC to, you can't play Xbox games on your device without an internet connection. Use Gotta Be Mobile's How to Play Windows 10 Games Without Internet tutorial to learn how to do this.
Without an adapter, Xbox on Windows will only see Xbox controllers that have Bluetooth. The Xbox Elite Controller and original Xbox One controllers don't have Bluetooth. You need an adapter for them to work.
Read: How to Use the Xbox Elite Controller on PCs
Make sure you have internet access when opening an Xbox on Windows game you recently played on your Xbox One. That way, Xbox Live syncs your save and you don't lose progress.
Click the Collapse button in the top-left corner of the Xbox app to shrink the app's size in multiple monitor setups.
The Filter button at the top of the Activity Feed lets you hide different types of updates. This is very useful for hiding posts from Clubs with a very active membership.
You need the Xbox Accessories app to update and customize your Xbox One Controller. Install it from the Microsoft Store.
8 Best New Xbox One Games Coming in 2018
Sea of Thieves – March 20th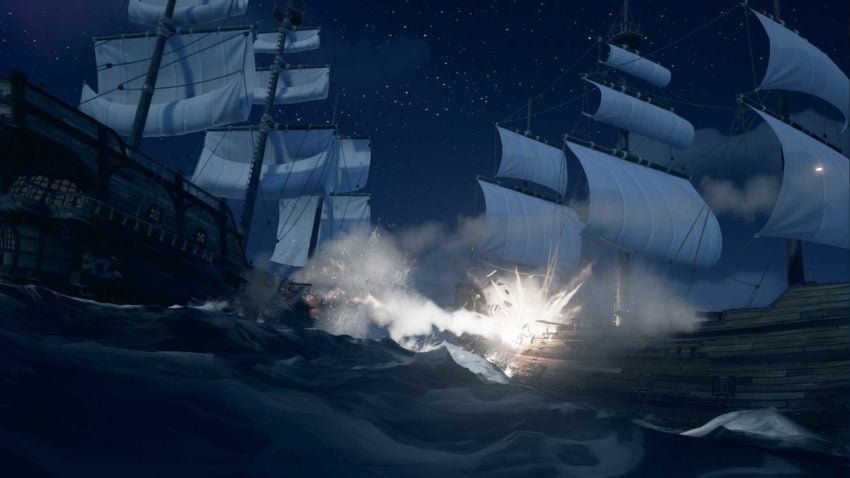 If you've ever thought a pirate's life seemed exciting, Sea of Thieves is a must-buy in 2018.

Developed by Rare, Sea of Thieves is an online role-playing game. You create your own pirate and act as captain or crew of a pirate ship. You're free to explore islands and uncover lost treasures when you aren't firing on or under fire from enemy ships. If you and your crew prefer structure, Sea of Thieves offers that too. Completing quests helps you improve your pirate and ship.


Read: Sea of Thieves Release Date, Details & Features


Sea of Thieves launches on Xbox One on March 20th. Because it's an Xbox Play Anywhere game, buying a digital copy unlocks a copy on Xbox for Windows.


As an Amazon Associate I earn from qualifying purchases.