How to Use Apple News in iOS 10
Here is a guide on how to Use Apple News in iOS 10.
Apple News is a news aggregator app that comes included with iOS (yet can be deleted now in the new version if unused). There are many different uses for those of us that like to have all of our news sources funneled into one convenient place.
The News app may be an app many iPhone users overlook or use little of yet under the hood is a very versatile yet simplistic news reader that may benefit you greatly.
How to Use Apple News in iOS 10
Here are the steps to better utilize Apple News in iOS 10.
Watch the above video for a better understanding of News in iOS.
Setting Up Apple News
At its core, Apple News is a way for you to read all of your important news publications in one convenient and concisely formatted application. Opening News for the first time will prompt you to pick you favorite news sources.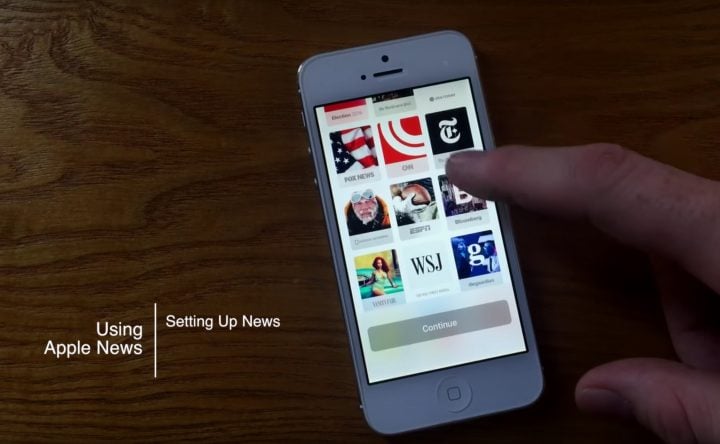 Presented are various news sources including the bigs like The New York Times, USA Today, CNN and more. Scrolling through the list will reveal quite a list of publications including magazines and more niche topics like stock exchange, sports information and even a smithsonian.com source.
Once you have made your selections of publications, you will be prompted to customize Notifications for news but can opt to do it later. Customizing the picks will give you a better handle on how often and from which publications you receive Push Notifications.
You are also offered to get News in your Mail Inbox if you would prefer that method of delivery.
Using Apple News
Once the app opens to its home screen, you will see your Top Stories based on your picks and scrolling through will show Trending Stories, Featured Stories and more recommendations for you based on your picks.
In addition to the default For You tab, there are other tabs at the bottom of the screen: Favorites, Explore, Search, and Saved. These are additional options for further customization and exploration of publications.
Favorites will display your picks from the first screen as well as editor picks and top stories.
Explore lets you search again for additional publications that you may want to add to your daily news sources.
Search give you a simple search bar with trending topics listed below, to better help you find a news source catered to your interests.
Saved is where any articles you have tagged for later reading will appear and is a great place to accumulate news throughout the day that you plan on reading in fuller detail at a later time.
In an age where we are attempting to use less paper, it is wise of news publications to move to a digital format where apps like Apple News are able to aggregate the information in a stylish yet minimalistic format.
Apple News should definitely be explored before being deleted as we often find ourselves jumping from app to app in order to get information and this may be a very viable solution to efficiently view your news.
31 Best iPhone 7 Cases & Covers
Speck Presido iPhone 7 Cases
Speck chose to deliver a new line of iPhone 7 cases that look and feel amazing. The new Presidio iPhone 7 cases use upgraded material to deliver better shock protection while arriving in a thinner design.
The Presidio Grip, Inked and Wallet can protect your iPhone 7 from a 10 foot drop while the Presidio Clear, Clear + Glitter and Clear + Print are tested for an 8 foot drop.
We already have these iPhone 7 cases on our iPhone and love the look and feel that they offer.
$39.95 to $44.95 at Speck