How to Customize Your Widgets in iOS 10
Here is a guide on how to customize your widgets in iOS 10's new Lock Screen. iOS added support for app widgets in the lock screen with iOS 8 and now with 10, they have changed the way we interact with widgets by adding them to the lock screen.
There is also support for many third-party applications that have created widgets for their users and there is also quite a bit of room for customization.
How to Customize Your Widgets in iOS 10
Here are the steps to take in order to further customize your widgets in iOS 10's Lock Screen.
Watch the above video for more information on widgets and how to interact with them in iOS 10.
Access the Widgets
One of the biggest changes to iOS 10 was the removal of the Slide to Unlock feature. Many users are still getting used to changing this behavior yet when we swipe right from our Lock Screen, we are now greeted with the Widgets screen.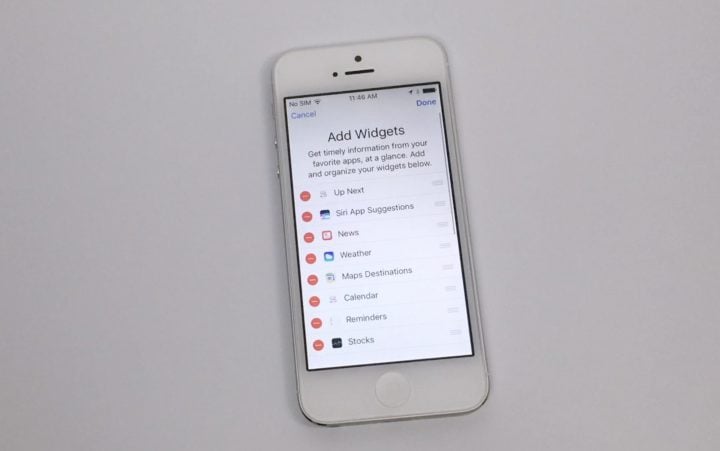 Widgets are small applications that are often running background tasks for us and providing information. Some of the native widgets provided are Up Next (for upcoming calendar appointments), Phone Favorites, Music, Maps and more.
Scrolling through these widgets will provide up to date information from those apps and can be very useful for getting a quick look at your day and appointments you have scheduled. This is also where third-party widgets will appear once they are enabled.
Customizing Your Widgets
In order to customize which widgets you wish to appear on your Lock screen, you must scroll down to the bottom of the window and tap Edit.
This will bring you to the Add Widgets menu and from here you can add, remove or rearrange your Widgets to better cater to your personal needs. Tapping the Minus symbol will confirm you wish to Remove the widget and the three lines icon will allow you to tap and drag the order of them.
At the bottom of this panel is the the More Widgets section and this holds all of the other available and currently unused widgets currently available on your phone. Tapping the Plus icon will allow you to add these to your Lock Screen and give you more information on your app.
I have used quite a few of the new widgets frequently including the Maps Destination as it will look at current traffic and estimate your trip time. I also love the Up Next feature for reminding me of upcoming events even if I didn't set a reminder.
There are plenty of great solutions available to all users with the new Widgets features on the Lock Screen. You are able to fully customize what information you would like to receive and quickly and easily change your settings with a few taps.
31 Best iPhone 7 Cases & Covers
Speck Presido iPhone 7 Cases
Speck chose to deliver a new line of iPhone 7 cases that look and feel amazing. The new Presidio iPhone 7 cases use upgraded material to deliver better shock protection while arriving in a thinner design.
The Presidio Grip, Inked and Wallet can protect your iPhone 7 from a 10 foot drop while the Presidio Clear, Clear + Glitter and Clear + Print are tested for an 8 foot drop.
We already have these iPhone 7 cases on our iPhone and love the look and feel that they offer.
$39.95 to $44.95 at Speck