How to Take and Edit Live Photos on your iPhone
Newer iPhones can shoot Live Photos, a dynamic way to capture people and objects in motion. Live Photos are the most flexible way to shoot iPhone photos and are easy to edit creatively. This Live Photos guide will teach you how to get the most out of your Live Photos and take them from good to great.
While you might be familiar with Live Photos on the iPhone 6s, iPhone SE and iPhone 7, iOS 11 brings a host of new Live Photos features, even if you haven't bought the latest iPhone. The new Live Photos features allow you to change the key photo that shows up in your camera roll for a Live Photo, Trim a Live Photo and add effects to animate or stylize your photo.
Before you get started with our Live Photos guide below, remember that you need to install the free iOS 11 update to use this option. Here's what you need to know to take and edit Live Photos on your iPhone.
How to Take Live Photos
Apple defaults Live Photos to on when you are taking a normal photo. You can even use it with a 2x zoom on the iPhone 7 Plus or iPhone 8 Plus. To make sure you are taking a Live Photo open your camera app and make sure the small sun looking icon in the edge of the screen is yellow. If it is gray, tap on it and it will turn yellow.
When you tap it, you will see LIVE show up in the middle of the picture area. LIVE will also appear on-screen when you are taking a picture. With this option enabled, try taking a few pictures and you will see it show up on the screen. Each tap will record 1.5 seconds of audio and a continuous series of photos.  You can turn the audio off later if you need to.
For best results, be sure to hold your iPhone still while shooting Live Photos and let your subject move within the frame. Watching Live Photos with a lot of camera motion can be nauseating, can cause blurring and limits how you can edit them later.
That's all there is to taking a Live Photo on your iPhone.
How to Edit Live Photos & Add Live Effects
How to Change the Default Live Photo Picture
The Live Photo is actually a collection of photos and video over 1.5 seconds and sometimes the photo that the software selects as the default isn't the best photo. With iOS 11 you can now change the default photo that shows up in your camera roll. It's a great way to get a clear image as the standard photo before you activate the Live portion of the photo.
Go to the Photos App.
Find a Live Photo.
Tap on Edit.
Tap on a different photo in the bottom area.
Tap on Make Key Photo.
Tap on Done.
This will make that new photo the one that appears in your Camera Roll and the one people see when you send them a live Photo.
How to Trim a Live Photo
Sometimes a Live Photo is perfect, except there is too much shake or off subject material at the start or end of the photo. Often this happens when you aren't planning to take a Live Photo and you end up with something cool, that just has you putting the phone away or raising it up. Here's how to trim a Live Photo.
Go to the Photos App.
Find a Live Photo.
Tap on Edit.
Drag the edges of the Photo area to trim from the beginning and end.
Tap Done.
The section of the Live Photo you want to keep will be inside the yellow portion after you drag one of the sliders. Simply adjust them as you want and then tap on Done.
How to Turn Off Sound on a Live Photo
If you love a Live Photo, but you don't like the sound that was recorded you can turn it off easily without any third-party apps.
Go to the Photos App.
Find a Live Photo.
Tap on Edit.
Tap on the Speaker icon.
Tap on Done.
You can always add the sound back later if you decide you want it. You cannot add a new sound clip to it though, so you have to live with the sound or enjoy the silence.
How to Add Live Photo Effects: Bounce, Loop & Long Exposure
With iOS 11 you can now make a Live Photo Loop, Bounce or turn into a Long Exposure. These are cool effects that can make your Live Photos way cooler. You don't add these effects with the Edit button. That would make too much sense. Here's how to add a Live Photo Effect;
Go to the Photos App.
Find a Live Photo.
Swipe up from the bottom of the screen.
Tap on an effect.
Tap Done.
You can only apply one effect per photo and sometimes one of the options will not show up because the effect won't work right on that photo. Most often we don't see an option for Loop.
Here's what each of the Live Photo Effects does;
Loop: Repeats the Live Photo over and over. Sometimes it is a seamless repeat, other times you'll notice it.
Bounce: The Live Photo plays one way, then reverses back for a cool effect.
Long Exposure: Adds blue to water or to lights to create artistic effects.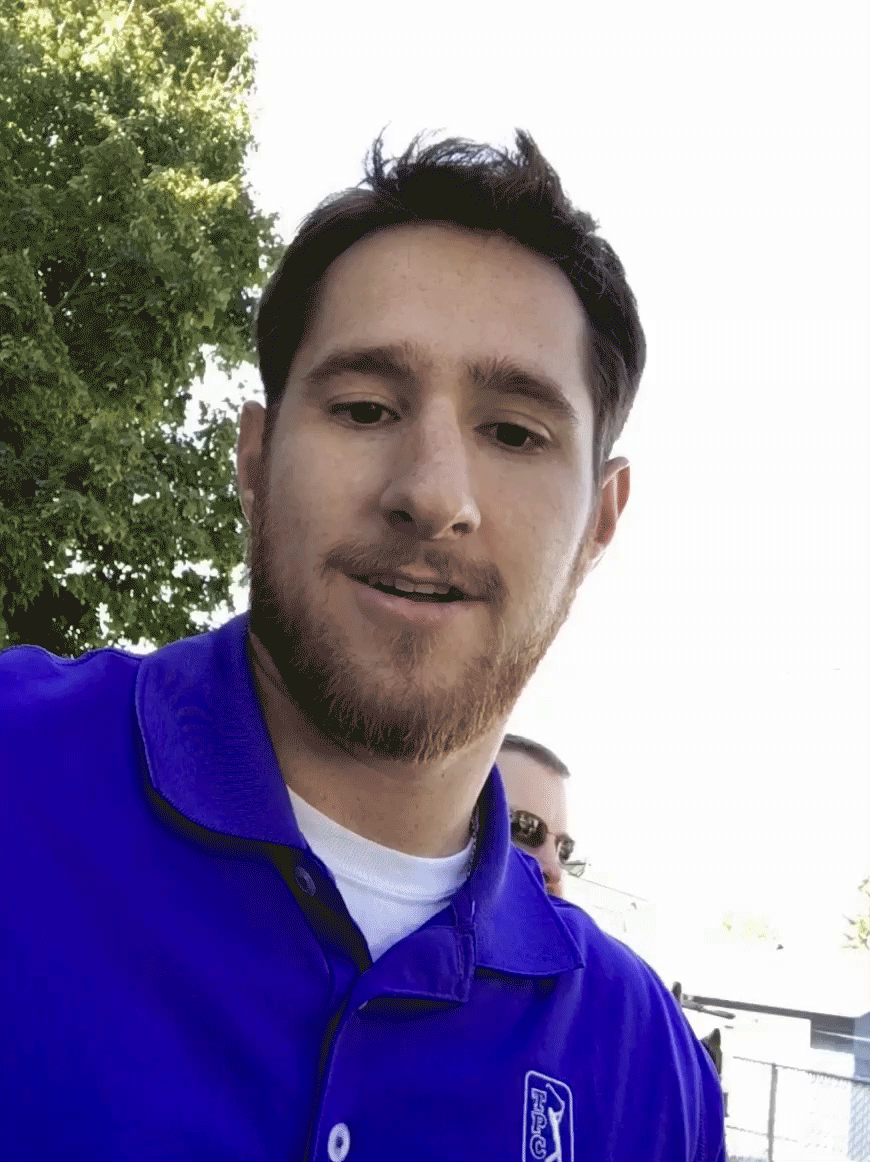 When you use Loop or Bounce you will see a special animated movie version saved in an Animated Album and you can share that movie clip. Above, you can see an example of the Loop effect on a Live Photo. If you trim the photo perfectly, you can get an exact loop, but that takes many tries to get just right.
The photo above is a gif of a Live Photo with the Bounce effect that basically runs the photo then reverses it and repeats over and over.
The long exposure effect is best for waterfalls, but you can also use it with car tail lights. It works best when you have a tripod or if you can brace the iPhone to something to stabilize it.
31 iOS 11 Tips and Tricks You Might Not Know
See Older Messages on the Lock Screen
You can quickly look at your older messages and notifications from the lock screen without unlocking your phone to get to the Notification Center.
When you are on the Lock Screen, simply pull up from the middle of the screen and you will see your Notifications from Earlier today. You can also clear these out from this screen.
If you want to reply to someone or interact with a message just swipe on it, Swipe left to right to open and right to left to choose to view or clear individual notifications.

As an Amazon Associate I earn from qualifying purchases.