iPhone 8 Price Speculation Hits New High
Will Apple massively change how much you pay for the special iPhone 8 this fall? We've previously heard that Apple could charge over $1,000 for the iPhone 8, and now a new report weighs in with the potential for an even higher iPhone 8 price. This comes alongside rumors of a new mirror color option and a report that Apple wants to maintain a boutique image with the special new iPhone coming this fall.
Over the last several years Apple slowly pushed the price of the iPhone higher with new storage options and slightly higher premiums for the Plus models. It makes sense that Apple will charge more for the iPhone 8 that rumors indicate will come alongside the iPhone 7s and iPhone 7s Plus. Rather than lower the price of the "s" models, Apple will offer the iPhone 8 as a premium product and the price will reflect that.
John Gruber shares his thoughts on what Apple could charge for the new iPhone 8, which he calls the iPhone 8 Pro. Gruber is well-connected inside Apple and routinely shares information from inside sources, but this is simply his speculation and hopes for what the new iPhone 8 will cost. In Early July Gruber wrote, "I hope the iPhone Pro starts at $1500 or higher. I'd like to see what Apple can do in a phone with a higher price."
Soon after Gruber shared a deeper look at iPhone 8 price speculation, outlining what he thinks Apple could do with the iPhone 8 price. Gruber writes, "$1,500 as a starting price is probably way too high. But I think $1,200 is quite likely as the starting price, with the high-end model at $1,300 or $1,400." In this article, he outlines the potential iPhone 8 price breakdown and why Apple could charge more.
Even if Apple charges a major premium for the iPhone 8, consumers will not as a whole be paying for the iPhone 8 by putting $1,200 or $1,500 on a credit card and walking out of the store. Apple and carriers transitioned to monthly payments for most smartphones and that's exactly what you will see here.
While the iPhone Upgrade Program is a pain for many users and frankly doesn't work like you expect an Apple product to work, it's a sign of things to come. Instead of paying Apple a one-time payment for the new iPhone, they will pay Apple monthly for the new iPhone. Just like buying a car outright is too expensive for many users, buying the iPhone 7 is as well.
Instead, Apple and major carriers offer monthly payment plans with a variety of monthly payments that vary based on the iPhone you select, how long the payments last and how much you put down on your next iPhone.
[polldaddy poll=9717220]
If Apple charges $1,000 for the iPhone 8 you'd pay $41 to $45 a month, which is about the price of the 256GB iPhone 7 Plus.  At $1,200 for the iPhone 8, you'd be paying $50 for the iPhone 8 every month. It's a jump, but it's not out of this world in terms of monthly payments, and we routinely see deals that cut the monthly price of the iPhone over time.
Best Buy offers up to $200 off the iPhone 7 right now, which takes a monthly payment from $35.42 down to $27.08. In the months after release, when Apple catches up with demand, we could see similar offers.
iPhone 8: 5 Reasons to Wait & 4 Reasons Not To
Wait If You Want the Best iPhone Software Support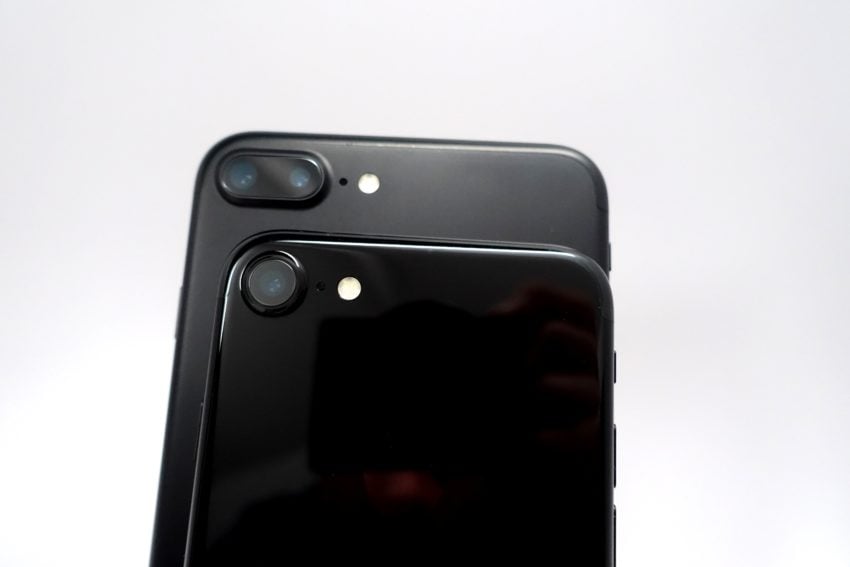 If you want the best iPhone software support money can buy in 2017, you'll want to hold out for the iPhone 8.
If you're the type of person that upgrades your phone once every three years (or so), it makes sense to wait for the iPhone 8.
Apple probably won't confirm this on stage but this year's iPhone model will likely get at least four years of software support. That means four years of bug fix updates, milestone upgrades, new operating systems, and security patches.
While it might be tempting to go with a cheaper option like the iPhone 5 or iPhone 6, their software support will be coming to an end much sooner. The iPhone 5 won't get upgraded to Apple's iOS 11 update this fall and the iPhone 5s will likely lose support next year.
The iPhone 8's hardware will also ensure that the device gets all of the new features coming in the iOS 11 update and beyond.
If you love getting all of the latest features and bug fixes and value your device's security, you probably want to wait for the iPhone 8 release.
It'll feature the most robust version of iOS 11 and it'll be well-protected with security patches and bug fixes for years to come.