Nintendo Switch vs Xbox One S: Which Should You Buy?
While Sony's PS4 continues to dominate sales, new features and new hardware are breathing life into Microsoft and Nintendo's video game consoles. If you find yourself unable to choose between buying a Nintendo Switch and an Xbox One S, use this guide to make the best decision you can.
It's easy to assume that the Nintendo Switch and the Xbox One S aren't rivals. They're two very different consoles with two very different approaches to gaming. The Xbox One S is a white box with a Blu-ray drive that connects to your television. It plays 4K video and can upscale the latest games, like Call of Duty WW2, to fit your 4K television. In short, it's a traditional living room console.
Nintendo Switch uses the company's strength in handhelds to bring something new to console gaming. It doesn't offer best-in-class graphics. But, it does have a built-in display and two removable controllers so that you can game wherever you are. When you arrive home, slot the device into its dock and you can continue playing games like Splatoon 2, Mario Kart 8 Deluxe and Super Mario Odyssey.
Nintendo Switch vs Xbox One S: Features
Think of the Nintendo Switch as the only video game console you will ever need – provided you don't like any high-profile games that recently launched on the Xbox One or PS4.
The Nintendo Switch has a 6.2-inch touch display. You can interact with its menus with your fingers instead of the stylus the Nintendo 3DS requires. Two wireless Joy-Con controllers dock to the left and right edges of the tablet. It lasts for three hours of intense gameplay. Playing less demanding games allows you to push the console's battery well past that.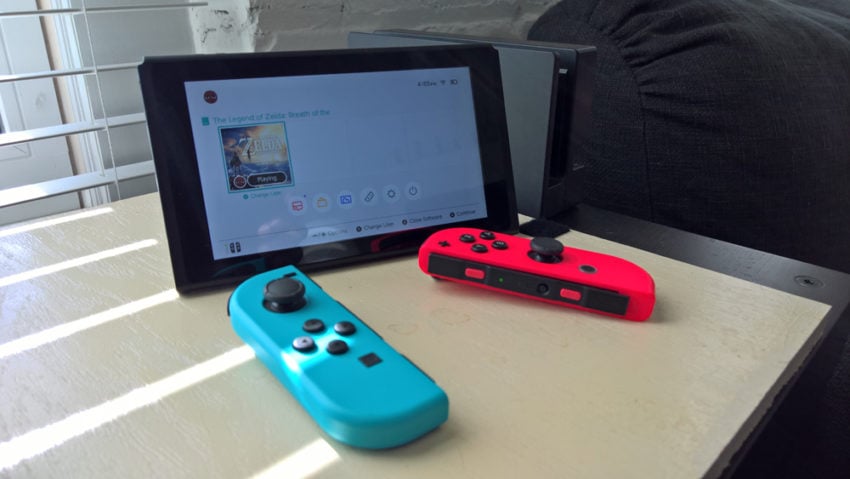 There's a kickstand on the back of the tablet for when you want to game with the Joy-Cons detached. The Joy-Cons can act as one controller or two. That way, you're always ready for local multiplayer. These controllers charge from the Nintendo Switch's battery.
Read: Nintendo Switch Review: Fun & Flawed
When you're at home, you can fold that kickstand away and place the Nintendo Switch in the HDMI dock that it comes with. This dock turns the mobile-centric handheld into a home video game console. It also adds a USB port so that you charge the Nintendo Switch Pro Controller that the company sells separately.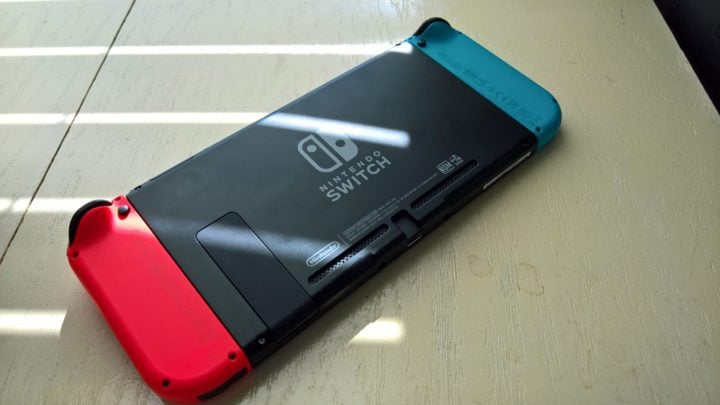 There is no disc drive on the Nintendo Switch. You either buy a game through the Nintendo eShop or on a GameCard. Nintendo coats each GameCard with a bitter-tasting compound to encourage young kids to not put them in their mouths. Expect to purchase an SD Card if you buy more than two or three digital games. The Nintendo Switch only has 32GB of storage.
Xbox One S is just a living room gaming console, albeit a small and unobtrusive one. It has two HDMI ports, three USB ports and a 4K Blu-ray drive for DVDs and CDs. Don't confuse the Xbox One S with the Xbox One X. That console is more expensive and can plays games in full 4K resolution. The Xbox One S isn't as powerful and can only upscale HD games to fit a 4K display. Because of this, games don't look as good as they do on the Xbox One X.
Read: Xbox One S Review: More for Your Money
Because Xbox One S is a typical gaming and entertainment console, you don't get too many accessories with the device. It comes with an HDMI cable, a power cable and one Xbox One Controller. For two people to play, you need to buy another controller. They cost $60 each.
Nintendo Switch vs Xbox One S: Games
So the Xbox One S isn't as different as the Nintendo Switch, but it makes up for that with a solid line-up of video games. Every major video game that isn't an exclusive comes to the Xbox One S. Call of Duty WW2, Assassin's Creed Origins and Destiny 2 are just a few of its recently released games.
The Xbox One S's exclusive game line-up isn't nearly as jam-packed though. Forza 7 was the only high-profile game to launch on the console that you can't buy anywhere else. Crackdown 3 isn't coming until next year. Gears of War 4, Halo 5: Guardians, Sunset Overdrive and Quantum Break provide a nice back catalog of already available exclusive games.
If you own an Xbox 360, the Xbox One Backwards Compatibility program is great. If a game is in the program, you insert your Xbox 360 disc into your new Xbox One S and continue playing where you left off. Microsoft began adding original Xbox games to the program in 2017. The Nintendo Switch doesn't work with Wii or Wii U games. It doesn't have a virtual console experience like those consoles have either.
Read: Xbox One Backwards Compatibility Games & How They Work
Simply because it's the youngest of these two consoles, Nintendo Switch has fewer games. That being said, Nintendo Switch has no shortage of must-play exclusive games. Super Mario Odyssey, Splatoon 2, Legend of Zelda Breath of the Wild and Arms all launched in 2017. Metroid Prime 4 and a new Pokémon game are in development for the console already. Nintendo has also managed to cultivate a decent selection of games made by other companies for the console. There's nothing like Call of Duty: WW2, but NBA 2K18 and FIFA 18 are available today. Rocket League and tons more third-party games are coming in the future.
Microsoft has given up on motion games. If you're looking for those, the Nintendo Switch is your only option. Each of its Joy-Cons detect motion, so two people can play Arms by punching the air at the same time. All Nintendo's exclusive games support motion play, but you can ignore these controls if you want.
Playing games with other people on Xbox Live costs Xbox One S gamers $9.99 a month. You also get access to four games at no additional charge with that subscription. Nintendo Switch Online is free for everyone to use until the service formally launches in February 2018. A month of the service will cost $3.99 and unlock two classic Nintendo games.
Nintendo Switch vs Xbox One S: Price
It's rare that any video game consoles have such a big difference in pricing.
An Xbox One S with 500GB storage costs $249.99. You get one controller with every system. Free games come with the console too, through which you get depends on which bundle you buy. If you have two gamers at home, count on buying a second Xbox One Controller for $59.99. A month of Xbox Live Gold costs another $9.99, though you get a 14-day free trial in the box with your system.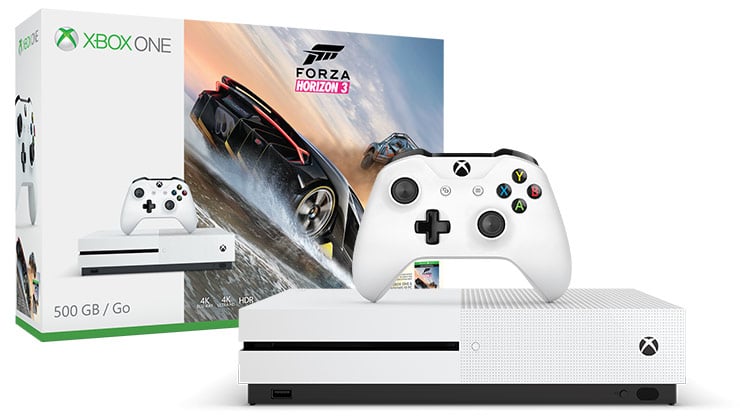 That cost adds up to $259.99 for online multiplayer without you buying a game. Expect to pay $319.97 for two people to enjoy the system because you will need an extra controller.
A Nintendo Switch costs $299.99. That cost doesn't include a free game, so expect to pay $59.99 for Mario Kart 8 or whatever title you want to play on the system. Because the Joy-Cons can act as two controllers, you don't need to buy a second set for two people to play. For now, you don't need to buy an online subscription either. Remember, you get a Nintendo Switch dock with the system too, so that's not an extra purchase you need to plan on.
For one or two people, a Nintendo Switch is a $359.98 investment. That figure includes a game to play.
Nintendo Switch vs Xbox One S: Which Should You Buy?
You should never base a decision to buy anything on one factor alone. That makes choosing between the Xbox One S and the Nintendo Switch harder.
If you tend to play the latest blockbuster games and like to play with people online, buy the Xbox One S. For a person gaming on their own, it costs less. The console gets new titles all the time and you can bring over some of your favorite Xbox 360 games.
That being said, the Xbox One S isn't the logical choice for everyone. If you aren't glued to each year's line-up of must-have action games, the Nintendo Switch is a very good buy. You can enjoy it anywhere you are. No, the graphics aren't amazing and the line-up of third-party titles isn't terrific. However, Nintendo routinely delivers the most impressive exclusives and now they're available on a system that's worth getting excited about.

As an Amazon Associate I earn from qualifying purchases.