Should You Buy the 32GB or 64GB Apple TV 4K?
The Apple TV 4K storage size is the only real choice you have when it comes to buying the new Apple TV device. Apple sells the Apple TV 4K in 32GB and 64GB versions, similar to how iPhone storage works, but somehow storage is magically more affordable on the Apple TV. That's good news for you, but it's still tough to decide if you should buy the 32GB or 64GB Apple TV 4K.
Here's what you need to know about buying the Apple TV 4K in 32GB or 64GB, which will help you decide which is the best option for you. Once you decide, here's everything you can do with your Apple TV.
Apple TV 4K Price: 32GB vs 64GB
Apple offers a very good overall price for the Apple TV 4K storage options. If you want more storage, you only need to pay $20 more to double your storage. While the 32GB Apple TV 4K is the cheapest option, the 64GB Apple TV 4K is actually a better overall value when you look at the price you pay for storage.
Apple TV 4K 32GB – $179
Apple TV 4K 64GB – $199
For $20 you can double your Apple TV 4K storage, which is much more affordable than upgrading your iPhone storage or storage on almost any other Apple device. We've even seen a few deals that knock $10 off the Apple TV 4K 64GB, dropping the price to $189.
Ultimately you need to decide if you want to spend $20 more on storage, or if you would rather use that to buy some movies and games.
How Apple TV 4K Storage Works
In most cases you will be streaming movies to your Apple TV, and if you play games they will be stored locally until you stop using them regularly.
Unlike your iPhone, which you need to manually delete apps if you run out of space, the Apple TV assumes it has a constant Internet connection. If you don't use an app and you need the space it is using to download a new app or for a movie, the Apple TV will remove the old app and download the new without you having to think or take action. When you want to play the older app, it will download again. If you have a good Internet connection where you don't pay for use, this may allow you to get by with 32GB of storage.
The same goes for music and photos on your Apple TV 4K. The Apple TV will keep your latest and music from iCloud available, but it will pull the songs or music to your Apple TV when you need them. This works the same with most other photo and music apps on the Apple TV.
Stream Vs Store
The more storage you have, the less you need to download again and again. If you pay for your Internet based on usage or you have a limit on how much data you can use, you likely want to get more storage. This will allow the Apple TV to store more data locally so that you don't need to re-download. This is also a good option if your Internet is slower or less reliable and you want to be able to keep something stored locally for a longer time.
If you have a very good Internet connection and you don't need to worry about data caps or usage, the cheaper Apple TV 4K 32GB version is likely a better choice, even though it's only $20 less.
Who Should Buy the 32GB Apple TV 4K?
Users with a good Internet connection, who don't need to use dozens of apps every day should save $20 and buy the Apple TV 4K 32GB model. Count on your Apple TV to download what you need when you need it and 32GB is going to be more than enough for your needs.
Apple doesn't let you actually download a 4K movie to watch offline, so don't buy more storage thinking it will let you stockpile a few 4K movies to watch offline on the Apple TV 4K.
Who Should Buy the 64GB Apple TV 4K?
If you plan to use the Apple TV 4K as the hub for gaming, photos, music and for movies and TV, you may want to get the 64GB version. Although the Apple TV 4K can manage storage without the need for you to take action, if you use a lot of apps regularly and plan to do a lot of gaming on the Apple TV, the bigger storage option is likely a better fit.
The 64GB Apple TV is also better if you don't want the device frequently re-downloading the same apps or content that counts against your metered Internet usage.
What Apple TV 4K Storage Option Will I Buy?
I bought the 64GB Apple TV 4, and am using very little storage. We mainly use the Apple TV 4 to stream TV on Hulu, watch Netflix and stream movies on iTunes. We have a dozen games, which are the biggest use of space. Our games take up between 100MB and 450MB. The streaming apps like YouTube, Netflix, Hulu, Fox Sports Go and others take up very little space. If I buy the Apple TV 4K, I will buy the 32GB version unless I find another deal to get the 64GB version for just $10 more.
If you are torn, the $20 difference is not that much for buyers who are already buying one of the most expensive streaming boxes on the market.
25 Exciting Things You Can Do With the Apple TV
Rent Movies & TV Shows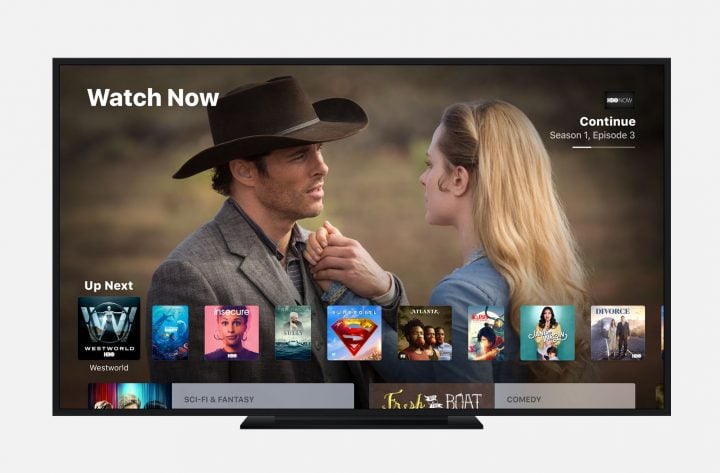 The Apple TV is the center of your home entertainment system. You can stream movies and TV shows from a wide range of services.
This includes watching new releases from iTunes or watching your favorite TV shows on Hulu Plus. You can use Netflix and other streaming services so that you are covered when it comes to watching old, new, odd and super popular.
You'll also find CBS News, The Weather Channel, Vimeo, YouTuibe, Facebook Videos, VEVO, PBS and many other apps that allow you to stream videos and movies to your TV with a purchase or with a subscription.

As an Amazon Associate I earn from qualifying purchases.