Surface Pro 5 Release Date, Rumors & More
For a company best known for making Windows operating systems, Microsoft's hardware team did the unthinkable in 2015. It tried to convince hardware partners to invest in tablets running Windows for years. That didn't work. Instead, it got into the market itself with Surface. 2015 wasn't the first year we got a glimpse of a Surface Pro. It was the year that Microsoft perfected the Windows 2-in-1 with the Surface Pro 4. 2017 could be the year we get an even better Surface Pro 5.
The Surface Pro 4 launched with Microsoft's massive Windows 10 operating system update. It was a testbed for all sorts of new technologies. It came with Intel Skylake processors, infrared cameras for sign in, updated digital pen technology and a 12-inch high-resolution display that offered amazing colors. The Surface Pro 5, if it's announced and released this year, could be as equally forward thinking as the Surface Pro 4 was. Microsoft uses Surface to prove concepts that it hopes hardware makers will attempt with their own designs.
Read: 11 Surface Pro 4 Tips & Tricks
Some are saying that the Surface Pro 5 release could mean the end of the device's signature charging and docking port. These reports point to the tablet adopting a new port that's already seeing widespread adoption in smartphones. Others believe that the Surface Pro 5 will include only rudimentary updates designed to help it better compete against the iPad Pro and devices that copied the Surface Pro 4's design. They predict a modest update to its processor and memory.
A Surface Pro 5 release is definitely happening. Microsoft has been on a hot streak with the line, releasing the Surface Book and Surface Studio in quick succession to help establish new areas for growth. Those devices are gaining mind share, but the Surface Pro is the most popular computer Microsoft makes by far.
Read: Microsoft Surface: Everything New in 2016
The Surface Pro 5 release is coming. Here's what we know.
Surface Pro 5 Release Date
The Surface Pro 5 release date hasn't been announced yet, but there's a generally agreed upon window that's coming into focus. The Surface Pro 4 was revealed at an event in October 2015. Microsoft generally aims to replace a device around 13 months. The only exception to this is the Surface Pro 3, which effectively established the Surface Pro as a productivity powerhouse in the first place. The Surface Pro 4 just hit the 18-month mark of availability, roughly.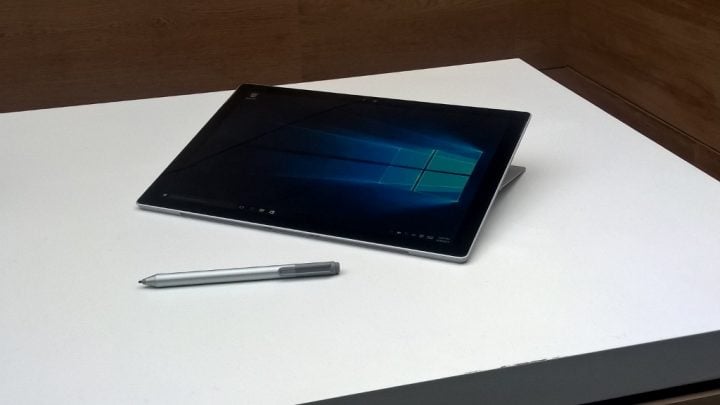 Read: Surface Book vs Surface Pro 4
When a new piece of hardware is about to be released, Microsoft schedules an event. The last few events have focused on both hardware and software. That is, the company likes to give users a look at the entire package together. The company recently sent out invites to an education-focused event on May 2nd. It is believed that Microsoft will discuss a new Surface at this event. All About Microsoft believes this will be an all-new Surface form factor to show off Windows 10 Cloud, not a Surface Pro 5.
It is worth noting that the Surface Pro 4 and Surface Book launches came around the same time as Microsoft released a major update to Windows 10. The Windows 10 Creators Update launched in early April. The next major update to Windows likely won't come until late in 2017. It's in early development now.
Surface Pro 5 Price
Predicting the Surface Pro 5 price is a huge gamble, just as it is with the Surface Pro 5 release date.
It's hard to make a prediction because there's nothing stable to base that prediction on today. The Surface Pro 4's cheapest iteration cost $899 at launch, $100 more than its direct predecessor. Microsoft has said that it wants to keep the Surface in the premium hardware category, but there are Surface Pro 4 alternatives that you can purchase that have its specs for a lot less than it costs.
It doesn't help that Microsoft has fiddled with Surface Pro 4 pricing often. The cheapest Surface Pro 4 now costs $799.99, $100 less than it did at launch. The company removed the Surface Pen from this model. Instead, it's giving buyers a free Surface Dock worth $99.
Microsoft could decide to leave well enough alone and stick with the $899 price tag. This would leave room open for cheaper alternatives from Lenovo, HP and Samsung. Whatever it's priced at, it almost certainly will not include the Surface Type Cover. The company has sold them separately since the earliest iterations of Surface, despite advertising them together.
Surface Pro 5 Features
The list of Surface Pro 5 features runs the gamut. There are some features that Microsoft absolutely has to do something about to keep the line viable. Other things seem as if they'd be a good idea.
The Surface Pro 4 has a full-size USB port, Mini DisplayPort, headphone jack and Surface Connect port for charging and docking. At least three of these could be combined into one USB 3.0 Type-C port. USB Type-C is already making huge inroads with smartphones. As it stands today, the Surface Connect port is only useful for charging and the $99 dock. A USB 3.0 Type-C port could handle those duties well.
Read: iPad Pro vs Surface Pro 4: Which is Better?
Another thing Microsoft has to address is battery life. With real-world use, the Surface Pro 4 gets around 6-5 hours of time between charges. This is at a time when the productivity-minded people who buy the device could use more battery life than ever. Surface Pro 5 needs to get well above the 9 hours of video playback the current model reaches. What's more, it'd be nice if it didn't take so long to charge.
Support for mobile internet access support seems possible. The last Surface to support data through a carrier was the then mainstream Surface 3. The Windows team has moved to bolster support for those types of data connections in recent updates and the Surface Team usually builds its hardware around what it thinks will highlight the Windows Team's work.
Surface Pro 5 Specs
As for potential Surface Pro 5 specs, we know with some certainty that Surface Pro 5 will have newer processors. The Skylake processors inside the Surface Pro 4 debuted in 2015, meaning it's about time for a refresh to keep the line on the cutting-edge. Microsoft watcher Paul Thurrott has shared accurate information about the company's plans before. His sources are saying that Surface Pro 5 will use Intel Kaby Lake processors and that it won't have a USB Type-C port.
Surface Pro 5 will not change the Surface Connect power connector, I was just told. Kaby Lake, nothing dramatic.

— Paul Thurrott (@thurrott) April 6, 2017
We don't know if there'll be storage and RAM upgrades. A Surface Pro 4 can have as little as 4GB of RAM, 128GB of storage and an Intel Core M3 fan that doesn't require a fan. The most powerful Surface Pro 4 has 16GB of RAM, 1TB of storage and an Intel Core i7 processor.
Microsoft could aim for a bigger sharper display than the 12.3-inch 2736 x 1824 display that's in the Surface Pro 4 today, but that seems unlikely. People seem to like the tablet's size already. A sharper display might have negative effects on battery life.
Surface Pro 5 Accessories
One patent points to some interesting things happening with Surface Pro 5 accessories. It's an area where Microsoft has only had a few genuine success stories. Most people agree that the Surface Pen, with its rubber eraser cap, metal body and interchangeable tips, is solid. Microsoft's ultra-thin touch-sensitive cover failed. The battery cover was killed off before the Surface Pro 4 launched.
Read: 13 Essential Surface Pro 4 Accessories
Remember, only the Surface Pen comes with the Surface Pro 4. Today, you have to replace its AAAA battery once a year. A magnet on the left side of the device hangs on to it. A patent discovered by Patently Mobile would allow the device to charge a Surface Pen and hold it in place.
The Surface Dial arrived last year with the Surface Studio desktop. The Surface Pro 4 supports using the Dial on your desk, but not on your screen the same way the Surface Studio does. It's hard to imagine the Surface Pro 5 won't offer this functionality.
Surface Studio also sports connecting to an Xbox One Controller without the need for Bluetooth or a separate adapter. It'd be worthwhile for Microsoft to include this technology in the Surface Pro 5 for uniformity's sake. Plenty of low-end games, like Minecraft Windows 10 Edition would benefit from it. It'll be interesting to see if the Surface Pen continues to come bundled with the Surface Pro 5. Microsoft frequently discusses the accessory when talking about Surface, that cheaper Surface Pro 4 forces users to buy it separately.
It'll also be interesting to see if the Surface Pen continues to come bundled with the Surface Pro 5. Microsoft frequently discusses the accessory when talking about Surface. However, that cheaper Surface Pro 4 that comes without it suggests a new line of thinking.
Even if we don't hear about the Surface Pro 5 at this May 2nd event, expect Microsoft to have something concrete to say about the device this fall. By then, the Surface Pro 4 well be a two-year old device surely ready to be replaced.
10 Best Surface Pro Alternatives in 2020
ThinkPad X1 Tablet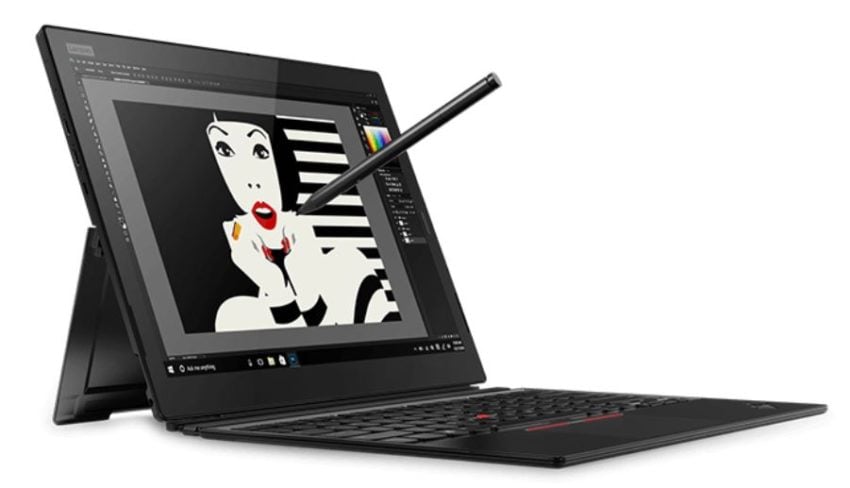 The ThinkPad X1 Tablet offers a lot of great features: a durable shell, an amazing display and Amazon's Alexa personal assistant.

The ThinkPad X1 Tablet has a 13-inch display. And, despite its good looks, the device has passed 12 military torture tests to ensure it can survive dust storms, cold temperatures, drops and spills. Finally, If you don't find Microsoft's Cortana personal assistant useful, the ThinkPad X1 Tablet has the same Alexa personal assistant your Echo smart speakers do. A Surface Pro won't survive a drop or spilled liquid and Cortana isn't as useful as Alexa is.


Read: ThinkPad X1 Carbon, X1 Yoga and X1 Tablet Have Stunning Display and Alexa


The third-generation ThinkPad X1 Tablet has powerful processors, plenty of RAM and other options. Models come with up to an 8th generation Intel Core i7 processor and 16GB of RAM. You won't get stuck waiting for web pages to load or your photo editor to process your touch-ups. If you don't like passwords, use the IR camera on the front of the ThinkPad X1 Tablet to sign into Windows. This 2-in-1 also has a fingerprint reader.

The ThinkPad X1 Tablet's screen detects 4,096 different levels of pressure from its digital pen. Besides that, it's a really detailed display. Windows, your videos and everything else you do on it looks crisp and detailed. Again, it's three times as sharp as an HD display.

Like other Surface Pro 4 alternatives, this Windows 2-in-1 connects to its included keyboard cover using a special slot on its bottom edge. It has Thunderbolt 3 ports for fast data transfers, a MicroSD card reader and a headset jack. With LTE connectivity, you can add the ThinkPad X1 Tablet to your smartphone data plan. You can't do that with a Surface Pro 4.


As an Amazon Associate I earn from qualifying purchases.