Apple TV 4K Deals: 50% Off Plus Free Year of Apple TV+
Save 50% on the Apple TV 4k with this pre-Black Friday deal that takes the Apple TV 4K down to $90 and you get a free year of Apple TV+, which is $60 in additional value.
AT&T offers the Apple TV 4K 32GB for $90 with quick delivery and in-store pickup options for some buyers. You get free shipping with this deal.
You don't need to be an AT&T customer, sign up for any special services or contracts to get this deal. This is a limited time deal, so once the stock is gone the deal will expire. For most users, the 32GB of storage is enough. Here's a guide to help you figure out how much storage you need.
Apple TV+ launches today as a premium streaming service. If you buy a new Apple TV right now, you get a year of this for free. The Apple TV+ service is normally $4.99 a month, so if you combine all the savings you are getting an Apple TV 4K for about $30.
This is $90 less than what Amazon charges for the Apple TV 4K and a stellar deal. Keep in mind you can also use Apple TV+ on the Roku or Amazon Fire TV Stick.
Here's a look at the best Apple TV 4K accessories and a list of cool things the Apple TV 4K can do.
25 Exciting Things You Can Do With the Apple TV
Rent Movies & TV Shows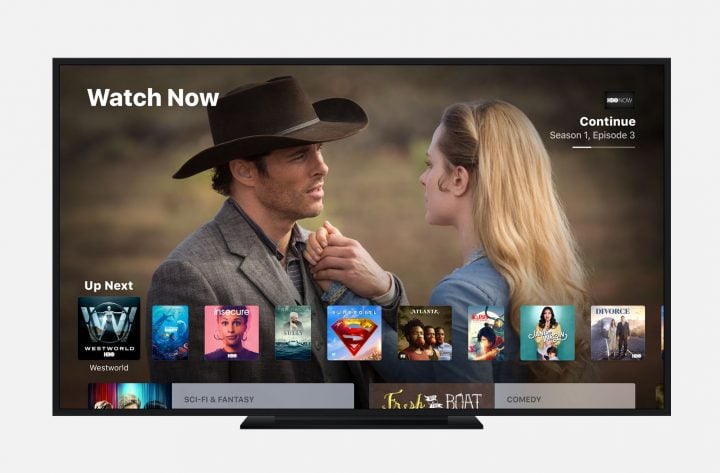 The Apple TV is the center of your home entertainment system. You can stream movies and TV shows from a wide range of services.
This includes watching new releases from iTunes or watching your favorite TV shows on Hulu Plus. You can use Netflix and other streaming services so that you are covered when it comes to watching old, new, odd and super popular.
You'll also find CBS News, The Weather Channel, Vimeo, YouTuibe, Facebook Videos, VEVO, PBS and many other apps that allow you to stream videos and movies to your TV with a purchase or with a subscription.

As an Amazon Associate I earn from qualifying purchases.