Apple TV 4K Delivers 4K HDR, Free Upgrades to Your Movies
Apple announced the new Apple TV 4K today as a new streaming box for your living room with more powerful hardware that drives a major visual upgrade. Apple finally catches up to the competition with 4K HDR support that can deliver much better looking videos on your TV or Projector.
The new Apple TV 4K is $179 and it goes on sale on September 15, and arrives on September 22nd.  This is the same day as the Apple Watch 3 goes on sale.
In addition to delivering 4K HDR support with the new Apple TV 4K, Apple delivered a lot of new ways to use this technology. All of your existing iTunes HD movie purchases are upgraded to 4K HDR for free, which is a huge upgrade. The movie prices and rentals are also the same, which is a major change from the surcharge we see in many systems and on disk.
Apple also delivers Netflix 4K HDR support right out of the gate so you can see the benefits of this new Apple TV 4K even if you stream most of your movies and TV shows. Netflix offers a huge range of 4k HDR content, but you will need the more expensive Netflix plan to take advantage of this. We learned that Amazon Video was coming to Apple TV earlier this year, and Apple confirmed at the event that the new Apple TV 4K will get Amazon Prime Video support with 4K HDR later this year. We expect it will also come to the older Apple TV.
You'll need a 4K TV with HDR support to take advantage of all of these new features. Check out the slides below to learn more about what the current Apple TV can do. All of these features will carry over to the Apple TV 4K.
25 Exciting Things You Can Do With the Apple TV
Rent Movies & TV Shows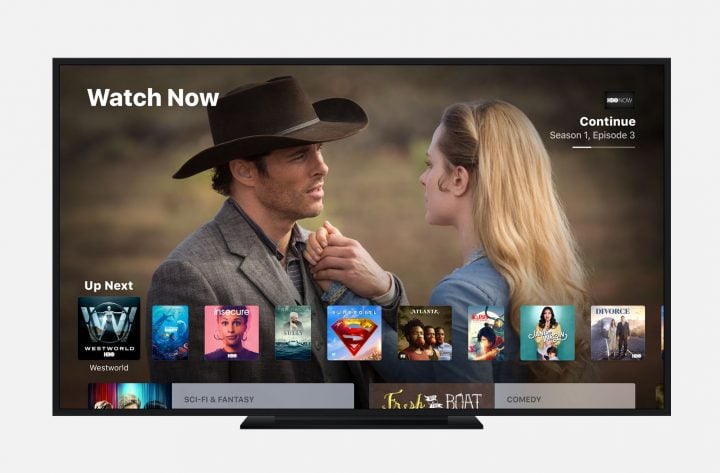 The Apple TV is the center of your home entertainment system. You can stream movies and TV shows from a wide range of services.
This includes watching new releases from iTunes or watching your favorite TV shows on Hulu Plus. You can use Netflix and other streaming services so that you are covered when it comes to watching old, new, odd and super popular.
You'll also find CBS News, The Weather Channel, Vimeo, YouTuibe, Facebook Videos, VEVO, PBS and many other apps that allow you to stream videos and movies to your TV with a purchase or with a subscription.

As an Amazon Associate I earn from qualifying purchases.