40 Samsung Galaxy Note 9 Tips & Tricks
In this guide we share a big list of over 40 Galaxy Note 9 tips, tricks or hidden features. That way you can quickly master your phone and enjoy all the cool things it can do. Whether that's transferring data from an old device, controlling it with the S-Pen, making a GIF, getting rid of Bixby, or taking super slow-mo videos.
You won't need to read the boring manual or take hours looking through the settings menu. Instead, we'll tell you about all the cool features you've been missing out on.
Read: How to Completely Get Rid of Bixby on the Galaxy Note 9
With our help, you can easily master the Galaxy Note 9. We'll start by quickly changing some settings to improve your experience. Then, tell you about some hidden features, followed with a bunch of really helpful Galaxy Note 9 tips or tricks with videos and step-by-step instructions.
Transfer Your Old Phone to the Galaxy Note 9
For starters, let's transfer your old phone to the Galaxy Note 9 if you didn't already. If you did, skip to our next tip. No one wants to lose all their settings, texts, call log and pictures. Here's how to keep everything.
Samsung has a feature called SmartSwitch, and this will automatically transfer your old phone, Galaxy, iPhone and more to the Galaxy Note 9. It literally does everything for you — either wirelessly or with the included USB cable. Just find SmartSwitch in settings, use the adapter that comes in the Note 9 box, connect it to your old phone and follow the on-screen instructions.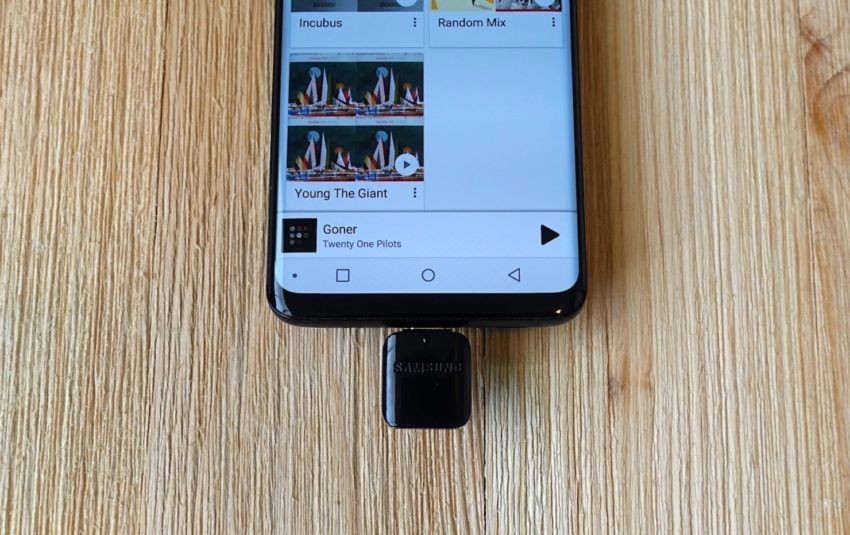 When your first set up the phone (or if you want to redo it) this is the fastest and easiest method. This will transfer most of your settings, apps, wallpapers, texts and more.
Read: 19 Best Galaxy Note 9 Cases to Keep Your Phone Safe
If you're going from Samsung to Samsung it copies literally everything, including your home screen. Once that's all done, here are the other tricks you'll enjoy.
Enable Full Screen Apps
Samsung's Galaxy Note 9, like most new Sammy phones, has a massive screen that's tall and skinny. As a result, some apps don't use the entire display. If you see black bars on the top and bottom of certain apps, enable fullscreen app mode for a better experience.
Pull down the notification bar and head into Settings (gear-shaped icon near the top right)
Find and select Display
Select the option labeled Full Screen Apps
Find any app that isn't highlighted and switch full screen mode to on
Our image above is a quick glance at exactly what you'll be looking for. This will force apps into full screen mode on the Galaxy Note 9. Now you're enjoying apps and games on the entire screen you paid for.
Customize the Always-On Display
One of my favorite features is the Always-On display. Giving Note 9 owners quick information like the time, date, battery levels and even incoming notifications, all while the screen is "off". This uses hardly any battery life, too, which is nice. Even better, it's highly customizable.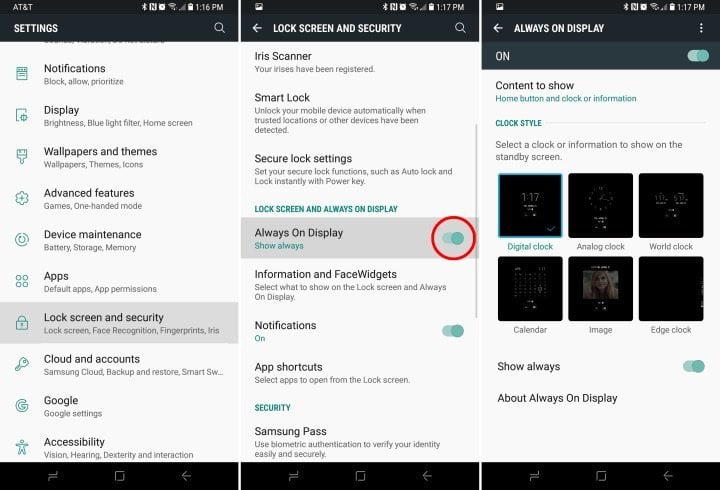 Go to settings and search for always on display. Tap the On toggle to turn it on if it isn't already. Or tap the option to enter the customization section as shown above. Go to Settings > Themes > AOD column at the bottom, and find a completely new image, logo, calendar and more. If you don't like it, you can turn off the Galaxy Note 9 always-on display.
Increase the Screen Resolution
The Galaxy Note 9 has the best display in any smartphone on the market. It's capable of a 2k resolution that's higher than most HDTVs. However, Samsung limits it to 1080p, known as FHD when you first turn it on. This may help with battery life, but it also means you aren't getting the full resolution that the screen can offer. Here's how to change it.
Basically, go to Settings using the steps mentioned above and look for screen resolution. Slide it over to WQHD+ 2,560 x 1,440 and hit apply.
Setup Iris Scan, Face Unlock (Intelligent Scan), or Fingerprints
While the fingerprint scanner is finally in the center, lower, and easier to press, it's not the only unlock method. With the Note 9, the facial scanning or Iris Eye scanner for unlocking the phone is better than ever. You'll want to use Samsung's latest version, known as Intelligent Scan.
Intelligent Scan uses Face unlock, Iris scanning, or both to unlock your phone as fast as possible. To start, go to Settings > Lock screen and security > Intelligent Scan and follow the prompts to get all set up. Otherwise, use a fingerprint like you have for years. That works just fine too.
Use Smart Lock & Skip Fingerprints
While Face Unlock and fingerprints are fast and easy, everyone should use Smart Lock. It's an awesome feature that will let you skip the fingerprints as often as possible when the phone knows it doesn't need a fingerprint or facial scan. This uses trusted locations and connected devices to skip unlocking the phone in certain situations.
Go to Settings > Lockscreen & Security, Smart Lock and you can thank me later. You'll see four different modes to choose from. I'm using Trusted devices and Bluetooth, so when I connect the Note 9 to my car stereo or it's near a smartwatch I don't need my fingerprint to unlock the phone. The software recognizes I'm near a trusted device and bypasses the lock screen method temporarily. Smart Lock works with any NFC, Bluetooth, or a location like your house.
Click Trusted devices
Tap + Add trusted device
Select from Bluetooth or NFC (it will search and find any nearby connected device)
Choose which accessory and then select Add as trusted device
Once you leave your house or are no longer connected to the car stereo, you'll need a password or fingerprint again to unlock the Galaxy Note 9. If I'm home or in my truck, Smart Lock does the hard work for me.
Use Fingerprint Gestures on the Galaxy Note 9
We have one more tip that relates to the fingerprint scanner. Samsung has a few gestures so you can swipe the fingerprint sensor to perform a few tasks on the phone. Here's a video guide on the Galaxy S8. The steps are exactly the same on the Note 9.
You need to turn on Fingerprint gestures before you can use this option. Go to Settings and then search Finger sensor gestures. There's more to it in this guide and the video above. Basically, you can swipe down on the sensor to open the notification bar, etc.
Customize the Galaxy Note 9 Notification Bar
In almost every how to video we make for the Galaxy Note 9 users in the comments ask how to change the notification bar to look like ours. If you want to customize your notification bar, change the colors, or switch around the icons, here's a quick guide.
If you're looking for more information on this entire process, here's a detailed step-by-step guide covering multiple aspects of this feature.
Other features you'll want to take advantage of are Do-Not-Disturb and the Blue Light Filter. These are things everyone should use. I have Do-Not-Disturb to automatically come on at 10:45 PM each night, and turn off at 6:30 AM. That way nothing bothers me while I'm sleeping.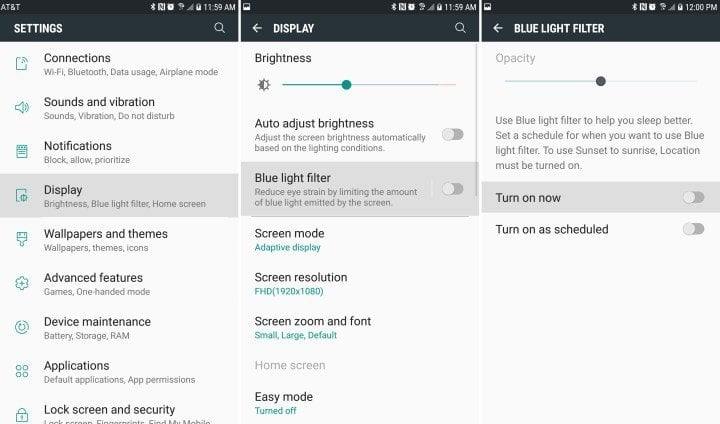 Head to Settings > Sounds & vibrations > and scroll down to "Do-Not-Disturb" and turn it on with a set schedule. Owners can even customize it so alarms can still get through, or repeat callers in case of an emergency. There are even exceptions like specific friends or family members can still call or text you, while everything else gets silenced until morning. We highly recommend using this.
Then, use the Blue light filter which works like Night Shift on the iPhone. Go to Settings > Display > Blue Light Filter and customize this too. I have it set to a schedule to come on at night, and turn off in the morning.
What does this do? It eliminates blue light from the screen. This helps prevents eye strain and reportedly helps calm the brain at night so you fall asleep easier and faster. The blue light is a stimulant, increases melatonin, and keeps you awake.
Use the Galaxy Note 9 Secure Folder
Samsung offers something called the Secure Folder, and it's really impressive. This is essentially enterprise-grade security for anything and everything on your phone. Install a second Gmail or Facebook for work, and lock it safely in the secure folder. Take pictures and hide them here, or put important documents like your taxes behind a lock and key.
The Secure Folder is built into the Galaxy Note 9. You need to use your fingerprint, Iris or password to access this folder and get it all set up.
Go to Settings and search for Secure Folder. If you haven't already you may need to sign into your Samsung account. You can even change the name and icon of the Secure Folder, that way it doesn't look like a place you're trying to hide stuff.
Setup Find My Mobile (Find a lost Galaxy Note 9)
You have two easy ways to find a lost or stolen Galaxy Note 9. One is Google's Find My Device, and the other is just like Find My iPhone, only its made by Samsung. Set this up NOW, before you lose your phone.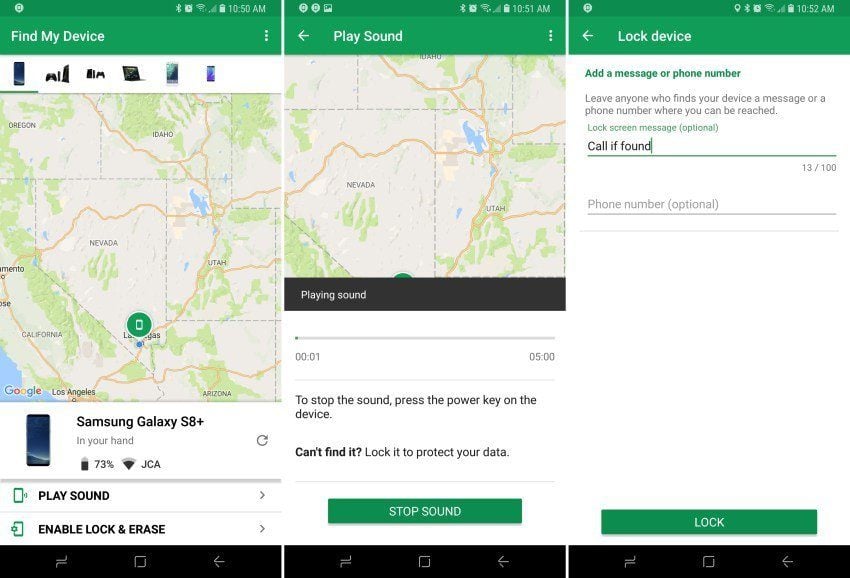 If you lose your Galaxy Note 9 or it is stolen, you can use this service to track it down, make it play a loud noise if it's lost at home, or erase everything in cases of theft.
Go to Settings and search for Find My Mobile. Log in to your Samsung account or create an account, and then turn it on. Our screenshot above is Google's service, but they both work the same. Make sure you allow any prompts to use your phone's location and use Google Location service so you can easily track a lost phone. Trust me, you'll want an easy way to recover your Galaxy Note 9, especially after you drop $1,000 to get one.
Master Samsung's Bixby Virtual Assistant
The Galaxy Note 9 includes Samsung's virtual Assistant Bixby. This is like Siri, Alexa, or the Google Assistant, only different. Samsung claims Bixby learns from us as we use it, and developers can use and take advantage of Bixby too. As a result, we could see some neat Bixby features later down the road.
Here are 175 Bixby Voice commands that you can use to control your Galaxy Note 9 with just your voice. It does a lot more than the Google Assistant if you ask right, so try it today.
If you hate accidentally pressing the Bixby button every single day, our video above explains how to disable and get rid of Bixby on the Galaxy Note 9. You're welcome!
Take A Screenshot on the Galaxy Note 9
Capturing whatever is on the Note 9 display is easy — just take a screenshot. People do this to share things on social sites or save information. Simply press the power and volume down at the same time, hold until you see or hear the screenshot capture, and let go. It's that simple. Or, use one of the other three methods in our link below.
Read: How to Take a Screenshot on the Galaxy Note 9
You can capture an entire text message conversation, web page or email using the scrolling screenshot feature too.
Create a GIF with the Galaxy Note 9
Screenshots are nice, but creating a GIF is even better. Using the S-Pen you can capture part of any video playing on the Note 9, edit that clip, and save or share it as a GIF. Or, you can record the video yourself and turn it into a GIF.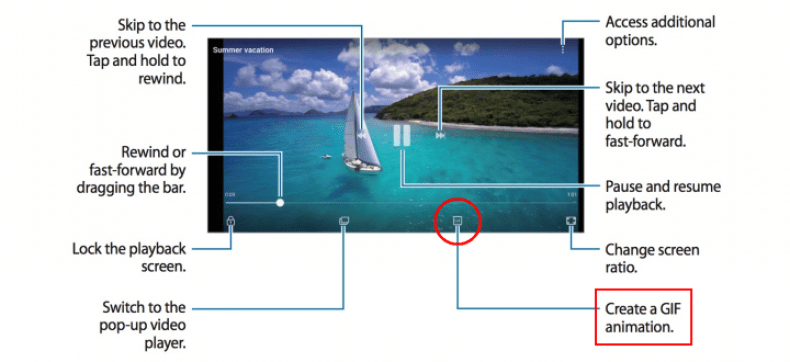 Start a video using the Samsung Video player and click the icon circled in red above. That, or pull out the S-Pen and tap on "Smart Select". Use the S-Pen and drag a square the size of the area you want to record, and follow the on-screen prompts. Now record, crop, edit and share a GIF with friends and family.
Or tap edit on your own video and hit the GIF button. Wait, is it GIF or JIF?
Get Your App Drawer Button Back
I hate change. So not only do I install the Google Now launcher and a theme to replace Samsung's on-screen buttons, but I make sure to get my app drawer button back. Instead of swiping up to access all of your apps, follow these steps to get that little white "app tray" button back. We'll explain themes and the stock Android buttons later in this guide.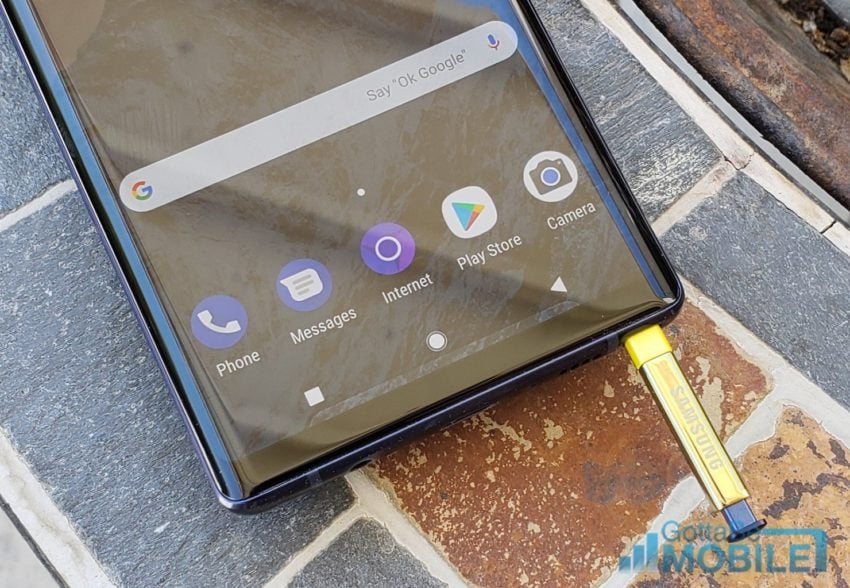 Long press a blank space on your screen, like when you're changing the wallpaper. You'll then see a home screen layout edit menu. Tap the gear-shaped settings button. Now, hit the option in settings labeled Apps Button and select show apps button. Hit back or go home and you'll see that familiar white button to launch your tray of applications.
Clean Up the App Tray
One frustrating aspect of the Galaxy Note 9 (and every Samsung phone) is apps being out of order in the app tray. Especially once you download a bunch from Google Play. Each downloaded app goes to the end of the list, in no specific order. Thankfully there's a way to quickly re-sort them all in alphabetical order. Basically cleaning up the application tray.
Swipe up from the bottom of the screen or open the app tray, then tap the 3-dot settings button at the top and select "A-Z" and then tap Save. Now all of your apps get displayed alphabetically and are easier to find. The next time you install an app though, you'll have to do this again, as it reverts back to the list format.
Disable Bloatware Apps
Speaking of apps, did you notice there are TONS of carrier bloatware apps on your Galaxy Note 9? What is "bloatware" you're wondering? They're the dozens of apps that come pre-installed on your phone that you'll never use, wasting precious space. AT&T adds the most, followed closely by Verizon. Carriers add these apps as partnership deals to make money.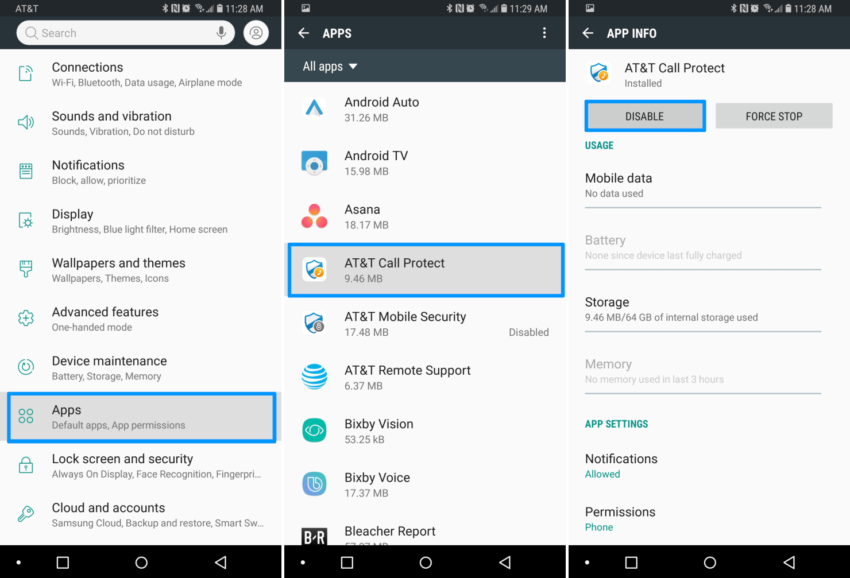 Go to Settings > Apps > and simply start scrolling down the list and disable anything from AT&T, T-Mobile, Verizon, or Sprint. As you see above I've selected AT&T Call Protect Blocking (an app I don't want to pay monthly to use) and then just hit Disable. You can't uninstall them, but you can disable these apps. That way they're out of sight, out of mind. Here's a step-by-step guide.
I disabled everything from Amazon, AT&T, AT&T Data Usage Manager, Lookout Mobile Security and a few others. Same goes for Verizon apps, T-Mobile stuff, and Sprint NASCAR additions. Just be careful here and only delete what you understand. If you disable too much, you could harm your device or its performance.
Turn on the Galaxy Note 9 Game Launcher
Samsung includes a handy Game Launcher app that lets you keep all of your games in one location. Plus, you can prevent interruptions or alerts while you're gaming, record gameplay and more with this app. You can also choose to mute the game sound or put the phone in a high-performance mode for better graphics at the expense of battery life.
Go to Settings and search for Game Launcher. Toggle it on and then you will see a new folder on your home screen. This should have your games in it and plenty of neat options and controls. Download Fortnite, get your free 15,000 V-Bucks and go crazy.
Customize Your Note 9 with Themes
Those who want to customize the look and feel of the Galaxy Note 9 (like mine in the photos or videos) will want to check out the Theme Store. It comes on every recent Samsung phone, and it's extremely powerful.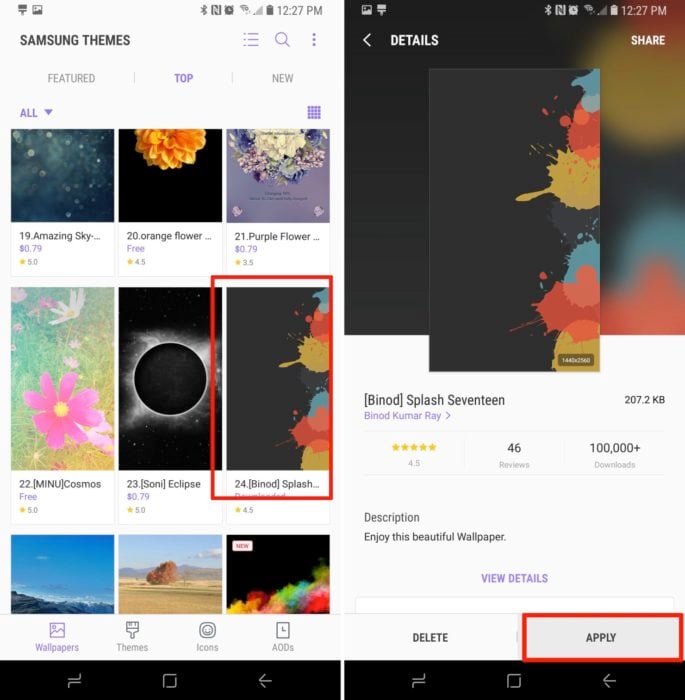 Go to Settings and navigate to or search for Wallpapers and Themes. Download the Theme app if it isn't there already, then browse through hundreds of themes and wallpapers. Many of them are free, but there are others that you will need to pay for if you want them. Download any theme then hit apply. I'm using Material Blue by Cameron Bunch, which gives the Note 9 a stock Android look and feel.
Master the Galaxy Note 9 Camera
If you're looking to fully enjoy this phone, you'll want to master the camera. Start with our how to use the Galaxy Note 9 camera like a pro guide. This covers;
Camera Modes and Options
Advanced options, voice controls, & video stabilization
Timer options & selfie gestures
Motion Photos, Slow-Mo video
How to save photos to your SD card
Using the camera/photo editor and more
Spending just a few minutes to get familiar with the camera will make your photos turn out better, look great, and get more likes on social media. Try your luck with these best photo editing apps too.
Then, don't forget to try the 2x optical zoom feature right on the middle right side of the camera view. This uses the second camera lens to get extremely close photos. Samsung also improved the selective focus feature where you can change the point of focus before and after you take a photo.
Quick Launch the Camera
Never miss the perfect photo opportunity by instantly and quickly launching the Galaxy Note 9 camera. Instead of finding the app, just quickly double tap the power button — even when the screen is off.  You'll see a prompt when you do it the first time, and the camera will instantly be ready to take a photo.
Go to Settings and search for Quick Launch Camera. Turn on the slider to enable this feature. Now you can quickly double press the power button to open the camera. It fires up in less than one second.
How to Change the Galaxy Note 9 Keyboard
One of the most popular 3rd party apps for Android is keyboards. From SwiftKey, Google's GBoard, Swype and more. Allowing users to type faster, add customization, and have more control. Samsung's keyboard is decent, but here's how to change it.
Head to the Google Play Store, search for your keyboard of choice (Gboard) and install it. Once it's done open it up, follow the prompts, and it will set the Note 9 to use it by default. Other apps do the same thing so we don't have to fumble around in the settings menu. Now, enjoy a better keyboard experience.
Change & Download New Font on the Galaxy Note 9
Another thing we can change and customize is the font. Samsung includes a few different font options themselves, but you can download more if you'd like. The video below is a quick walkthrough on how to change the font on the Galaxy S8. These same steps apply to the Galaxy Note 9.
If you don't have time for the video, just go to Settings > Display > Screen zoom and font and tap on Font Style. Now you can choose the one you want or tap the + to download more fonts. Give it a try today.
Try Easy Mode (For Parents/Grandparents)
A lot of people choose the Note line for the big screen. If you're one of them and the software is too confusing, or you just want to see things easier with a bigger font, try Easy Mode. This simplifies the software and increases the size of everything for those with poor vision. It's great for grandparents, or people new to smartphones.
Just head to Settings > Display > Easy Mode and turn it on. You'll notice everything changes and gets bigger, even the icons are large. Everything that's important is easy to find and use, including big icons for your favorite contacts. It basically simplifies everything for those wanting an easier experience.
Use the Galaxy Note 9 One-Handed
This phone has a huge 6.4-inch display, squared edges, and the phone is long and skinny. As a result, it's hard to use with one hand for almost everyone. If you're struggling, try Samsung's One-Handed mode. This puts everything within reach, minimizes windows, and is probably just what you were hoping to find.
As you can see, even the keyboard goes to one side for ease of use. Head to Settings > Advanced Features > and turn on One-Handed Mode. From here there are two ways to toggle it on or off: Swipe up diagonally from the corner to shrink the screen contents or tap the home button 3 times to quickly reduce the screen size.
Control Your Phone with the S-Pen (Remote)
Another awesome thing you can do with the Galaxy Note 9 is control things like videos with the S-Pen. Yes, the stylus acts as a remote control for various aspects of the phone. You can even unlock it with the S-Pen. Just go to S-Pen Settings, and look at all of your options.
More specifically, go to Settings > Advanced > Features > S-Pen and get going.
Move Apps to the MicroSD Card
With 128GB built-in you probably don't need to worry about running out of space. However, there is a chance people will load these phones with apps, games, music, movies, slo-mo clips and 4K video. If so, you can easily transfer apps and big games to an SD card. Even the camera will default photos to the SD card when you install one. Here's a detailed guide for transferring content to the microSD card.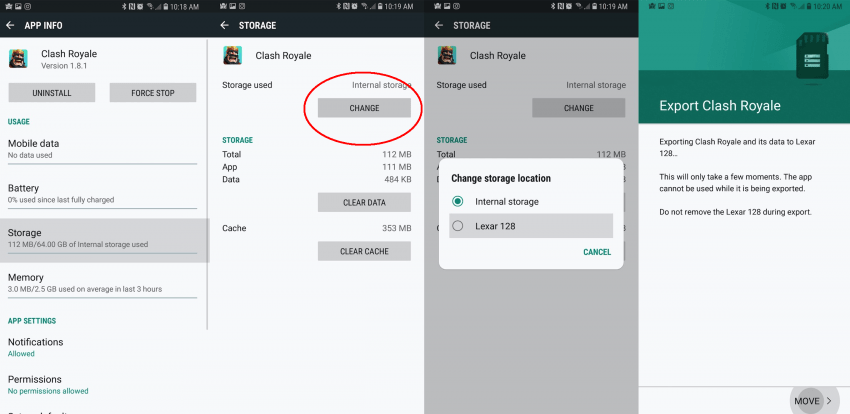 Open Settings > Applications > and hit the drop-down icon near the top left and select All Apps. Now, search for any app you downloaded and click it. Then follow the steps in the guide or our screenshot above to transfer it to your microSD card. You can't transfer pre-installed apps, and only what you download, so keep that in mind.
Open and Use Two Apps at the Same Time (App Pair)
Being able to use two apps simultaneously is nothing new to Samsung smartphones. However, the Note 8 has a new feature called App Pair, where you can instantly open two apps together at the same time. Pair apps together, and tap once to instantly multitask like a pro.
Open the Edge Apps panel (if you didn't disable it) and look for App Pair. Now just pair apps you like together and use them as you see fit. This way you can instantly launch multi-window and run two apps simultaneously with ease.
Close Apps on the Galaxy Note 9
While this isn't a big trick, it's a helpful feature that many don't know about. You should close apps on the Galaxy Note 9 when they're no longer needed. This saves battery life and keeps it running fast. This is an old video, but the same steps apply to the Note 9
When you're done using an app hit the recent apps button and swipe it away to close it. That, or close all at night or when headed to work to increase battery life.
Use the Galaxy Note 9 as a Mobile Hotspot (WiFi)
The Galaxy Note 9 hotspot feature allows you to share your internet connection with a laptop or tablet. Basically, other devices connect to the Note 9 just like you sign into Starbucks or Airport Wifi. Most smartphone plans support this and if you have an unlimited plan you'll never run out of data. Here's how to use the hotspot function.
Go to Settings > Connections > Mobile Hotspot and Tethering > Mobile Hotspot. Here you can name the hotspot and create a password for it. Once you're done, test it on a computer or tablet before you go mobile and need it. There's even a USB Tether option to use a USB Type-C cable to share your internet connection in an even more secure way.
Send Live Messages (Animated)
A fun feature from the Galaxy Note 8 you can enjoy on the Note 9 is Live Messages. While there are a lot of neat things the Galaxy Note 9 can do, this is one of our favorites.
Pull out the S-Pen and tap the Live Messages option. As you write the letters sparkle and glisten on the screen. Then, you can send that message as an animated GIF that essentially plays the message on the other end for whoever receives it. Perfect for saying Happy Birthday or things of that nature.
Speed Up the Galaxy Note 9 in 3 Easy Steps
Want your Galaxy Note 9 to run even faster. This next one is an old Android trick, but one that works amazingly well on the Galaxy Note 9. We can quickly change three little settings in a hidden developer menu and improve performance.
Our video guide above is on the Galaxy S8, but the exact same steps apply to the Galaxy Note 9. Follow the instructions to enable a hidden developer menu, find the three settings shown above, and turn them to 0.5x and enjoy the benefits. You'll notice the phone is faster and more responsive. I do this on every Android device I own, especially Samsung ones.
Get Better Galaxy Note 9 Battery Life
The Galaxy Note 9 gets great battery life thanks to a massive 4,000 mAh battery inside. One that won't explain. However, it can always be better and here are a few tips to squeeze a little more juice from it. You can use this guide to fix bad Galaxy Note 9 battery life so that your phone lasts even longer. It covers:
Apps using up your battery (or too much)
Screen Brightness and Sleep Time
Why You Need to Reboot your Galaxy Note 9
Turning off features you don't need
Potential Note 9 problems
Other helpful tips & tricks
In less than 10 minutes you can fix most Galaxy Note 9 battery life issues on your own, without a trip to a carrier or a call to Samsung.
Home Screen Grid (Icon Count)
Samsung's Note devices have big screens, and that means there is extra room for more apps on your home screen. Older Note phones had 5 apps across, but the Note 9 went back to 4 app icons. The home screen icon grid layout is customizable though, so you have more apps on your screen at once.
Press and hold anywhere on the screen that doesn't have an app icon. The display will zoom out into an edit mode where you can also add a wallpaper or try themes. Click on home screen settings, then choose either "home screen grid" or "Apps screen grid" to change how many apps are in each row. This works for the home screen and your application tray.
Print from the Galaxy Note 9
If you have a wireless printer, you can print stuff right from the Note 9. You'll need a plug-in for it to work, but it's very simple and only takes a minute to set up.
Open Settings > Connections> More Connection Settings > Printing > Download Plugin > Download Google Cloud Print > Follow on-screen instructions for setup and you're done. Now print from your Note 9.
Reset a Frozen Galaxy Note 9
Now that we went over tons of helpful tips and tricks, these next two are for saving you when you run into trouble on the Galaxy Note 9. If your phone is frozen or unresponsive, here's how to quickly reset it.
To reboot a frozen Galaxy Note 9 press and hold down both the power button and volume down for 7-10 seconds. The phone will shut down, reboot, and be back on in under 2 minutes. This fixes almost any small problem you might face and is a great way to fix a frozen phone.
In fact, go to Settings > Device Maintenance and tap the 3-dots at the top right. Select "Auto-restart" and your Galaxy Note 9 will reboot once a week at night while you're sleeping and the phone is on a charger. You can choose the day and time, too. This is a great way to have better performance and battery life, as your phone needs a refresh occasionally. Just like rebooting a PC in the 90's.
Factory Reset the Galaxy Note 9
Last but certainly not least is how to perform a factory data reset. This is great for fixing any major problems, starting fresh after a software update, or before you sell the phone. A factory reset will erase everything, so back up your Note 9 before you proceed.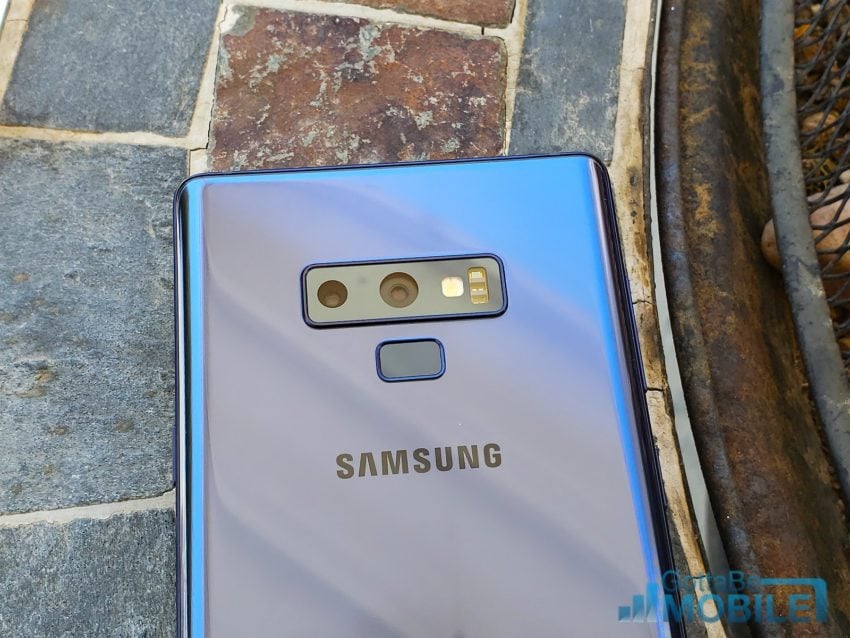 Just go to Settings > Cloud & Accounts > Backup & Reset > Factory Data Reset. Select the last option to do a factory data reset and return the phone to the out-of-box state. This is the last resort if you're experiencing major problems or are trading it in for a different phone.
Last Minute Tips & What's Next
Don't forget to turn on the "edge" features you'll use the most, or disable the edge completely. In fact, give the settings menu a good glance to learn all about your big new Note 9 phablet.
If you're already dealing with issues here are some common Galaxy Note 9 problems and how to fix them, tips to improve battery life, and 19 of the best Galaxy Note 9 cases.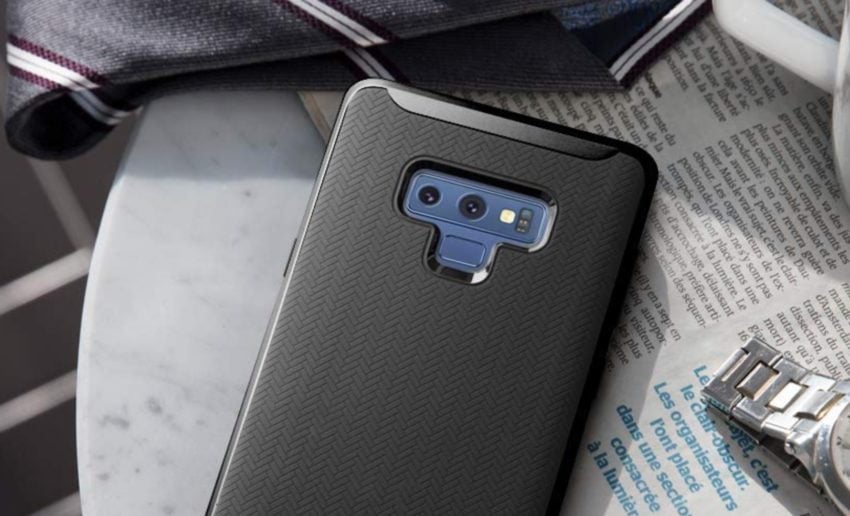 Then, look out for a major Samsung Galaxy Android Pie update later this year or in early 2019. This software upgrade will deliver exciting new features, improve battery life and make your phone better than ever.
And finally, don't forget to get a Galaxy Note 9 screen protector. If you didn't, and you broke that gorgeous screen already, here's what you need to know about your Galaxy Note 9 warranty. Good luck, enjoy and drop us a comment below with any questions or concerns.