10 Things to Do Before the Galaxy Note 10 Release Date
The Samsung Galaxy Note 10 release date is getting close and that means those of you interested in buying one should start preparing for its arrival.
For months we've heard about Samsung's plans for the 2019 version of the Galaxy Note. The company is reportedly working on some major upgrades including 5G support, a bigger screen, performance improvements, changes to the camera, design tweaks, and more. Soon, those rumors will become reality.
Samsung's confirmed a media event in New York City on August 7th. The invite didn't call the Note 10 out by name, but the image of an S Pen essentially confirms its presence at the show.
We expect Galaxy Note 10 pre-orders in the United States to start soon after the event. The Note 10's release date will likely follow a short time later.
The Galaxy Note 10 release date could land on August 23rd in South Korea and there's a good chance the U.S. release date lands in and around that date. If not on the same day.
With just a few days to go before the Galaxy Note 10's arrival, prospective buyers should begin some prep work. A little work ahead of time will help make the device's launch less stressful.
Here's what you should start thinking about if you're thinking about buying, or planning to buy, the Galaxy Note 10.
Track Galaxy Note 10 Rumors
If you're remotely interested in buying the Galaxy Note 10 you should keep your eyes on the rumor mill in the days leading up to the phone's launch.
The Note 10 rumor mill will keep you informed about potential features, but it will also help you set realistic expectations about the phone's hardware, release date, price, and more.
We should know virtually everything there is to know about the Galaxy Note 10 before Samsung takes the stage in New York City and that will help you decide if you want to buy the Note 10 right away, wait for the price to drop, or go with something else.
Check Your Upgrade Status
As we approach the Note 10's release make sure you keep an eye on your upgrade status at your carrier of choice.
If you're not eligible for an upgrade in early-to-mid August, you might not be able to put in a Note 10 pre-order (if that's what you want to do) because your line won't be eligible.
Carriers will often bump your upgrade status so you'll want to check on it a few times in the buildup to the August 7th event and the start of pre-orders.
Checking your current upgrade status is easy. Here's how to check your upgrade online at Sprint, Verizon, AT&T, T-Mobile, or U.S. Cellular.
If you'd prefer to talk to a human about your current status, call your carrier's customer service line and see if you can work something out ahead of the Note 10's launch.
Get Familiar with Android Pie & One UI
If you will be moving from iOS or if you're currently using an Android device with a different user interface, get familiar with Samsung's version of Android Pie before the Note 10 arrives.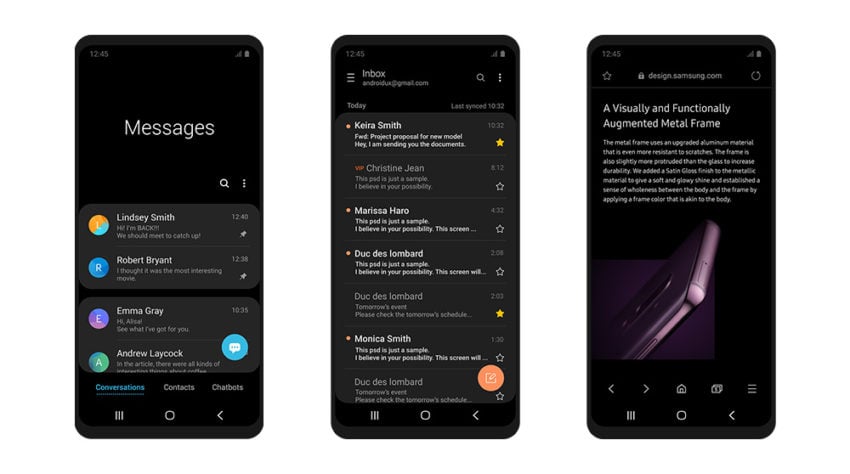 While it would be nice to see the Galaxy Note 10 run Android Q out of the box, that probably won't happen. Instead, we expect the device to run Android Pie with a new version of Samsung's One UI.
If you aren't familiar with the software, use this time to get acquainted with it. This way you aren't caught off-guard by the look and feel. Some people swear by Samsung's software, others hate it. You won't know which group you fall into until you try it.
There are a few ways to do this. You can find a friend with a newer Galaxy device running Android Pie and One UI and give it a whirl. You can head into a local retail store and use a Galaxy device. Or you can check out our guide to the Galaxy Android Pie update.
The choice is yours.
Research Accessories
Now is also a great time to get familiar with the companies making accessories for the Galaxy Note series.
If you do a bit of research ahead of time, you'll know which accessory makers to avoid and how much to spend if you decide you want a case, screen protector or something else.
We recommend reading reviews and digging into the best Galaxy S10 cases, Galaxy S10 screen protectors, Galaxy Note 9 cases, Galaxy Note 9 screen protectors, and other accessories before Samsung releases the Note 10.
Get familiar with pricing, the styles you like, the pros and cons of popular manufacturers, and the level of protection these accessories will afford your new device.
Try Other Samsung Galaxy Phones
Before you pick the Galaxy Note 10, make sure you try Samsung's current flagships, the Galaxy S10 and Galaxy Note 9.
The Galaxy Note 9 is a year old, but it's much cheaper than it once was and it's now running Android 9.0 Pie with Samsung's One UI. It's a solid, powerful phone and it's still worth a look in 2019.
You should also go hands-on with the Galaxy S10, Galaxy S10+, Galaxy S10e, and Galaxy S10 5G. These are Samsung's other flagship models from 2019.
We've seen some excellent Galaxy S10 deals throughout the year so if you aren't looking to spend a whole lot on your next device, they're worth a look.
The Galaxy Note 10 will most likely have a steep price tag at launch.
You also might want to consider other Galaxy phones like the Galaxy S9, Galaxy S9+, Galaxy S8, Galaxy S8+, or a model from one of Samsung's budget lines.
The Galaxy Note 10 is alluring, no doubt, but a lot of you will be perfectly fine going with another Galaxy phone in 2019.
Look At Other Note 10 Alternatives
If you're dead set on buying a Samsung phone, you'll want to explore other Note 10 alternatives.
Apple's iPhone XS, iPhone XS Max, and iPhone XR are solid alternatives and they are also cheaper than they were at the beginning of 2019. If you don't want to pay top dollar, check out the iPhone X, iPhone 8 Plus, and maybe even the iPhone 7 Plus.
Other top alternatives include Google's Pixel 3 XL and Pixel 3a XL, the OnePlus 7, and the OnePlus 7 Pro.
Have a Plan for Your Current Phone
If you're set on an upgrade, use this time to make a plan for your current device.
Some of you might know of a friend or relative who might be in need of a new phone. Ask around and see if someone you know might be interested.
If you want to sell your current device to help pay for your shiny new Note 10, research the resale prices at places like Amazon, Gazelle and NextWorth.
If you plan to trade your phone in to offset the cost of the Note 10, make sure you keep it in great condition because that's how you'll get the most money back.
If your current phone is extremely old and you won't get a ton of cash back for it, consider donating it to a charity like Cell Phones for Soldiers.
Look Into Samsung Premium Care
The Galaxy Note 10 will be an expensive gadget and you'll want to protect your investment. You can buy a case, but you also might want to grab Samsung's Premium Care warranty for added protection.
With Samsung Premium Care you'll get a bunch of benefits including video chat, in-person support, and an extended warranty. Like Apple's AppleCare warranty, Samsung Premium Care comes at a cost.
You can expect the company to offer a free 30 day trial, but after you'll have to open up your wallet and shell out $11.99 per month for support.
As we approach the release date dig into Samsung Premium Care reviews and gather feedback from users and decide if the service is worth it for you and your new phone.
Compare Carriers & Data Plans
With the Note 10 release date on the horizon, now would be a great time to start researching carriers (if you plan to leave your current provider) and data plans for your device.
In the buildup, it's a good idea to check your current data plan to see if you need to make any adjustments. If you spend time digging into your current usage you might be able to save some money.
You should also start researching other carriers if you think you might get a better deal or better service from another provider.
The Galaxy Note 10 will almost certainly debut on AT&T, Sprint, T-Mobile, U.S. Cellular and Verizon in the United States and each carrier has its pros and cons.
Look into those now. That way, you aren't scrambling when the time comes.
Signup for More Information
Samsung now allows interest parties to register for more information about the Galaxy Note 10.
If you're interested in getting information about the phone in your email, head over to Samsung's website, find the Galaxy Unpacked banner, and click it to open up the registration page. If you're on the correct page, you'll be asked to input your information.
If you live in Germany, Samsung Germany says there is an exclusive offer to those who signup through the website. We don't know what that offer is yet, but the company sent a coupon for a free wireless charger to those who signed up for more info about the Galaxy S10.
If you live in the United States, signing up lets you select your Note 10 color and storage options early. This signup period stretches from July 25th to August 7th.
11 Reasons to Wait for the Galaxy Note 10 & 5 Reasons Not To
Wait Because the Note 10 Release Date is Close
If you're interested in the Note 10 and you can wait through July, think about putting off a purchase until Samsung takes the stage.
Samsung's hosting an Unpacked event in New York City on August 7th and the Note 10 will be in attendance based on the teaser image for the gathering.
This means you'll have to wade through a few more weeks of Galaxy Note 10 rumors before Samsung and media outlets confirm the device's release date, features, and price.
If you can't picture yourself doing that, stop waiting for the Galaxy Note 10 and move on. However, if you aren't in a hurry, wait around for the announcements and see if they're to your liking.
As for the release date, the Galaxy Note 10 recently hit the FCC and we expect the devices to go up for pre-order soon after the announcements.
As of right now, it looks like Samsung might be targeting a release on August 23rd in some regions. If true, the device would hit shelves a few weeks before Apple's 2019 iPhone models.

As an Amazon Associate I earn from qualifying purchases.