Nintendo Switch Skyrim Release Date, News & Details
The Skyrim release date for Nintendo Switch is confirmed and our guide will take you through those details and everything else you need to know about the release.
Skyrim for the Nintendo Switch was one of the stars at Bethesda's E3 2017 showcase. The game, which was originally announced during Nintendo's Switch launch event in January, appeared alongside Fallout 4 VR and a new Creation Club for Fallout 4 and Skyrim Special Edition.
On stage, Bethesda confirmed a flurry of new Skyrim Switch details including a specific release window and bonus content you can't get on the PS4 or Xbox One. The company also released a new trailer showing off the game on Nintendo's portable console.
As we push into September we want to take you through the most important things you need to know if you're interested in playing Skyrim on the Nintendo Switch.
This includes a look at its release date, Skyrim Switch deals, and a brief look at what you can expect from the game's content and gameplay.
Nintendo Switch Skyrim Release Date
Nintendo and Bethesda have finally confirmed a specific release date.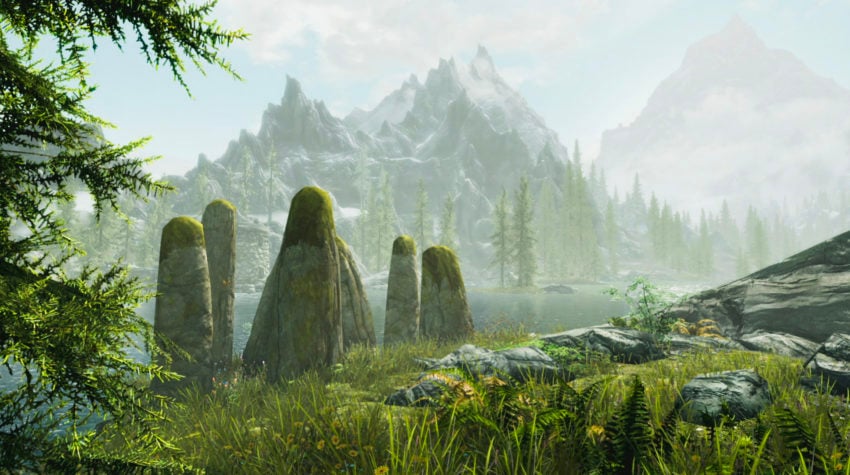 As it turns out, Skyrim for Switch will arrive alongside Skyrim VR on November 17th. This release date falls a few weeks ahead of the Fallout 4 VR release date in December.
Nintendo Switch Skyrim Pre-Orders
If you want to order Skyrim for Nintendo Switch right now, you can.
Popular retailers like Amazon, Best Buy, and GameStop are taking pre-orders ahead of the game's unspecified release date. Note, the release dates listed are placeholders so don't read into them.
Gamestop and Best Buy both allow you to put in an order for in-store pickup though it's unclear if either will host midnight launch events for the game.
Nintendo Switch Skyrim Deals
If you don't want to pay the full $60 for Skyrim you don't, and won't, have to.
Amazon Prime members can take the usual 20% off a Switch Skyrim pre-order. Members of Best Buy's Gamers Club Unlocked program can do the same.
Both are paid memberships but you can signup for a free Amazon Prime trial and snag the deal. Best Buy doesn't offer a GCU free trial.
We expect more Skyrim Switch deals (including some that don't need a membership) to emerge throughout the year so keep an eye out as we approach the fall.
Nintendo Switch Skyrim Content
Skyrim for Nintendo Switch isn't the same as Skyrim Special Edition for the Xbox One and PlayStation 4. There are some key differences.
Key differences include new gameplay features like motion controls for lock-picking and combat. On the Switch, you'll be able to detach the Joy-Con controller from the unit and experience Skyrim in all-new ways.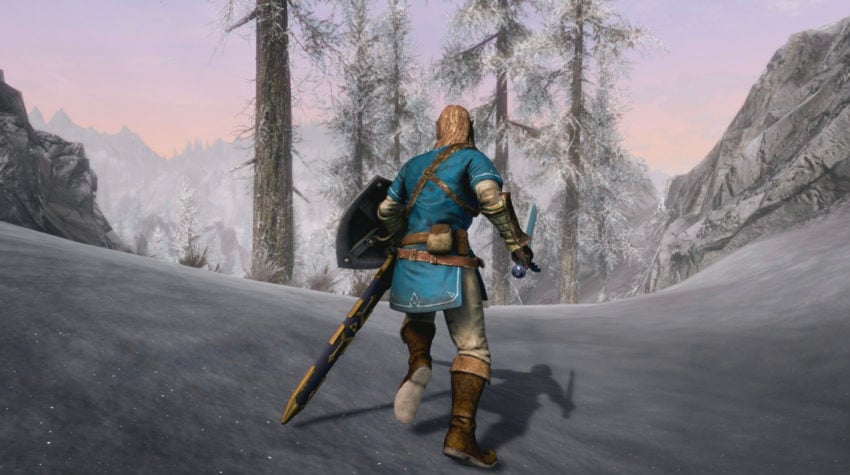 The game will also feature some unique content from The Legend of Zelda series. Skyrim for Switch includes outfits and gear from the popular series including:
Master Sword
Hylian Shield
Champion's Tunic
The game also includes amiibo support. The Legend of Zelda amiibo will unlock additional loot in the game, a nice perk for those invested in Nintendo's platform.
Archer Link was shown off during the initial announcement but it's unclear the game will include additional costumes.
Skyrim's three DLC expansion packs, Dawnguard, Hearthfire and Dragonborn, are also included in the game's package.
Bethesda recently showcased the game in action at Gamescom and some people in attendance were able to get hands-on with the title.
The video above from YouTuber GameXplain showcases the game being played while the Nintendo Switch is in its handheld mode.
Nintendo Switch Skyrim Mods
Bethesda's Skyrim for Switch could be missing one key element: Mods. The company hasn't confirmed mod support for Skyrim on Switch.
Mods are a huge part of the game's success on Xbox One and PlayStation 4. Bethesda's Skyrim mod library features thousands of ways to change the game.
The company's also launched its new Creation Club on Fallout 4 with a release on Skyrim Special Edition coming sometime in September.
Creation Club gives gamers access to new Skyrim items, abilities and gameplay features created by Bethesda Games Studios and outside development partners.
Creation Club is available on the Xbox One, PS4 and Windows PC but the developer hasn't said anything about a release on Nintendo Switch. Don't hold your breath.
163 PS4 & Xbox One Skyrim Mods You Should Try Right Now
A Quality Map
One of our favorite Skyrim mods for PC is now available for console.
A Quality World Map by IcePenguin is an essential mod for PC. And now that it's available for console, it's an essential mod for Xbox One. (It's not available for PS4 yet.)
Bethesda's vanilla Skyrim map is decent enough but this mod takes it to the next level with improved textures and detailed roads.
The developer has literally drawn out every single road in the game and needless to say, it's impressive. And useful.
For more info, take a look at the video below.
Trust us, this one is very, very good. Give it a try today.

As an Amazon Associate I earn from qualifying purchases.