Fallout 4 1.10.163 Update: What's New
Bethesda's released another Fallout 4 update for Xbox One, PS4 and Windows PC and the December update delivers bug fixes and one new Creation Club item.
As promised, Bethesda is back with another Fallout 4 patch. The December patch is much smaller than the November update, but it brings some important changes to the popular game.
The December Fallout 4 update requires a fairly sizable download and some of you might need to make room for it on your console or Windows PC.
Bethesda hasn't released an official change log for the Fallout 4 1.10.163 update, but it comes with a small set of changes including a Creation Club item that was delayed last month.
With that in mind, we want to run down everything we currently know about the Fallout 4 1.10.163 patch for Xbox One, PlayStation 4, and Windows PC.
Fallout 4 1.10.163 Update Size
The December Fallout 4 update is version 1.10.163 for the Xbox One. If you're playing the game on Sony's PlayStation 4, you'll see a different version number (1.34). Despite the difference, the updates are the same.
Bethesda's previous update, the November patch, required a 3.6GB download. The company's latest patch is much smaller, but still requires a nice chunk of space.
If your Xbox One, PlayStation 4, or Windows PC is connected to a fast Wi-Fi network it should take less than 10 minutes to download and install the update.
If you haven't fired Fallout 4 up in awhile, you might see a much larger download because you'll need to install any patches you missed.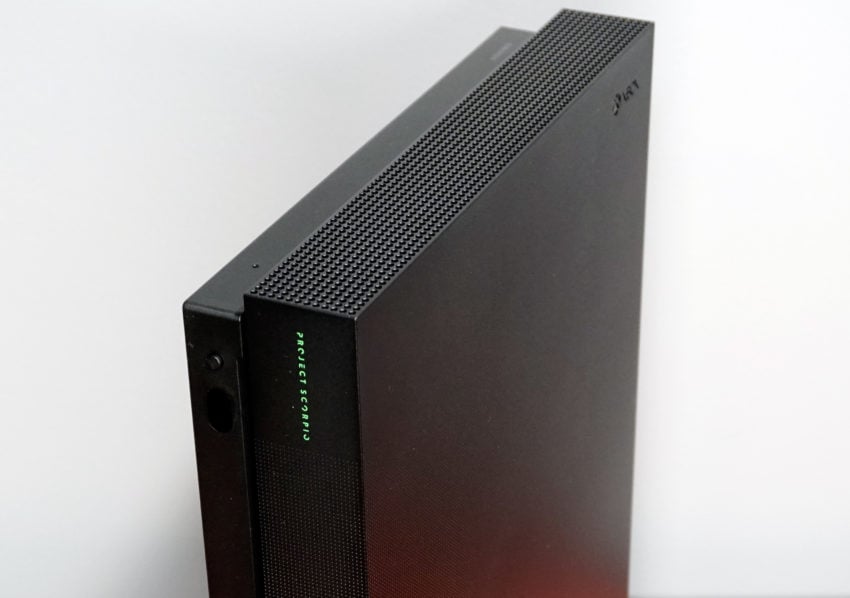 If you're running out of space and you want to continue playing the game online, you'll need to delete files to make room for the 1.10.63 update because it's a mandatory download for all players.
If for whatever reason you don't want to download the patch, you can put your console into offline mode and play Fallout 4 offline.
If you're sick and tired of deleting files whenever you need to install Fallout updates (or updates for other games), here are the best external hard drives for Xbox One and the best external hard drives for PS4.
You might find some great deals during the holiday shopping season so keep your eyes peeled.
December Fallout 4 Creation Club Content
Again, the Fallout 4 December update brings one new item to the Creation Club marketplace. That's it.
That creation is Virtual Workshops, a creation that was delayed just prior to the release of the game's November update. Here's what you can expect from Virtual Workshops: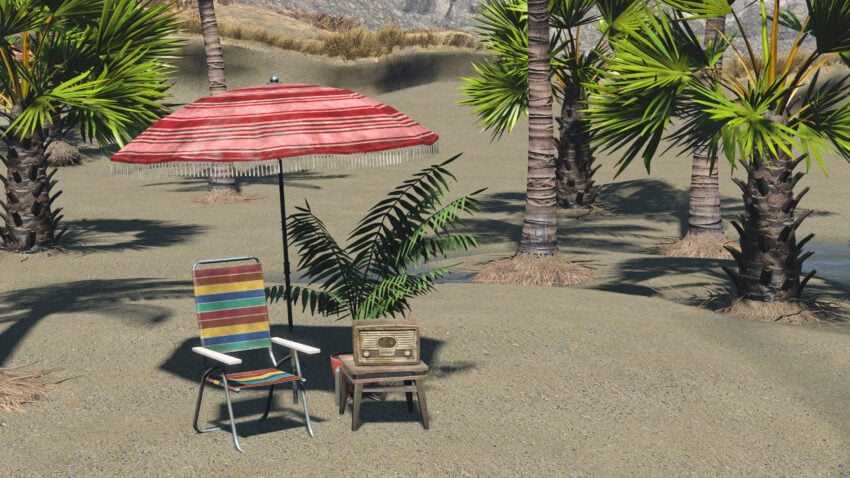 Travel to new worlds from the comfort of your settlement with the VR Workshop! Featuring limitless resources, huge building limits, placeable enemy spawners for your own custom encounters, and a selection of weather, music and visual filters to choose from.
Simply craft a new VR pod and hook it up to a power source and a terminal and you can transport yourself to a series of exotic landscapes and iconic Fallout locations like Grid World, Atomic Crater, Desert Island and the Capital Wasteland's GNR Plaza.
This bundle includes 40 new workshop items, most of which can also be crafted in your real-world workshops.
For more on Virtual Workshops, check out Bethesda's full length guide. It'll take you through this fairly large creation in great detail.
Fallout 4 Creation Club Deals
If you're looking to grab some additional Creation Club content for your hame, there are some limited time deals on the marketplace right now.
For a limited time you can snag the Real Estate Mogul Bundle, normally 1000 Credits, for 500 Credits. The Holiday Workshop Pack, which is normally 700 Credits, is now just 350 Credits.
Neon Flats, which is usually 600 Credits, is 300 Credits. Shroud Manor, typically 400 Credits, is now 200 Credits. The Modular Military Backpack, normally 400 Credits, is now 200 Credits as well.
You'll also find the Adventure Bundle, normally 1000 Credits, for 700 Credits.
In addition, you can also snag one creation for free: Pip-Boy Paint Job – Children of the Atom (normally 100 Credits).
Bug Fixes & Problems
The December update also brings some unlisted bug fixes to the game. A lot of players were complaining about crashes and lockups after the November patch and this update should alleviate those issues.
Bethesda notes that the patch contains "a number of small fixes that got bumped out of the Nov 20th patch" so if you've been having issues with Creation Club content or performance, you'll want to install this update.
There's always a chance the 1.10.63 patch brings some new issues along with it so make sure you dig into feedback from Fallout 4 players before downloading it.
If you do notice issues after downloading the latest update, you'll want to take a look at our list of fixes for common Fallout 4 problems.
189 PS4 & Xbox One Fallout 4 Mods You Should Try Right Now
keyNuker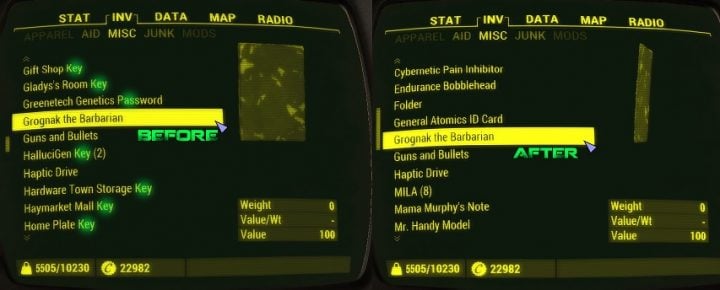 Let's start with one of our favorite PC Fallout 4 mods that quickly made it over to console.
keyNuker creates a key ring in your inventory that hides keys and passwords. With it installed, your MISC tab in on your Pip-Boy is going to be a lot more manageable, particularly if you're deep into the game with tons and tons of items listed.
The screenshot here shows you what the vanilla MISC tab looks like compared to the MISC tab with keyNuker installed. It's night and day.
This is one of our favorite Fallout 4 mods and one that should consider if you're tired of wasting time scrolling through hundreds (many of them worthless) of items.

As an Amazon Associate I earn from qualifying purchases.