Fallout 4 1.10.120 Update: What's New
Bethesda's rolled out yet another Fallout 4 update and the latest patch delivers a fresh batch of Creation Club content for Xbox One, PS4, and Windows PC.
Fallout 76 is out on shelves, but the company continues to support the previous version of Fallout with new patches and new content. The company won't release anymore Fallout 4 DLC so players still traversing the wasteland will need to depend on third-party mods and Bethesda's Creation Club content.
The December Fallout 4 update is a sizable release and it comes with a round of exciting holiday-flavored Creation Club content, the same content Bethesda teased in November.
Bethesda hasn't released an official change log for the Fallout 4 1.10.120 patch, and we aren't expecting one, so here's what we know about the update's download size and content.
Fallout 4 1.10.120 Update Size
Bethesda's December Fallout 4 update is dubbed 1.10.120 on the Xbox One. If you're playing the game on a PlayStation 4, you'll likely see a different version number. That said, the updates are the same.
The developer's latest update requires nearly 3GB of internal storage space which means it's much bigger than the company's November patch.
Xbox One users will see a 2.9GB download. If you're connected to a fast Wi-Fi network it should take less than 7 minutes to download to your console.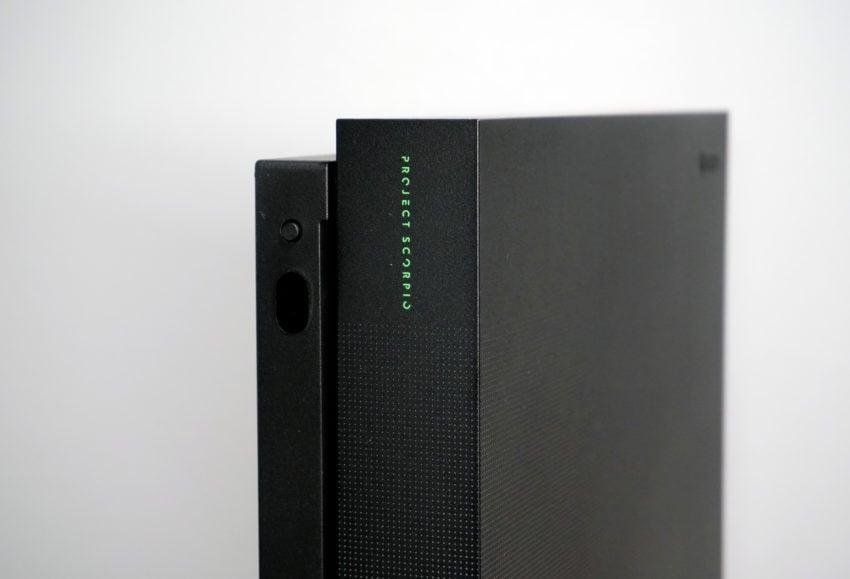 If you haven't played Fallout 4 in awhile, you will likely see a larger download because you'll need to download the updates you missed onto your console.
If you're completely out of space on your console or Windows PC and you want to continue playing Fallout 4 online, you'll need to delete files in order to make room for the update. It's a mandatory patch for all players.
If you don't want to download the patch for whatever reasons, you can put your console into offline mode and play Fallout 4 offline.
December Fallout 4 Creation Club Content
Bethesda hasn't released a change log but the 1.10.120 update unlocks fresh Creation Club content.
In November Bethesda teased five new Creation Club creations including a Holiday Pack, the Zetan Weapons Pack, the Pint-Sized Slasher, the Faction Fashion Armor Skin Bundle, and the Faction Fashion Weapon Skin Bundle. These are now available on the marketplace.
Holiday Pack (700 Credits)
Santa knows who's been naughty and who's been nice. In fact, he's kept a running list for the past two hundred years, and stocked plenty of gifts for all the Commonwealth. Find his crate of goodies and unpack new clothing, weapon and armor skins, over 60 workshop items, and many individual ornaments for your rebar Christmas tree to keep your settlement and its inhabitants dressed for the holiday season!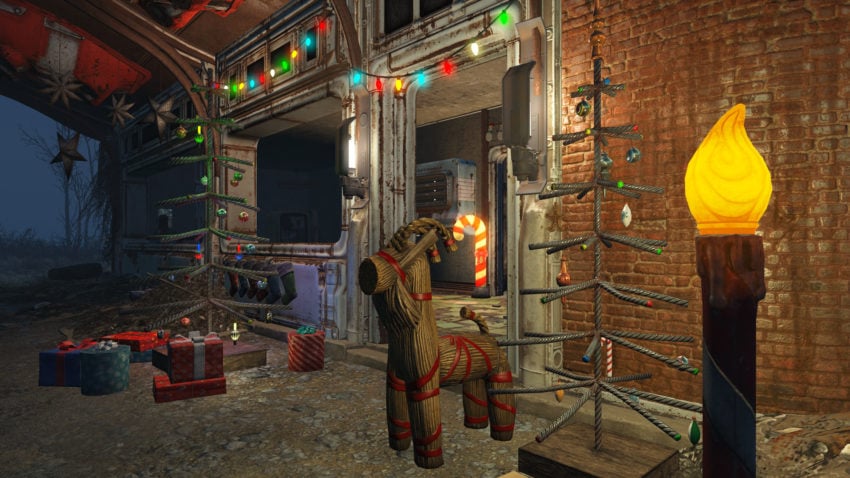 Zetan Weapon Pack (600 Credits)
In farmlands untouched by progress, aliens known as Zetans descend on our planet, carrying with them powerful weapons made of unknown technology. For what purpose, no one knows. But watch the skies, and you may soon find out. Includes three out of this world weapons.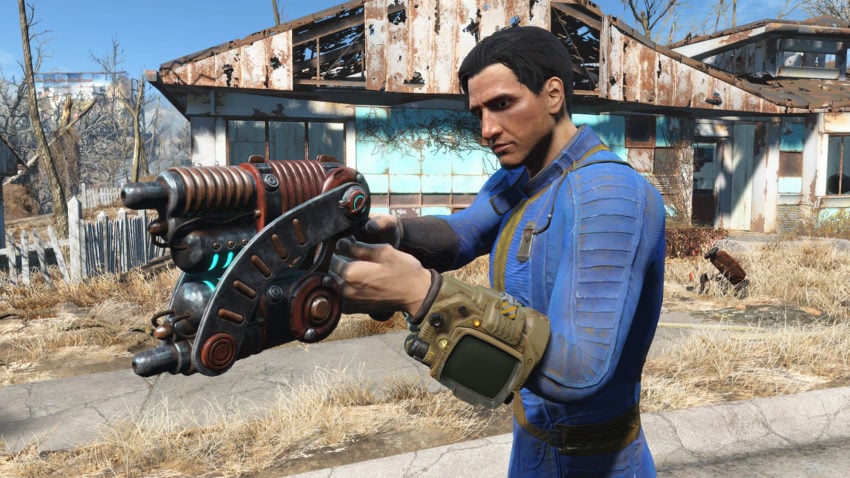 Pint-Sized Slasher (400 Credits)
Who hasn't heard the story of the Pint-Sized Slasher, the tiny terror of suburbia? Whether it's his frightful clown mask or his signature chef's knife, having become one of the more popular legends in American folklore. Some believe the Pint-Sized Slasher only a myth, though the bodies tell a different story.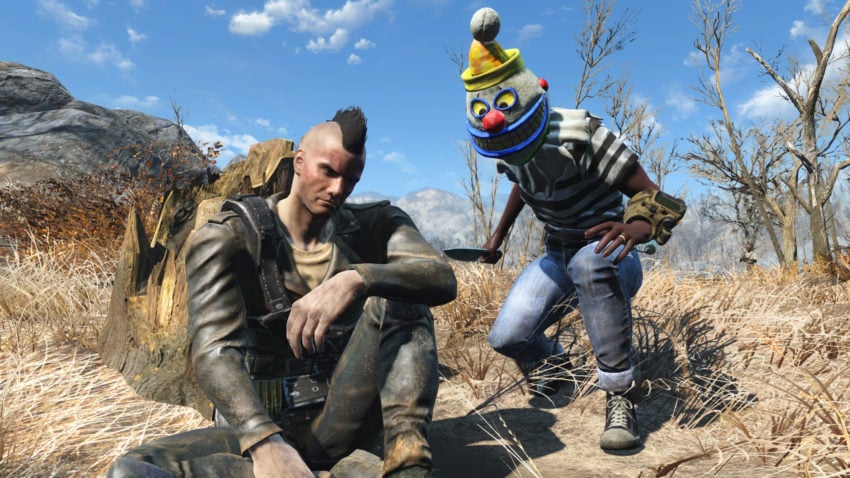 Faction Fashion Armor Skin Bundle (400 Credits)
They say people wear their heart on their sleeves, and their faction everywhere else. Choose from the Children of Atom, Enclave, Reilly's Rangers, Tunnel Snakes, and Pickman armor skins, and rep a group beyond the traditional Wasteland factions.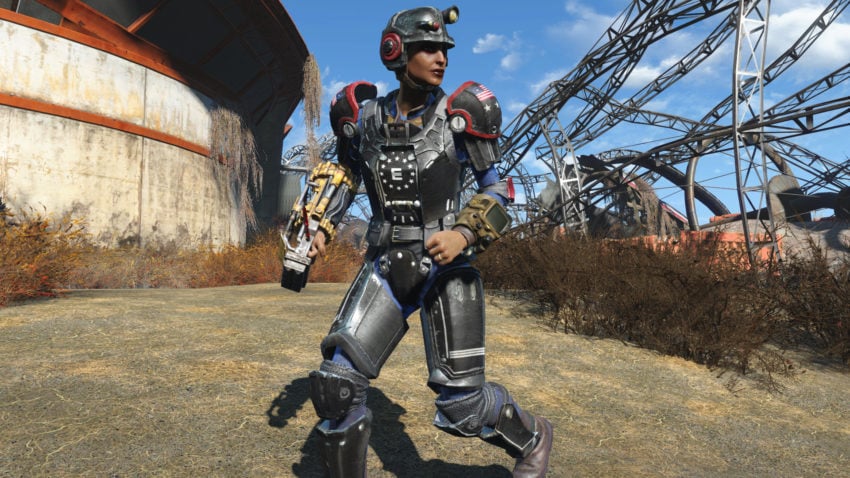 Faction Fashion Weapon Skin Bundle (400 Credits)
There's no better way to rep a faction than to paint it on your gun. Choose from the Children of Atom, Enclave, Reilly's Rangers, Tunnel Snakes, and Pickman weapon skins, and let your enemies know who shot them.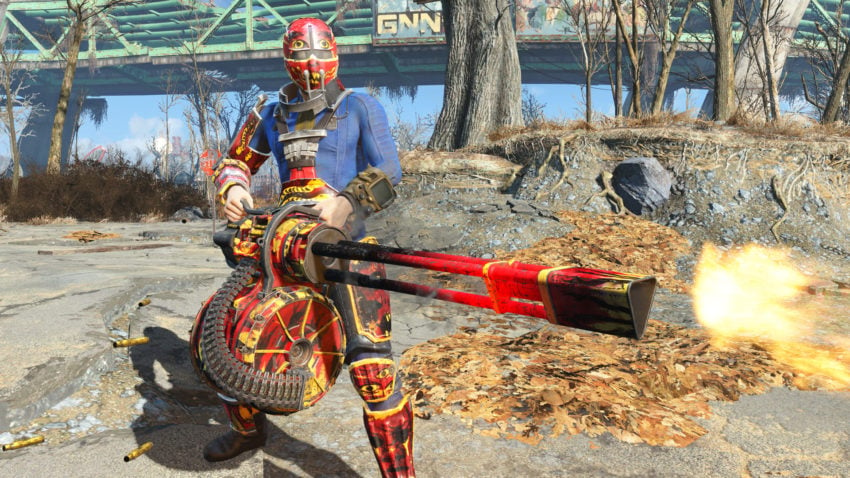 Fallout 4 Creation Club Deals
If you're looking to snag some new Creation Club content, Bethesda's got some deals on older creations.
For a limited time you can pickup the Pip Boy Paint Job – Reilly's Rangers for free.
There are also some Limited Time offers. These include the Total Defense Bundle (1200 credits), the Real Estate Mogul Bundle (1000 Credits), The Unstoppables! Pip-Boy Bundle (400 Credits), and the Workshop Fanatic Bundle (1000 Credits).
Bug Fixes & Problems
As of right now, we don't know if the 1.10.120 patch fixes any lingering issues with the game. Most of Bethesda's Fallout 4 patches are focused on delivering new Creation Club content though we occasionally see a bug fix or two on board.
There's also a good chance the new patch brings some problems of its own. New patches often cause performance issues and bugs so be on the lookout for reports from players.
If you notice issues with the December Fallout 4 patch, you'll want to take a look at our list of fixes for common Fallout 4 problems.
189 PS4 & Xbox One Fallout 4 Mods You Should Try Right Now
keyNuker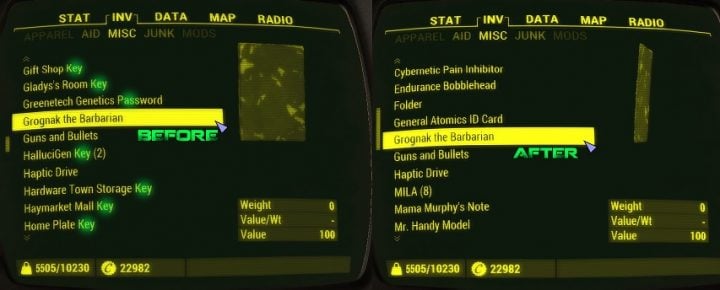 Let's start with one of our favorite PC Fallout 4 mods that quickly made it over to console.
keyNuker creates a key ring in your inventory that hides keys and passwords. With it installed, your MISC tab in on your Pip-Boy is going to be a lot more manageable, particularly if you're deep into the game with tons and tons of items listed.
The screenshot here shows you what the vanilla MISC tab looks like compared to the MISC tab with keyNuker installed. It's night and day.
This is one of our favorite Fallout 4 mods and one that should consider if you're tired of wasting time scrolling through hundreds (many of them worthless) of items.