Fallout 76: 5 Things to Know
Bethesda's confirmed a brand new Fallout game. Here's what we know, right now, about Fallout 76.
Bethesda continues to confirm games ahead of its highly anticipated E3 2018 showcase. Earlier this month the company announced Rage 2 via teasers and a gameplay trailer and today Bethesda's surprised everyone with a new entry into the heralded Fallout series.
Fallout 76 is official thanks to a teaser trailer that sets the stage for a huge show next month in Los Angeles, California. We don't know a whole lot about Fallout 76 just yet, but here are a few things fans of the series should know as we push toward Bethesda's show next month.
Fallout 76 Trailer
Bethesda's released a rather mysterious Fallout 76 teaser trailer ahead of the full unveil. Watch it here:
The song used in the trailer is "Take me home, Country Roads," a symbol of West Virginia.
Vault 76
In the trailer you might notice what appears to be the entrance to Vault 76 on the TV. Vault 76 dates back to Fallout 3 and is mentioned in both the base game and in the Mothership Zeta DLC pack.
According to the Vault-Tec terminal in the Citadel, Vault 76 is/was a "control" vault with some 500 occupants set to open 20 years after the outbreak of nuclear war.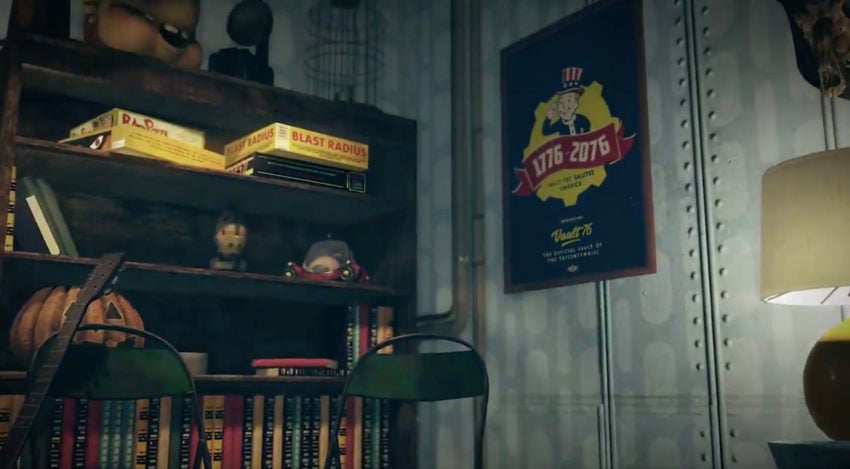 In the Fallout 4 prologue, the newsreader mentions Vault 76's debut in 2076. In the trailer, you might notice a poster mentioning Vault 76 with the years "1776-2076,"America's tercentenary, on it.
Fallout 76 appears to be set in 2102, 25 years after the Great War which means it would be the earliest in Fallout's timeline.
Fallout: 2161
Fallout 2: 2241
Fallout 3: 2277
Fallout 4: 2287
Fallout NV: 2281
Fallout 76: 2102?
The date comes from the Pip Boy in Fallout 76 teaser which reads October 27th, 2102.
Fallout 76 Launch Date
The trailer doesn't reveal much about the game, but we do know exactly when we'll hear more about it.
Bethesda Game Studios plans to show the game off at its annual BE3 Showcase  on June 10th at 6:30PM PT. The event will be livestreamed so those that aren't able to attend in person will be able to catch the highlights as they happen.
Again, Fallout 76 isn't the only game Bethesda plans to show off at the event. Rage 2 will be on hand and we expect a few other announcements as well.
Don't Expect Fallout 5
Fallout 76 most likely won't follow in the footsteps of Fallout 4. Fallout 5 this is not.
According to Jason Schreier from Kotaku, Fallout 76 is a online survival game and won't be the kind of "traditional single-player RPG" Bethesda is known for.
It's unclear what this might mean, but last year we heard murmurings of a new "bleeding-edge AAA freemium game" from Bethesda Game Studios. That said, the listing was for a position at Bethesda Montreal.
According to Schreier, Fallout 76 is under development "at both Bethesda Game Studios' main office in Maryland and at the Austin office formerly known as Battlecry Studios."
Fallout 76 Release Date & Pre-Orders
The trailer doesn't reveal the Fallout 76 release date or the game's platforms, but GameStop's confirmed releases for PS4, Xbox One, and Windows PC.
While some companies announce games years before they arrive, Bethesda is well-known for announcing games close to their official release.
In 2015 it announced and released Fallout 4 so don't be surprised if we're looking at a near-finished product on stage next month with a release set for later this year.
GameStop is currently taking Fallout 76 pre-orders, but the release date listed there, December 31st, 2019, is obviously a placeholder.
189 PS4 & Xbox One Fallout 4 Mods You Should Try Right Now
keyNuker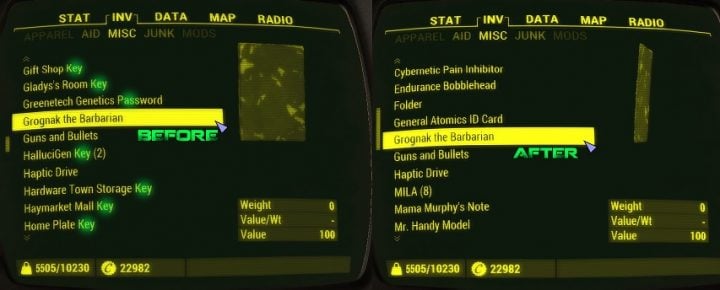 Let's start with one of our favorite PC Fallout 4 mods that quickly made it over to console.
keyNuker creates a key ring in your inventory that hides keys and passwords. With it installed, your MISC tab in on your Pip-Boy is going to be a lot more manageable, particularly if you're deep into the game with tons and tons of items listed.
The screenshot here shows you what the vanilla MISC tab looks like compared to the MISC tab with keyNuker installed. It's night and day.
This is one of our favorite Fallout 4 mods and one that should consider if you're tired of wasting time scrolling through hundreds (many of them worthless) of items.

This article may contain affiliate links. Click here for more details.