Fallout Minecraft Mash Up Pack Release Date Details
Do you love Fallout and Minecraft? The Fallout Minecraft mash-up pack release date is coming later this month to bridge your two favorite virtual worlds.
The new Minecraft Fallout pack turns Minecraft into an irradiated wasteland, packs in new skins, new enemies from the Fallout universe and even changes the design of the menu to match the fallout aspect.
Fallout Minecraft Mash Up Pack Details
When is the Fallout Minecraft Mash Up Release Date?
There is no specific Fallout Minecraft mash up release date, but you can expect it in December 2016.
Where Can I Play the Fallout Minecraft Mash Up?
The new Minecraft Fallout mod will be on Xbox One, PS4, Wii U, Xbox 360, PS3 and PlayStation Vita.
How Much is the Fallout Minecraft Mash Up?
You can buy the Minecraft Fallout Mash Up for $5.99. This is an add on so you will need to own Minecraft on one of these consoles as well as buying this add on.
What's In the Fallout Minecraft Mash Up? 
The Fallout Minecraft Mash Up includes a new world that skins Minecraft to look like the Fallout universe. In addition to this there are 44 skins based on Fallout characters. There are Fallout inspired enemies and the UI of Minecraft looks like a pip boy.
Other changes include, "Friendly cows, gently sauteed in the light of a thousand suns, have now sprouted second heads, while the familiar supersized spiders have made way for other overgrown arachnids, who scuttle through the dark wielding brutal stingers."
189 PS4 & Xbox One Fallout 4 Mods You Should Try Right Now
keyNuker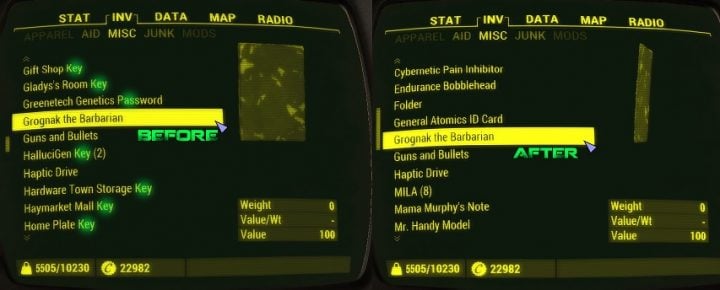 Let's start with one of our favorite PC Fallout 4 mods that quickly made it over to console.
keyNuker creates a key ring in your inventory that hides keys and passwords. With it installed, your MISC tab in on your Pip-Boy is going to be a lot more manageable, particularly if you're deep into the game with tons and tons of items listed.
The screenshot here shows you what the vanilla MISC tab looks like compared to the MISC tab with keyNuker installed. It's night and day.
This is one of our favorite Fallout 4 mods and one that should consider if you're tired of wasting time scrolling through hundreds (many of them worthless) of items.

As an Amazon Associate I earn from qualifying purchases.