Fallout 4 1.10.100 Update: What's New
Bethesda's rolling out a new June Fallout 4 update to Xbox One, PlayStation 4, and Windows PC users and this update appears to deliver some fresh Creation Club content to all three platforms.
Bethesda continues to support Fallout 4 with new content as we push toward the Fallout 76 release date this fall. Last month the developer trotted out a substantial 2GB patch and today it's back with another huge Fallout 4 patch.
We don't know a ton about the 1.10.100 patch right now, the developer hasn't posted the official change log yet (it never posted one for the May update), but here are a few things we do know about the download and the update's contents.
Fallout 4 1.10.100 Update Size
The June Fallout 4 update is known as 1.10.100 for the Xbox One. Those of you who own a PlayStation 4 will see a different version number.
PC players are reporting another tiny 80MB download, the May patch was also tiny on PC, but the update is much bigger for console owners. The update for Xbox One X users in the United States is a 854MB download.
It took us about two minutes to download and install the June patch on the Xbox One X.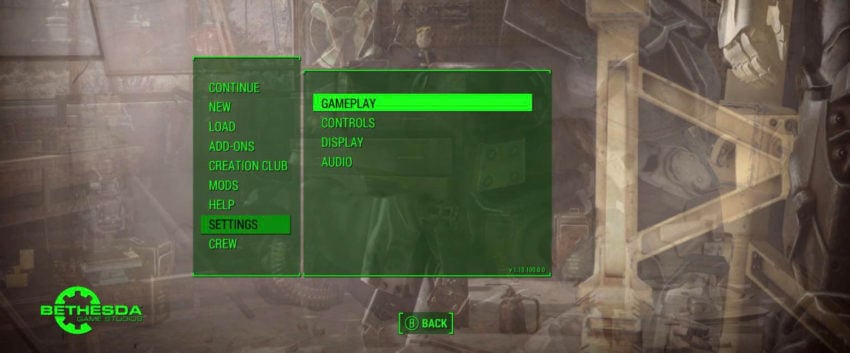 Those of you that've fallen behind on Fallout 4 updates will likely see a much bigger download thanks to the patches you missed. If you own an Xbox One X and you skipped the 1.10.50 update, you'll be looking at a 17GB+ download.
If you don't have a ton of space available on your console or Windows PC, you'll need to make room for this patch. It's a mandatory download for all players, not just those who want to secure new content from the Creation Club.
If you want to skip the June patch download, you can put your console into offline mode and play Fallout 4 offline.
Fallout 4 Creation Club Content
Bethesda hasn't posted the official change log, but it looks like this update unlocks some of the Creation Club content the developer teased earlier this year.
We've spotted several of the Creation Club items Bethesda showcased back in May though some of the items remain missing in action.
Anti-Materiel Rifle (AMR) (400 Credits)
Captain Cosmos: Venture onto the set of the old Captain Cosmos TV show, and obtain a unique weapon, outfit, and set of Power Armor. (700 Credits)
Nuka-Cola Collector Workshop: A new quest, an all-new house, and a full collection of Nuka-Cola themed workshop items. (400 Credits)
A few of the other items Bethesda teased in May still haven't appeared in the Creation Club marketplace for us. The missing items are a series of new Pip-Boy paint jobs:
New Pip-Boy Paint Jobs: the Unstoppables: Grognak, Manta Man, Mistress of Mystery, The Inspector, and Silver Shroud.
It's unclear when these items will appear or how much they'll cost when they do.
The developer's also teased several other Creation Club items though none of them have gone up for sale in the Creation Club just yet.
Solar Cannon: It's win, lose or draw, and the only one left alive holds the legendary Solar Cannon. Do you have what it takes to claim the prize and stay in the game, or will you fold like all the rest?
Charlestown Condo: Live the life of luxury with this classy Charlestown Condo. With four floors of customizability and plenty of space to spare, your new home awaits… just down the road from Bunker Hill!
Patriotic Power and Pip-Boy: The perfect way to to celebrate Independence Day! (Sold Separately)
Rainbow Pip-Boy and Power Armor Paint Job Bundles: A paint job for every color under the Rainbow, and a few that aren't! Includes Chrome, Blue, Green, Orange, Purple, Red, Yellow, Onyx, White, Pink and Tan Paint Jobs. (Power Armor and Pip-Boy paints bundled separately.)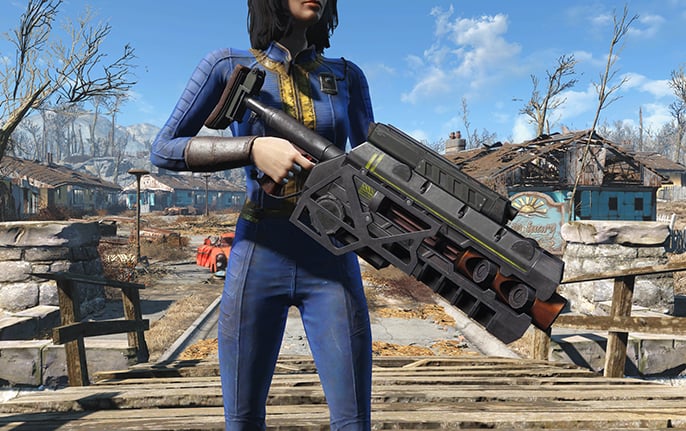 We don't know how many Creation Club Credits each will cost because none of these items have appeared on the Creation Club marketplace yet.
Keep an eye out for these items as we push away from the update's release date.
Fallout 4 Creation Club Deals
Bethesda's offering several Creation Club deals right now and the list includes discounts on bundles like the Armor Paint Job – Institute and the Weapon Paint Job – The Institute.
Both of those items are free.
Bug Fixes
Fallout 4 patches typically come with bug fixes though it's unclear if the June patch comes with remedies for bugs and lingering performance issues.
If you start encountering problems with the latest patch, you'll want to take a look at our list of fixes for common Fallout 4 problems.
Bethesda will continue to support Fallout 4 with bug fixes, but updates will continue to roll out infrequently as we push toward the release of Fallout 76.
189 PS4 & Xbox One Fallout 4 Mods You Should Try Right Now
keyNuker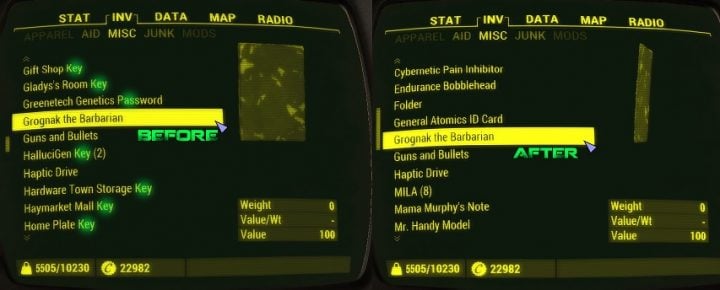 Let's start with one of our favorite PC Fallout 4 mods that quickly made it over to console.
keyNuker creates a key ring in your inventory that hides keys and passwords. With it installed, your MISC tab in on your Pip-Boy is going to be a lot more manageable, particularly if you're deep into the game with tons and tons of items listed.
The screenshot here shows you what the vanilla MISC tab looks like compared to the MISC tab with keyNuker installed. It's night and day.
This is one of our favorite Fallout 4 mods and one that should consider if you're tired of wasting time scrolling through hundreds (many of them worthless) of items.

As an Amazon Associate I earn from qualifying purchases.