Fallout 4 1.10.50 Update: What's New
Bethesda's brand new Fallout 4 1.10.50 update is a big one, particularly if you own Microsoft's Xbox One X console.
Earlier this month Bethesda confirmed plans to deliver support for Microsoft's Xbox One X. The company outlined the update in detail, but it failed to deliver an official release date for those looking to play Fallout 4 in 4K on the Xbox.
Today, the company announced a brand new Fallout 4 patch, version 1.10.50, and it's rolling out to consoles right now.
The Fallout 4 1.10.50 update doesn't come with a long list of changes, but Xbox One X owners should be thrilled with the update's changes.
In this guide we'll take you through everything you need to know about the Fallout 4 1.10.50 patch.
Fallout 4 1.10.50 Update Size
If you're planning to play Fallout 4 on the Xbox One X today, prepare for a significant download.
Once you fire up the game and assuming you've downloaded all of the previous patches, you're going to encounter a 17GB download on the Xbox One X. The exact size will depend on your region and console.
It's much bigger than the previous patch and it requires a nice little chunk of your hard drive space. If you don't have a ton of hard drive space, you're going to need to clear some out.
It took us about 10 minutes to download and install over a high-speed Wi-Fi network.
Fallout 4 Xbox One X Update
The biggest changes on board the Fallout 4 1.10.50 patch are the changes for the Xbox One X.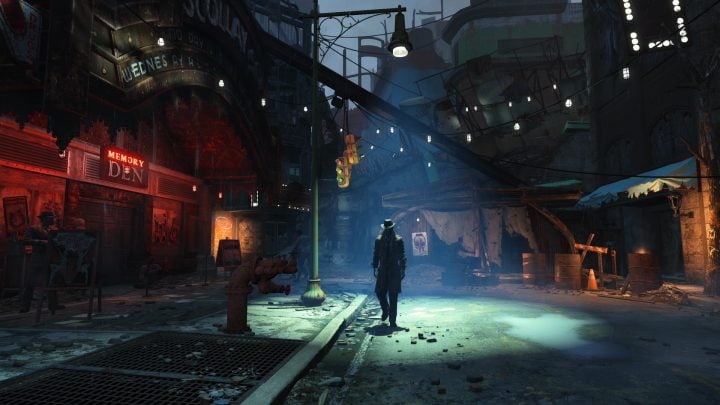 The Fallout 4 Xbox One X update delivers 4K support for Microsoft's next-gen console.
On top of 4K support, the 1.10.50 update delivers enhanced draw distance for trees, grass, objects and NPCs, and enhanced God Ray effects. In other words, the game will look a whole lot better on the Xbox One X once you download and install this update on your console.
If you aren't sure if what you're looking at is any different than what you were looking at before downloading the 1.10.50 patch, take a look at our list of Xbox One X problems.
Bug Fixes
The changes for the Xbox One X aren't the only changes on board the latest Fallout 4 patch.
The change log outlines three others including a bug fix for corrupted textures related to reflections, an update to script functions to support new Creations, and the removal of the Report button from Mods. Bethesda says users should report Mods on Bethesda.net instead.
Bethesda's latest patch fixes some issues, but we're already hearing about problems with the new version. Some of these issues are new, others have carried over from the previous versions of Fallout 4.
If you start noticing issues with the game after downloading this patch, take a look at our list of fixes for common Fallout 4 problems. You might find a fix there.
Bethesda will continue to support Fallout 4 with updates, but we expect patches to be sporadic as we push away from today's release and head into 2018.
189 PS4 & Xbox One Fallout 4 Mods You Should Try Right Now
keyNuker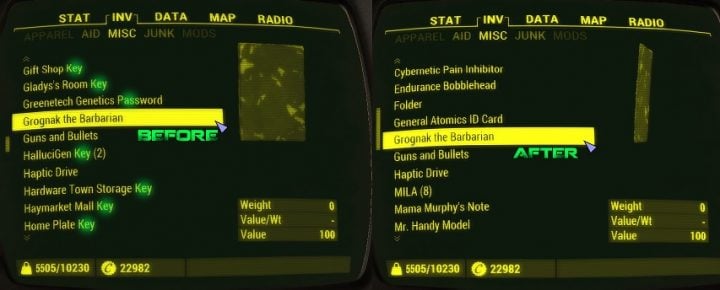 Let's start with one of our favorite PC Fallout 4 mods that quickly made it over to console.
keyNuker creates a key ring in your inventory that hides keys and passwords. With it installed, your MISC tab in on your Pip-Boy is going to be a lot more manageable, particularly if you're deep into the game with tons and tons of items listed.
The screenshot here shows you what the vanilla MISC tab looks like compared to the MISC tab with keyNuker installed. It's night and day.
This is one of our favorite Fallout 4 mods and one that should consider if you're tired of wasting time scrolling through hundreds (many of them worthless) of items.

As an Amazon Associate I earn from qualifying purchases.