Fallout 4 1.10.114 Update: What's New
A brand new Fallout 4 update is rolling out to the Xbox One, PlayStation 4, and Windows PC.
Bethesda's Fallout 76 beta is inching closer, but the company is still pushing out new patches for the game it released all the way back in the fall of 2015.
In late September the company pushed out its 1.10.111 patch with a massive Settlement Ambush Kit and a Fantasy Hero set outfit that included a brand new quest.
The developer is back with yet another Fallout 4 patch, an October update, and the release is a fairly sizable download for all three platforms.
Bethesda hasn't released an official change log for the new Fallout 4 1.10.114 patch, but here's what we currently know about the latest update.
Fallout 4 1.10.114 Update Size
The October Fallout 4 update is version 1.10.114 on the Xbox One. If you are playing Fallout 4 on Sony's PlayStation 4 you're going to see a different version number, but the patch is the same.
The latest patch require over a gigabyte of hard drive space, but it's a smaller download than some of Bethesda's previous patches.
Xbox One users will see a 1.5GB download. It only took about four minutes to download and install on our Xbox One X over a fast Wi-Fi network.
If you haven't played the game in a while and you've fallen behind on Fallout 4 updates, you will likely see a larger download due to the updates you missed along the way.
If you own an Xbox One X and you skipped Fallout 4's 1.10.50 patch, you'll be looking at a 17GB+ download.
If you're out of space on your console or Windows PC and you want to continue playing Fallout 4 online, you'll need to delete some files to make room for this patch. The 1.10.114 patch is a mandatory download for all Fallout 4 players.
If you want to skip the download you can, but you'll need to put your console into offline mode and play Fallout 4 offline.
New Fallout 4 Creation Club Content
We don't have the 1.10.114 update official change log yet (Bethesda probably won't post one) so it's unclear if the update brings new Creation Club content to Fallout 4's market place.
Bethesda recently teased new Creation Club content for October and the list includes four brand new additions, none of which are available on the marketplace just yet. It can take a day for new content to show up so we could see these items appear for sale tomorrow.
The list of upcoming Fallout 4 Creation Club content includes:
Often referred to as the "black devil" for its signature design, the X-02 is an advanced power armor model developed by the Enclave for its special operations forces. With multiple skin options and custom Tesla modifications, the X-02 is a powerful tool to help you storm through the Wasteland, or bedevil it. In addition to a new suit of power armor, this content also includes a new radio station with FO3's classic patriotic music.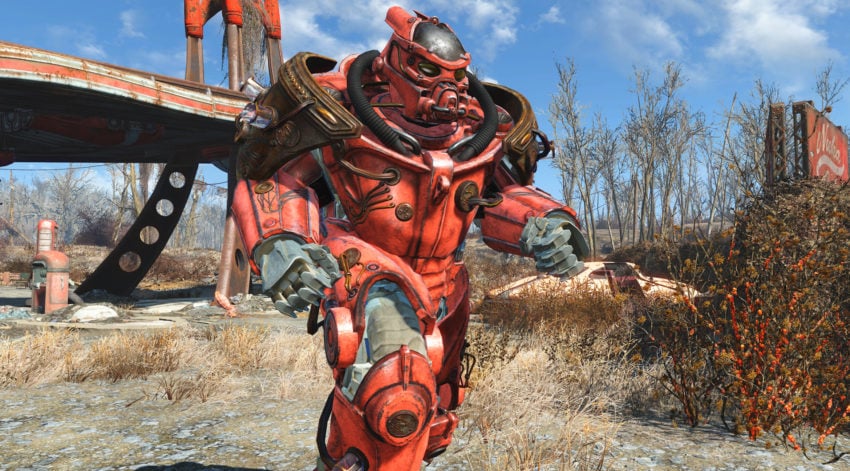 Shi Armor and Weapon Skins
Brilliant gold dragons are interwoven over bright red armor and weapons in these new skins, which draw from the iconography of the west coast Shi.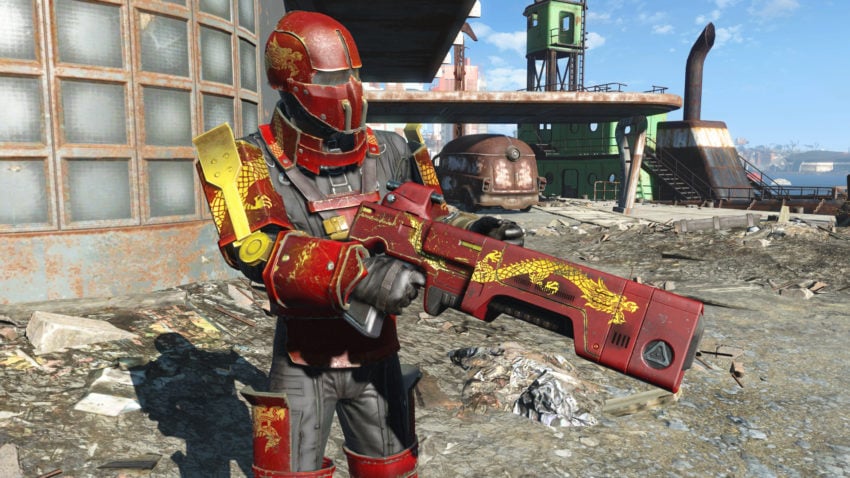 Halloween Armor and Weapon Skins
Frighten up your game with these new Halloween skins. Paint your weapons and armor with spooky bats or eerie Jack-o'-lanterns, and make yourself a Halloween costume to haunt the Commonwealth!
Camouflage Armor and Weapon Skins
Blend into your surroundings with Desert, Aquatic, and Swamp camo options for your weapons and armor.
As of right now, pricing is unknown.
Fallout 4 Creation Club Deals
If you're looking to pickup some new Creation Club content, Bethesda's offering several deals on older content right now.
For a limited time you can pickup the Pip Boy Paint Job – Purple and the Power Armor Paint Job – Purple for free.
There are also some Limited Time offers. These include the Dog Kennel Bundle (2000 credits), the Ultimate Armor Paint Job Bundle (800 Credits) and the Ultimate Weapon Paint Job Bundle (800 Credits).
Bug Fixes & Problems
It's not listed in any change log, but it looks like the 1.10.114 patch fixes an issue with the Settlement Ambush Kit from the previous patch. There's also a good chance it brings some problems of its own.
Immediately after the release of the August patch, Settlement Ambush Kit users started complaining about an issue with extreme periods of time passing when using the camera. Bethesda quickly patched the issue on PC, but made PS4 and Xbox One users wait.
If you start encountering other problems with the latest Fallout 4 patch, you'll want to take a look at our list of fixes for common Fallout 4 problems.
189 PS4 & Xbox One Fallout 4 Mods You Should Try Right Now
keyNuker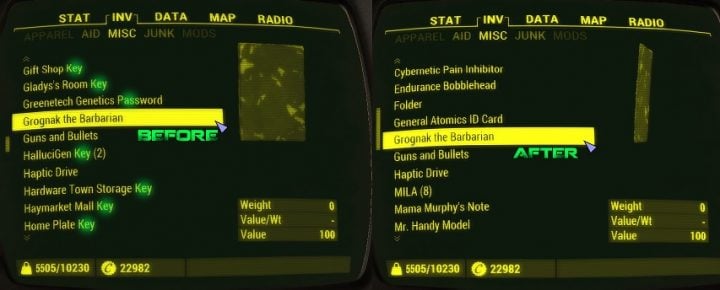 Let's start with one of our favorite PC Fallout 4 mods that quickly made it over to console.
keyNuker creates a key ring in your inventory that hides keys and passwords. With it installed, your MISC tab in on your Pip-Boy is going to be a lot more manageable, particularly if you're deep into the game with tons and tons of items listed.
The screenshot here shows you what the vanilla MISC tab looks like compared to the MISC tab with keyNuker installed. It's night and day.
This is one of our favorite Fallout 4 mods and one that should consider if you're tired of wasting time scrolling through hundreds (many of them worthless) of items.

As an Amazon Associate I earn from qualifying purchases.