Fallout 4 Pip Boy Edition: 10 Tips for Buyers
The Fallout 4 Pip Boy Edition is back and it's bundled with Fallout 4 Game of the Year. With that in mind, we want to offer some tips to those of you looking to buy the updated Fallout 4 Pip Boy Edition for PS4, Xbox One or PC.
If you don't want to buy the (rather expensive) Fallout 4 Pip Boy Deluxe Bluetooth Edition or the original Fallout 4 Pip Boy Edition from a reseller on Craigslist or eBay, you now have another option.
Bethesda's surprised with a new Fallout 4 Pip Boy Edition that's bundled with a new version of Fallout 4. Retailers, including Amazon, are now taking orders for Fallout 4 Game of the Year Pip Boy Edition bundle.
The $100 bundle nets you a copy of the GOTY version of Fallout 4 (base game and all six DLC expansions) and the original Pip Boy accessory from 2015.
The Pip Boy is a tool that the Sole Survivor (Fallout 4's main character) uses to monitor things like inventory and radio stations. The Pip Boy coming with the Game of the Year Edition bundle will let you to monitor all of these things in Fallout 4, from your wrist, using a smartphone and Fallout's Pip Boy app.
The 2017 Pip Boy Edition is set to arrive on September 26th and a pre-order is probably tempting considering the Pip Boy Edition's history.
It's unclear how much stock Bethesda and its retail partners will have on hand this time around but there's always a chance it could sell out before its street date.
With that in mind, we want to offer a few tips to those of you that already bought your copy of the Fallout 4 Pip Boy Edition and those of you that are thinking about putting in a pre-order.
Go Hands-on, If You Can
We don't know how long the new Pip Boy Edition bundle will be available. This could also be the last time Bethesda sells the original Pip Boy gadget. It would be wise to make a decision to buy sooner rather than later.
The Pip Boy Edition is expensive and it won't be worth the investment for many people.
If you know someone that has a Pip Boy or has used a Pip Boy, it's probably a good idea to ask them about their experience and go hands-on. You might also check out our review. If you aren't a collector and or a cosplayer, you probably don't need it.
Remember, you can still use the Fallout 4 companion application on your smartphone without the Pip Boy. The Pip Boy just enhances the experience.
If You Think You Want It, Buy It Now
The regular Fallout 4 Game of the Year Edition is $60 but the Pip Boy Edition is $100. That's actually $20 less than the original bundle from 2015. If pre-orders sell out, you could be looking at steeper price points on Craiglist and eBay.
If you know you want a Pip Boy, it might be a good idea to put in an order through a retailer like Amazon, GameStop, or Bethesda, right now. $100 could be the cheapest you find the bundle all year.
Retailers like Amazon allow you to cancel pre-orders without penalty so even if you think you might want one, it might be a good idea to put in an order just to be safe.
How to Check for Stock
If you want to keep tabs on Pip Boy Edition stock, head over to Now In Stock. The bundle hasn't appeared yet but at some point it should allow you to keep tabs on Pip Boy Edition stock at various retailers.
Now In Stock allows you to setup alerts that will notify you when the Pip Boy Edition goes out of stock and when new inventory emerges.
Monitor Reseller Pricing
You'll also want to keep a close eye on reseller pricing. While we've seen some exorbitant pricing at eBay, there's always a chance that someone will have mercy in the months ahead.
Maybe someone has two pre-orders and they decide to sell their other one at face value. If that happens, you'll want to be all over it. Problem is, you won't know about the deal unless you're checking sites on a semi-regular basis.
Checking places like eBay takes a few minutes at most and you might save yourself a lot of time and money if you periodically check in the days leading up to September.
Start Saving
If you want to wait until the release gets closer, until the release date itself or until after the release date to buy the Pip Boy Edition, you'll want to start saving your money right now.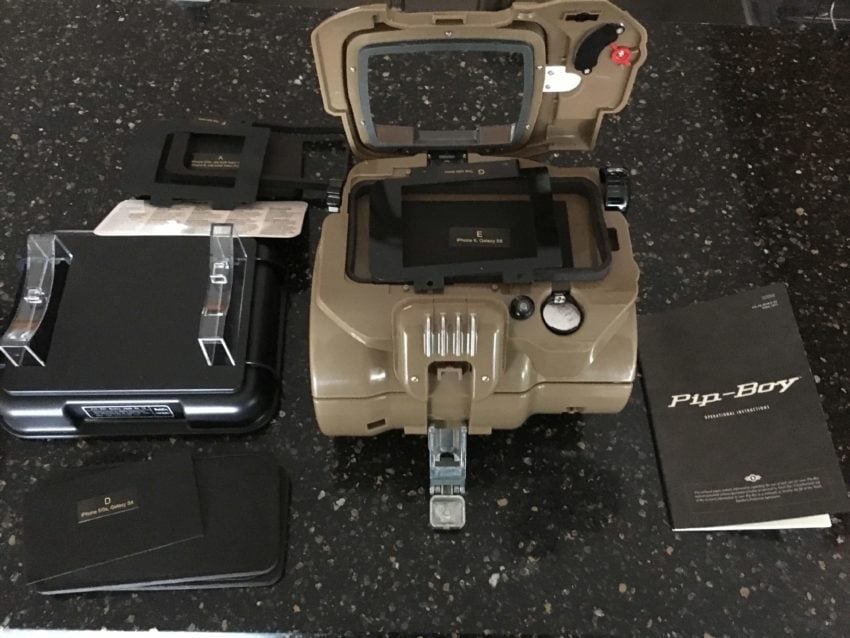 We don't see the price dipping below the current $100 price point anytime soon. We could see some deals during the holidays but that's far from guaranteed.
You're going to have to shell out for this game one way or another so you'll want to stash some money away to help make your future purchase a little bit easier on the wallet and bank account.
The Pip Boy Won't Work With Some Phones
If you own a large phone like the iPhone 6 Plus or Samsung Galaxy Note 4, note that the Pip Boy is not going to fit a phone that size.
The Pip Boy works with popular devices like the iPhone 6, iPhone 5s, iPhone 5, iPhone 4, iPhone 4s, Samsung Galaxy S5, and Samsung Galaxy S4.
Unless Bethesda's made some big changes to the dimensions of the Pip Boy, you can expect the same from the glorified phone case that's included in this year's bundle.
You shouldn't expect the Pip Boy Edition to fit the rumored iPhone 7s Plus or iPhone 8. It probably won't fit the Samsung Galaxy Note 8 either.
So, if you own a big phone or are planning on buying one this year, keep that in mind as we push toward the game's release.
Don't Expect Many Fallout 4 Pip Boy Edition Deals
Again, we don't expect to see retailers drop the price of this game before the release. This is a popular game and a very popular accessory.
If you're lucky, we could see some deals emerge during Black Friday and the holidays. That is, if the bundle is still in stock.
Monitor Your Pre-Orders
Now for some tips for those of you have already pre-ordered the Fallout 4 GOTY Pip Boy Edition.
The first thing you'll want to do is keep an eye on your pre-order as we push toward September. This will become particularly important once we start getting closer to the game's street date.
We expect Bethesda and its retail partners to honor all of its pre-orders but you just never know. Stock shortage or not, we almost always see some orders get fouled up before a game's release date so you'll want to be extremely vigilant.
We recommend documenting all of your important information, including order number, just in case something goes wrong in the weeks ahead.
Keep Your Information Updated
Keep your information up-to-date otherwise you could run into some problems with your pre-order.
For instance, if you cancel your credit card anytime between now and the game's release, make sure that you update your pre-order to reflect that. If you change your address, make sure you update that too.
These are little things that people often forget when a game is out of sight. Out of sight, out of mind. Our advice is to make the change to your pre-order as soon as you possibly can.
Don't Cancel
No-brainer but a tip nonetheless. If you already pre-ordered the game, you shouldn't cancel your pre-order. If you do that, you may not be able to pre-order again and you could be looking at a hefty price on the resale market.
If you decide that you don't want the game, you might want to check in at a place like the Fallout Reddit to see if someone wants to buy your pre-order/game from you.
189 PS4 & Xbox One Fallout 4 Mods You Should Try Right Now
keyNuker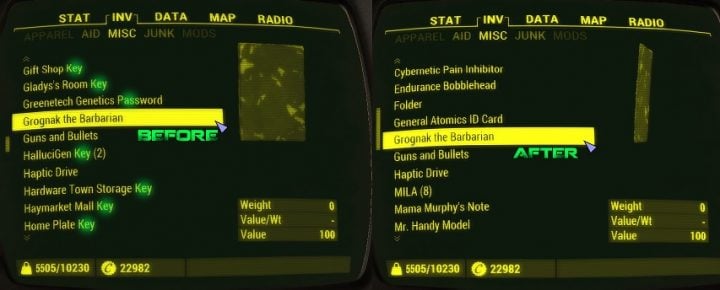 Let's start with one of our favorite PC Fallout 4 mods that quickly made it over to console.
keyNuker creates a key ring in your inventory that hides keys and passwords. With it installed, your MISC tab in on your Pip-Boy is going to be a lot more manageable, particularly if you're deep into the game with tons and tons of items listed.
The screenshot here shows you what the vanilla MISC tab looks like compared to the MISC tab with keyNuker installed. It's night and day.
This is one of our favorite Fallout 4 mods and one that should consider if you're tired of wasting time scrolling through hundreds (many of them worthless) of items.

This article may contain affiliate links. Click here for more details.