Fallout 4 Game of the Year Release Date, Features, Deals & Details
While we wait for Bethesda and its partners to deliver new Fallout 4 DLC, the company's announced a Fallout 4 Game of the Year Edition as well as a new Fallout 4 Pip-Boy Edition.
Bethesda continues to keep Fallout 4 alive in exciting ways. Earlier this year, the company confirmed plans to release new content via its Creation Club. Creation Club will go live sometime this summer though the company hasn't revealed a release date for Fallout 4 and Skyrim Special Edition.
As we push deeper into the summer the company's announced two new Fallout 4 bundles that should interest those looking to jump into the wasteland for the first time and fans of the series that missed out on a Pip Boy Edition when it first went on sale back in 2015.
Today we want to take you through the most important things to know about the Fallout 4 Game of the Year Edition and the new Fallout 4 Pip Boy Edition.
What is Fallout 4 Game of the Year Edition
Bethesda's new Fallout 4 Game of the Year Edition is a $60 bundle that includes the base game and additional content.
For $60, or less if you can find a deal, you'll get a copy of Fallout 4 and all six Fallout 4 DLC expansion packs that were included in the game's Season Pass. For reference, the list includes:
If you aren't familiar with the DLC packs you can get acquainted with their most important features via our walkthroughs listed above.
The $60 price point might seem like a lot but it should save you some money. While the price of the base game has dropped significant since launch, the Fallout 4 Season Pass is still $50 at retailers like Amazon.
Retailers also sell the Fallout 4 DLC packs individually but we haven't seen prices move too much in 2017. The two biggest Fallout 4 DLCs, Far Harbor and Nuka World, are still $25 and $20 most places.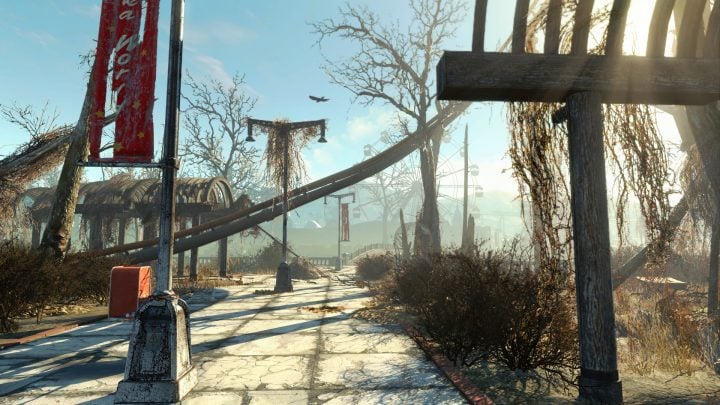 In addition to the base game and the six Fallout 4 DLC expansions, you'll gain access to an extensive catalog of free Fallout 4 mods. There are literally thousands of mods on Bethesda's marketplace though we've listed nearly 200 of our favorites to help narrow the list.
Fallout 4 Game of the Year Edition Release Date
Bethesda's Fallout 4 Game of the Year Edition is currently available to pre-order at popular retailers like Amazon, GameStop, and the Beth Store.
As for the game's release date, Bethesda and its retail partners will release the game on September 26th. It's unclear if this date ties in with the upcoming Creation Club release.
What is the Fallout 4 Pip Boy Edition
There are actually two versions of the Fallout 4 Game of the Year Edition. The regular version and a $100 Pip-Boy Edition that includes the original Pip Boy accessory from 2015.
The Pip Boy accessory was first released alongside Fallout 4 back in November of 2015. The original Fallout 4 Pip Boy Edition proved to be a hot commodity and Bethesda and its partners completely sold out shortly after the game's release.
Since then, the Fallout 4 Pip Boy Edition has been sold on resale sites like eBay and Craigslist, often for a premium.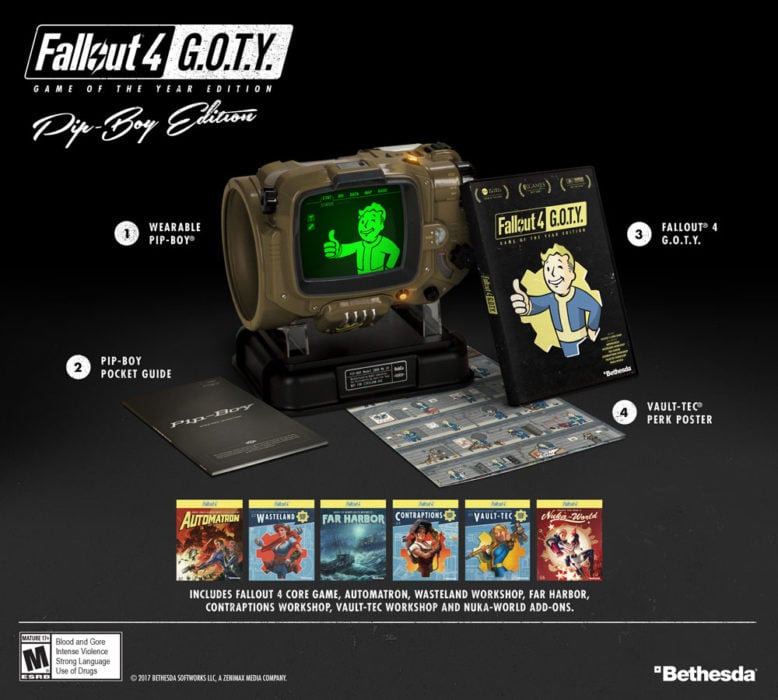 Bethesda's brought the Fallout 4 Pip Boy Edition back and it now includes the Fallout 4 Game of the Year Edition instead of the base game.
The company also sells a Fallout 4 Pip Boy Deluxe Bluetooth Edition but it's not included in this bundle.
Where to Buy the New Fallout 4 Pip Boy Edition
If you want to pickup a Fallout 4 Game of the Year Edition with a Pip Boy, you can pre-order the bundle right now from several retailers including Amazon, GameStop, and Bethesda.
It's not clear how much stock these retailers will have on hand so if you want one it might be a good idea to put in a pre-order now. Retailers like Amazon allow you to cancel, free-of-charge, before an item ships.
Fallout 4 GOTY and Pip Boy Edition Deals
If you don't want to pay the full $60 for Fallout 4 Game of the Year Edition or $100 for the Pip Boy Edition bundle you should keep your eyes peeled for deals.
Amazon isn't offering a pre-order deal on either game at the moment and GameStop and the Beth Store are currently selling the bundles for full price.
With that said, we could see Fallout 4 Game of the Year Edition deals emerge after the release as we approach Black Friday, Cyber Monday, and the holiday shopping season.
189 PS4 & Xbox One Fallout 4 Mods You Should Try Right Now
keyNuker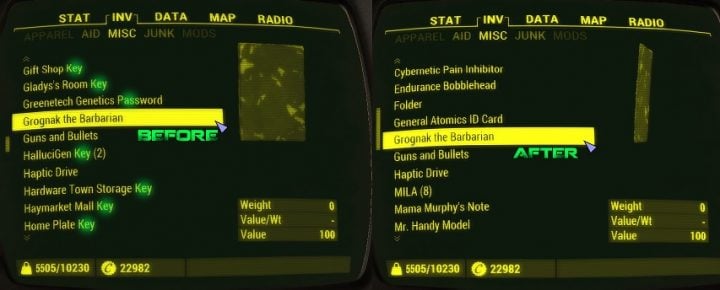 Let's start with one of our favorite PC Fallout 4 mods that quickly made it over to console.
keyNuker creates a key ring in your inventory that hides keys and passwords. With it installed, your MISC tab in on your Pip-Boy is going to be a lot more manageable, particularly if you're deep into the game with tons and tons of items listed.
The screenshot here shows you what the vanilla MISC tab looks like compared to the MISC tab with keyNuker installed. It's night and day.
This is one of our favorite Fallout 4 mods and one that should consider if you're tired of wasting time scrolling through hundreds (many of them worthless) of items.

As an Amazon Associate I earn from qualifying purchases.