Fallout 4 1.10.106 Update: What's New
Bethesda's rolling out a new Fallout 4 update to Xbox One, PS4 and Windows users and the latest patch brings yet another batch of Creation Club content.
The Fallout 76 release date and beta are getting closer, but Bethesda continues to roll out new Fallout 4 patches and we could see support continue through the rest of 2018 and beyond the release of the next entry in the Fallout series.
Last month Bethesda's 1.10.100 patch delivered new Creation Club content to those still playing Fallout 4. This month, it's back with new items for all three platforms.
Bethesda hasn't posted the official change log for its new 1.10.106 patch, but here are a few things we do know about the download and the 1.10.106 update's contents.
Fallout 4 1.10.106 Update Size
Bethesda's July Fallout 4 update is known as 1.10.106 on the Xbox One. Those of you playing the game on Sony's PlayStation 4 will likely see a different version number.
The latest Fallout 4 patch isn't as big as some of Bethesda's early Fallout 4 patches, but it still requires a fairly sizable chunk of hard drive space. Xbox One users are looking at a 891.3MB.
It took us about two minutes to download and install Bethesda's July patch on the Xbox One X.
Those of you who've fallen behind on Fallout 4 updates will see a much larger download size because of the updates you skipped. If you own an Xbox One X and you skipped the 1.10.50 update, you'll be looking at a 17GB+ download.
If you don't have a ton of hard drive space available on your console or Windows PC, you'll need to make room for this patch. It's a mandatory download for all Fallout 4 players, not just those who want to download new content from the Creation Club.
That said, if you do want to skip the July patch download, you can put your console into offline mode and play the game offline.
Fallout 4 Creation Club Content
Bethesda hasn't posted the 1.10.106 update's official change log yet (and we might not get one), but the latest patch unlocks the Creation Club content the developer teased earlier this year.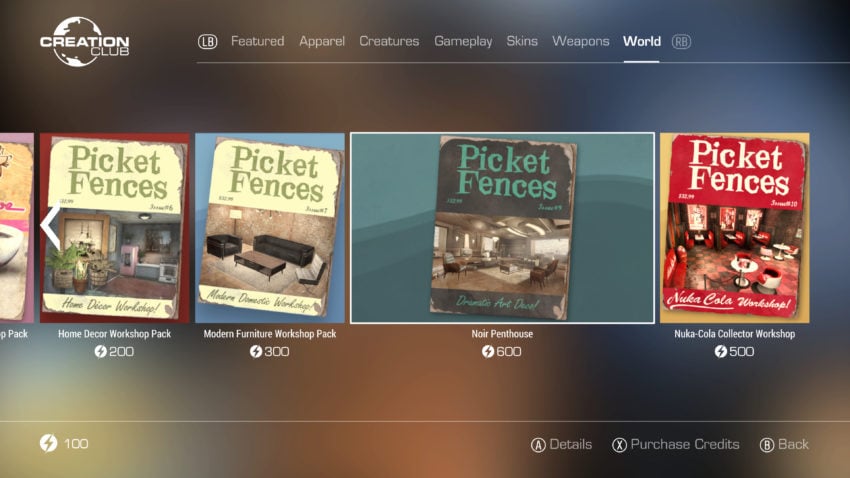 The items, which include a Sentinel Control System Companion and a new safehouse called the Noir Penthouse, are now on the Creation Club marketplace.
Sentinel Control System Companion
Before the Great War, the geniuses at West-Tek and General Atomics International had an idea – what if they combined unmanned suits of Power Armor with an autonomous artificial intelligence? Their single, highly experimental prototype was eventually recovered by the Brotherhood of Steel, and now it's in your hands. Not quite robot, much more than human, the Sentinel Control System will shift the balance of power on any battlefield! (And with the Outcasts re-integrated into the Brotherhood, what to do with all of that painted power armor?)
In the twilight where past and future meet, the Noir Penthouse provides a sanctum from the chaos of the Commonwealth. Originally used as a safehouse for elite Institute Coursers on the hunt for escaped Synths, this stylish apartment includes over 35 new workshop items, new clothing outfits, and a new quest. It is also set up as an apartment workshop so you can modify it yourself.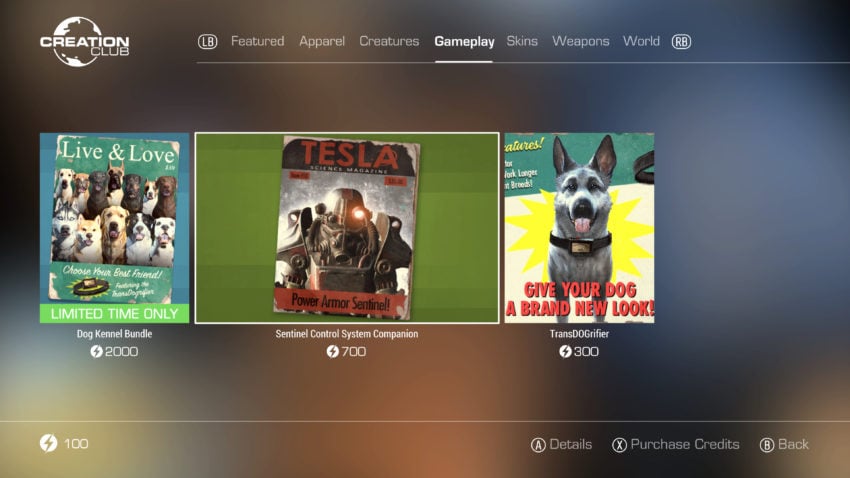 The Sentinel Control System Companion is 700 Credits while the Noir Penthouse is currently priced at 600 Credits.
Fallout 4 Creation Club Deals
Bethesda's got several Creation Club Limited Time offers right now and the list includes a trio of bundles.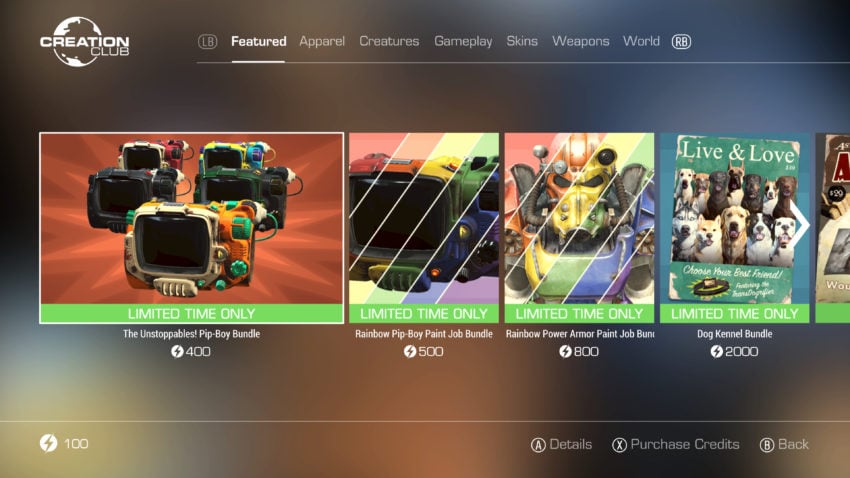 The Limited Time offers include:
New Pip-Boy Paint Jobs: the Unstoppables: Grognak, Manta Man, Mistress of Mystery, The Inspector, and Silver Shroud.
Rainbow Pip-Boy and Power Armor Paint Job Bundles: A paint job for every color under the Rainbow. Includes Chrome, Blue, Green, Orange, Purple, Red, Yellow, Onyx, White, Pink and Tan Paint Jobs. (Power Armor and Pip-Boy paints bundled separately.)
Dog Kennel Bundle
We don't know when these offers will expire so you'll need to act quickly.
Bug Fixes
Bethesda's Fallout 4 patches often come with bug fixes for lingering issues though it's unclear if the July patch fixes anything on the Xbox One, PS4, or Windows versions of the game. There's also a good chance it brings some problems of its own.
In fact, it looks like the latest update breaks the F4SE. To fix this, you'll want to follow these instructions. It should only take you a few minutes.
If you start encountering problems with the latest version, you'll want to take a look at our list of fixes for common Fallout 4 problems.
189 PS4 & Xbox One Fallout 4 Mods You Should Try Right Now
keyNuker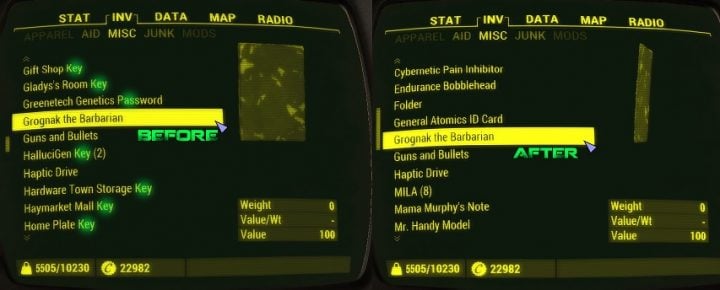 Let's start with one of our favorite PC Fallout 4 mods that quickly made it over to console.
keyNuker creates a key ring in your inventory that hides keys and passwords. With it installed, your MISC tab in on your Pip-Boy is going to be a lot more manageable, particularly if you're deep into the game with tons and tons of items listed.
The screenshot here shows you what the vanilla MISC tab looks like compared to the MISC tab with keyNuker installed. It's night and day.
This is one of our favorite Fallout 4 mods and one that should consider if you're tired of wasting time scrolling through hundreds (many of them worthless) of items.

As an Amazon Associate I earn from qualifying purchases.