Fallout 4 1.10.111 Update: What's New
Bethesda's released another Fallout 4 update for the Xbox One, PS4 and Windows PC and the developer's latest patch brings a new round of Creation Club content.
The Fallout 76 release date is getting closer, but Bethesda continues to bring new updates and content to the previous entry in the series.
In July, Bethesda rolled out a 1.10.106 patch which paved the way for brand new Creation Club content including a Sentinel Control System Companion and a Noir Penthouse.
The company's back with another update and the August patch will likely deliver the Creation Club content it promised earlier this year.
Bethesda hasn't posted the official change log for its new 1.10.111 patch, but here are a few things we know about the download and the 1.10.111 update's purpose.
Fallout 4 1.10.111 Update Size
August's Fallout 4 update is known as 1.10.111 on the Xbox One. If you're playing the game on PS4 you'll see a different version number.
Bethesda's new patch is a little bigger than July's update, but it's still much smaller than some of the developer's previous updates. That said, it still requires a fairly sizable chunk of hard drive space on your console.
Xbox One users are looking at a 1GB download. It took us about three minutes to download and install the patch on an Xbox One X.
If you've fallen behind on Fallout 4 updates will probably see a much larger download size due to the updates you skipped. If you own an Xbox One X and you skipped the 1.10.50 update, you'll be looking at a 17GB+ download.
If you don't have a lot of space free on your console or Windows PC, you'll need to make room for this patch. It's a mandatory download for all Fallout 4 players, not just those who want to download and use the new content.
If you really want to skip the download, you can put your console into offline mode and play the game offline.
New Fallout 4 Creation Club Content
Bethesda hasn't posted the 1.10.111 update's official change log yet (we aren't expecting one), but the latest patch delivers the Creation Club content the developer teased in early August.
The items, which include a Settlement Ambush Kit and a Fantasy Hero Set, are now on the Creation Club marketplace for all platforms.
Settlement Ambush Kit (900 Credits)
"Tired of being taken unawares by the Commonwealth's deadliest foes? Now you can turn the tables, with the Settlement Ambush Kit! By setting up specific radio beacons or "bait" at your settlements, you can lure enemies in and have your automated defenses cut them to ribbons! And, best of all, you can watch the action unfold remotely, utilizing a brand new security camera system."
Bethesda's put together a lengthy guide to the Settlement Ambush Kit and it's worth reading over if you're interested in spending the 900 Credits:
Ambush System
"The new ambush system provides a fun and challenging way to hone your combat skills and gather resources. Simply activate a fake distress signal or bait lure to begin the onslaught. Unlike a normal ambush, the attacks will continue until settlement morale drops to zero, or the signal beacon is turned off or destroyed.
Each ambush is separated into waves and rounds. A single wave consists of ten rounds, culminating in a boss fight. In addition, a timer is attached to each round which impacts morale. Dispatching enemies quickly can provide a morale boost, whereas protracted battles can incur penalties that can result in defeat.
As horde levels increase in scope and duration, you will be challenged to fend off the attackers on multiple fronts while protecting the health of your settlers, supplies, and defenses. Turrets may overheat and require repair, while attackers will be increasingly better armed and drop less ammunition. Morale must be maintained by rescuing downed settlers and keeping the settlement well populated.
In order to mount a successful defense, you will need to take into account multiple factors with regard to defense, supplies, and morale. Creating an efficient defense system and managing your time wisely can be the difference between victory and defeat.
Each settlement provides its own logistical challenges based on the surrounding environment and the strength of the enemy waves. Settlements located in more hostile areas may encounter more threatening attacks. Larger settlements will become more difficult to defend as enemies will more easily penetrate the outer perimeter.
Ultimately, the location and design of your settlement can have an impact on the difficulty of the ambush and the success of your defenses.
If you manage a successful defense, the settlement will keep a record of your victory. After every ten rounds, you will be rewarded with a custom flag that will unlock higher difficulty ambushes. A total of five flags can be earned for each enemy type and built at the workshop. As each settlement keeps its own records, the flags you earn are not transferrable to other settlements.
Should morale reach zero, the ambush will end and your settlement will be stripped of a share of its resources, including crops, water, scrap, and caps. As difficulty increases, so does the penalty for losing. Given the consequences, it's important to make sure you are adequately prepared before activating the ambush beacon."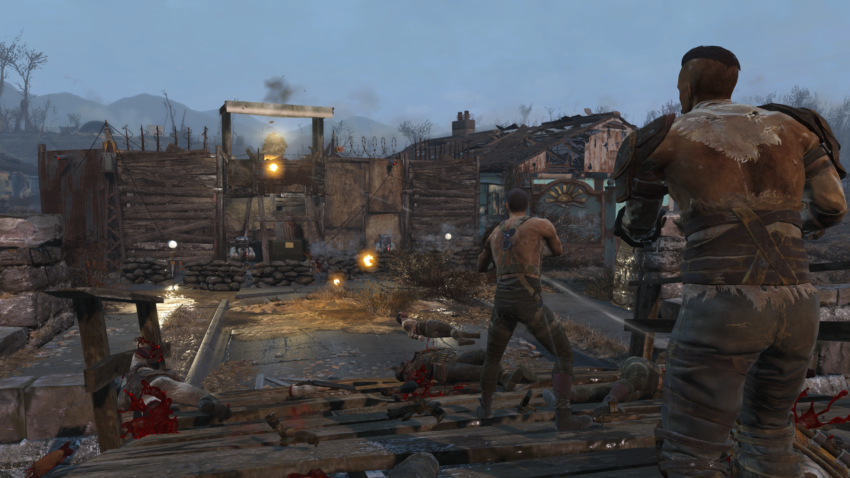 Workshop Items
"The Settlement Ambush Kit adds the following new build options to your workshop:
The dynamic camera system allows you to monitor live security feeds across all your settlements. Simply attach cameras to strategic locations around your settlement and use the custom monitor to cycle through them. If a distant settlement is under attack, you can monitor the situation remotely.
A custom shooting range offers a fun distraction for your settlers while boosting overall happiness. You can watch them practice their skills on the various targets or take a turn yourself to practice your aim.
New exterior walls and watchtowers allow you to build a perimeter with modular pieces that fit together seamlessly. You can choose from angled or centered pieces that snap into place, creating a barrier that is both symmetrical and cosmetically pleasing.
In addition, you can further customize your walls by dressing them with barbed wire or spikes. The walls are also designed to sink into the ground to provide a variable height to your perimeter fence.
Alternatively, new sandbags and military barricades offer a protective barrier without sacrificing scenic views.
The kit adds a handful of decorative items, including mortar shells and a fat man crate. The crate comes in two options, open and closed. The open crate displays several disassembled fat man shells for idle viewing, while the closed version is stamped with a warning label to remind settlers to steer clear of its contents."
Fantasy Hero Set (300 Credits)
"Move over Grognak – there's a new hero in town! Embark on a quest to retrieve the helmet and sword of a true warrior of legend, and cleave a path of victory through the entire Commonwealth!"
Be on the lookout for deals on these creations in the weeks ahead.
Fallout 4 Creation Club Deals
Bethesda's got several Creation Club deals on the marketplace right now and the list includes two free Pip-Boy paint jobs. There are also a few Limited Time offers available on the store.
For a limited time you can snag the Pip Boy Paint Job – Red Rocket and Pip Boy Paint Job – Grognak for free.
As for the Limited Time offers, these include the Real Estate Mogul Bundle (1000 credits), the Ultimate Armor Paint Job Bundle (800 Credits) and the Ultimate Weapon Paint Job Bundle (800 Credits).
We don't know when these offers will expire so you'll need to act quickly.
Bug Fixes & Problems
Fallout 4 patches used to come with bug fixes for lingering issues though it's unclear if the August patch fixes anything on Xbox One, PS4, or Windows devices. There's also a good chance it brings some problems of its own.
New updates typically break the F4SE. If you encounter this, you'll want to follow these instructions. It should only take you a few minutes to remedy.
If you start encountering problems with the latest version of Fallout 4, you'll want to take a look at our list of fixes for common Fallout 4 problems.
189 PS4 & Xbox One Fallout 4 Mods You Should Try Right Now
keyNuker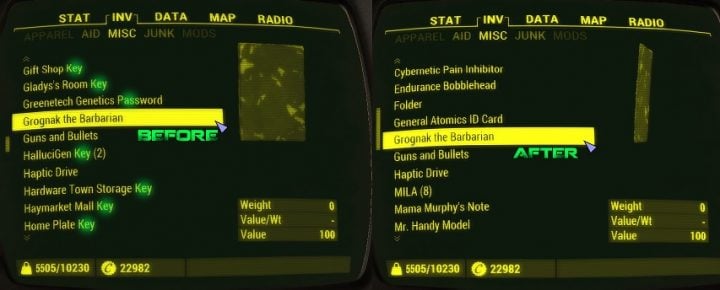 Let's start with one of our favorite PC Fallout 4 mods that quickly made it over to console.
keyNuker creates a key ring in your inventory that hides keys and passwords. With it installed, your MISC tab in on your Pip-Boy is going to be a lot more manageable, particularly if you're deep into the game with tons and tons of items listed.
The screenshot here shows you what the vanilla MISC tab looks like compared to the MISC tab with keyNuker installed. It's night and day.
This is one of our favorite Fallout 4 mods and one that should consider if you're tired of wasting time scrolling through hundreds (many of them worthless) of items.