Fallout 4 1.10.26 Update: What's New
A brand new Fallout 4 update is rolling out for the Xbox One, PlayStation 4, and Windows PC and this guide will take you through the most important things you need to know about the new 1.10.26 patch.
Bethesda's latest Fallout 4 patch isn't a huge bug fix update and it doesn't bring a long list of new features for the popular game. That said, it's a fairly sizable update that delivers a couple of bug fixes and brings new content to the company's controversial Creation Club platform.
In order to download and pay for Creation Club content you need to be running Fallout 4's 1.10 patch, the update that arrived in August. If you haven't fired up Fallout 4 in awhile you'll be forced to download both of these patches before you can start roaming around the wasteland.
Creation Club's been out for a few weeks now and we're finally starting to see Bethesda make good on its promise to deliver additional downloadable content.
The company still isn't calling this new content DLC (it's not a part of the Season Pass) and the add-ons aren't considered mods. Fallout 4 mods will remain free while the content on the Creation Club requires actual money.
The Fallout 4 1.10.26 patch delivers the first update to Creation Club and here's what you need to know about the update, download size, and more.
Fallout 4 1.10.26 Update Size
If you're planning to play Fallout 4 today, or in the future, you're going to be greeted with a substantial download that is the 1.10.26 patch.
The Fallout 4 1.10.26 update is a little smaller than the 1.10 patch but it still requires a decent chunk of space on your console's hard drive.
The update is 887MB on the Xbox One in the United States. The size of the update will vary based on region and platform. And again, if you skipped previous Fallout 4 updates, you'll be forced to download those files to your console or Windows PC before you can start playing.
The 1.10.26 patch took us about six minutes to download and install on the Xbox One.
New Fallout 4 Creation Club Content
Bethesda's latest patch ushers in the first update to the Creation Club.
The developer's released new Creation Club content for PS4, Xbox One, and Windows PC and it's centered around one of its other games, Doom.
There are two Doom-related items on the Creation Club and they include the Doom Classic Marine Armor (400 Credits) and the Doom BFG (also 400 Credits).
Bethesda's August patch (1.10) supplied Fallout 4 owners with 100 free Creation Club credits. This update doesn't bring any additional credits.
Additional Creation Club content includes:
Hellfire Power Armor: 500 Credits
Chinese Stealth Armor: 400 Credits
Prototype Gauss Rifle: 400 Credits
Modular Military Backpack: 400 Credits
Morgan's Space Suit (Prey): 300 Credits
Modern Furniture Workshop Pack: 300 Credits
Horse Power Armor: 250 Credits
Handmade Shotgun: 200 Credits
Power Armor Onyx Paint Job: 100 Credits
Pip-Boy Swamp Paint Job: 50 Credits
Pip-Boy Chrome Paint Job: 50 Credits (Currently Free)
Pip-BoyOnyx Paint Job: 50 Credits
In the United States you can pickup 750 credits for $8.00, 1500 credits for $15, 3000 for $25, and 5,500 for $40.
Bug Fixes
The new Fallout 4 patch also comes with a couple of important bug fixes including a fix for Load Order resorting improperly after downloading a Creation and minor fixes to Bethesda.net accounts functionality. That's it.
There are still a ton of bugs plaguing the base game and its DLC content but it's unclear when or even if Bethesda will address them.
So, if you're currently dealing with a problem, or if the 1.10.26 patch gives you trouble, take a look at our list of fixes for common Fallout 4 problems.
We expect Bethesda to roll out more Fallout 4 updates but they'll be sporadic.
189 PS4 & Xbox One Fallout 4 Mods You Should Try Right Now
keyNuker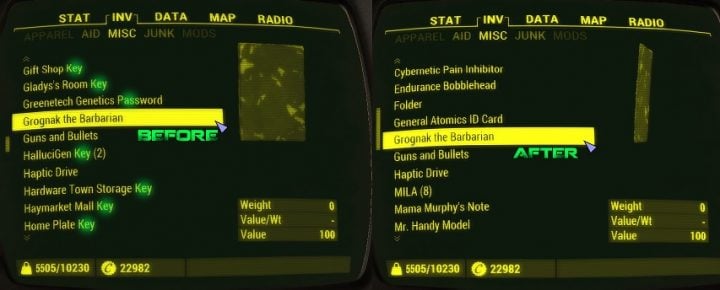 Let's start with one of our favorite PC Fallout 4 mods that quickly made it over to console.
keyNuker creates a key ring in your inventory that hides keys and passwords. With it installed, your MISC tab in on your Pip-Boy is going to be a lot more manageable, particularly if you're deep into the game with tons and tons of items listed.
The screenshot here shows you what the vanilla MISC tab looks like compared to the MISC tab with keyNuker installed. It's night and day.
This is one of our favorite Fallout 4 mods and one that should consider if you're tired of wasting time scrolling through hundreds (many of them worthless) of items.

As an Amazon Associate I earn from qualifying purchases.