Here's a Must-See Fallout 4 Deal
You don't have to wait until Black Friday to save money on Fallout 4 Game of the Year Edition because an awesome deal has emerged over at Amazon.
Bethesda's Fallout 4 Game of the Year Edition is only a few weeks old, but it's already received a significant price cut. The bundle, which includes the base game and all six DLC expansions, is typically priced at $60, but Amazon's taking 33% off the standard retail price.
The retailer's Fallout 4 deal drops the GOTY edition down to just $39.99 for the Xbox One, PlayStation 4, and Windows PC. Those who have a Prime membership will get free two-day shipping. The game is also available for same-day delivery.
Note, this deal only applies to the regular version. Amazon isn't offering the same discount on the Fallout 4 Game of the Year Pip-Boy Edition. The Pip-Boy Edition is still in stock (for the Xbox One, the PS4 and PC versions are only available via third-party resellers) and commands $99.
This is one of the best Fallout 4 Game of the Year Edition deals we've come across and it's a great way to jump into the Commonwealth for the first time.
The Fallout 4 Game of the Year Edition features hundreds and hundreds of hours of gameplay thanks to the base game and the DLC expansions Bethesda released over the course of 2016. These include:
$39.99 for the Game of the Year Edition is an excellent deal. While the price of the base game has dropped significantly since its launch in 2015, the Fallout 4 Season Pass is still $50 at retailers like Amazon.
Retailers continue to sell the Fallout 4 DLC packs individually, but we haven't seen prices budge. The two biggest Fallout 4 DLCs, Far Harbor and Nuka World, are still $25 and $20 most places.
In addition to the base game and the six expansions, you'll gain access to an extensive catalog of free Fallout 4 mods. There are  more than 10,000 mods available on Bethesda's marketplace and we've listed nearly 200 of our favorites to help narrow the list for beginners. (You can find our list below.)
The unofficial NexusMods also features an extensive library of Fallout 4 mods for PC.
Bethesda's also launched a controversial Fallout 4 Creation Club program. Creation Club delivers new downloadable content from Bethesda and top content creators. Unlike mods, Creation Club content isn't free.
Creation Club credits are purchased on the game store. In the United States, 750 credits costs $8.00, 1500 credits costs $15, 3000 credits costs $25, and 5,500 costs $40.
The developer will continue to keep the game fresh with new content and the game's most recent update delivered a Doom Classic Marine Armor  for 400 Credits and the Doom BFG for 400 Credits.
189 PS4 & Xbox One Fallout 4 Mods You Should Try Right Now
keyNuker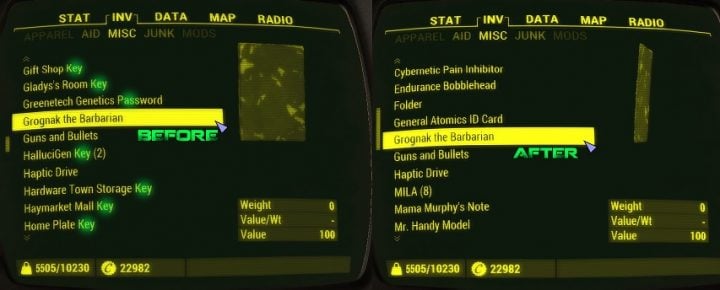 Let's start with one of our favorite PC Fallout 4 mods that quickly made it over to console.
keyNuker creates a key ring in your inventory that hides keys and passwords. With it installed, your MISC tab in on your Pip-Boy is going to be a lot more manageable, particularly if you're deep into the game with tons and tons of items listed.
The screenshot here shows you what the vanilla MISC tab looks like compared to the MISC tab with keyNuker installed. It's night and day.
This is one of our favorite Fallout 4 mods and one that should consider if you're tired of wasting time scrolling through hundreds (many of them worthless) of items.

As an Amazon Associate I earn from qualifying purchases.