New Fallout Loot Crate: 5 Things Buyers Need to Know
Loot Crate is bringing back the Fallout Loot Crate though there are some key differences between the 2017 release and the crate that arrived in the fall of 2015.
The original Fallout 4 Loot Crate was a hot commodity in the buildup to the game's release back in November 2015. The limited edition crate, which included some exclusive items, sold out quickly and caused headaches for many fans of the series.
If you missed out on the Fallout 4 Loot Crate or you simply want to fill your house with more Fallout memorabilia, you've got another opportunity at your fingertips.
On the heels of Bethesda's Fallout 4 VR and Creation Club announcements, Loot Crate's revealed a brand new Fallout Loot Crate series that will deliver official and exclusive Fallout-branded gear to your doorstep.
Our guide will take you through the most important things to know about the 2017 Fallout Loot Crate including its release date, price, and the fine print.
Fallout Loot Crate Release Date(s)
The first thing you need to know is that this new release, unlike the release in 2015, isn't a one-off. Loot Crate will deliver a new crate to you every two months.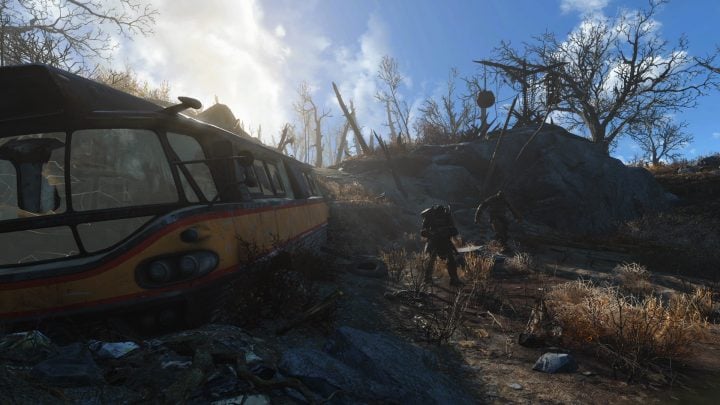 The company's announcement doesn't offer a specific release date for the first release. It simply notes that your "Vault's Overseer will contact you with more information later this year."
Loot Crate says it will ship the crates to the places it currently ships to. It's a long list and it includes:
United States (Including Puerto Rico & Guam)
Argentina
Australia
Austria
Belgium
Canada
Chile
Colombia

Czech

Republic

Denmark
France
Finland
Germany
Hungary
Iceland
Italy
Ireland
Israel
Japan
Luxembourg
Mexico
Netherlands
New Zealand
Norway
Poland
Portugal
Singapore
South Africa
South Korea
Spain
Sweden
Switzerland
Turkey
United Kingdom
If you live in one of those countries, you should be good to go.
Fallout Loot Crate Signup
If you're at all interested in Loot Crate's new Fallout crates, you'll want to signup for more information via its website.
Enter your email address and the company will notify you when the Fallout Crate is about to go on sale. Loot Crate says supplies will be limited so you'll want to stay on top of the release.
Submitting your email address doesn't guarantee you a crate nor does it serve as a pre-order.
What's in the New Fallout Loot Crate
The original Fallout 4 loot crate came with an assortment of items including a Vault 111 Messenger bag, a Dogmeat plush toy, a Fallout 4 Collector Pin set, a Brotherhood of Steel flag, Fallout 4 posters, a Vault 111 hoodie, and a few other items. These crates will be different.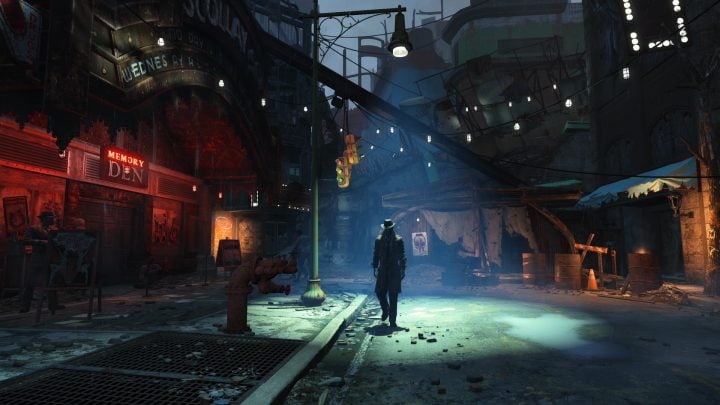 Each crate will bring four to six exclusive Fallout-related items to your door every two months. We don't have a long list of items to look forward to but here are a few key bits of information:
The products are developed with in-game assets which means you'll see your favorite Fallout characters and locations.
They're co-developed with Bethesda.
The crates will feature an exclusive figure line. Loot Crate says it'll deliver an "original figure series featuring companions from the game with interchangeable weapons."
In addition to collectibles the crates will feature Fallout apparel.
Part of the fun is the surprise. You won't know what you get until the box arrives at your home.
Fallout Loot Crate Price
The new Fallout Loot Crate isn't free. The company is planning to charge $34.99 + Shipping & Handling for U.S. based customers. It'll charge $49.99 USD to those of you living abroad.
Now, it's important to note that this is a recurring, bi-monthly subscription. You will pay for a brand new crate once every two months.
Loot Crate says the contents inside each crate are worth $65+.
What You Don't Get
While it would be awesome to see Fallout 4 VR emerge out of a crate, that simply won't happen. The company says its crates won't include copies of Fallout games.
189 PS4 & Xbox One Fallout 4 Mods You Should Try Right Now
keyNuker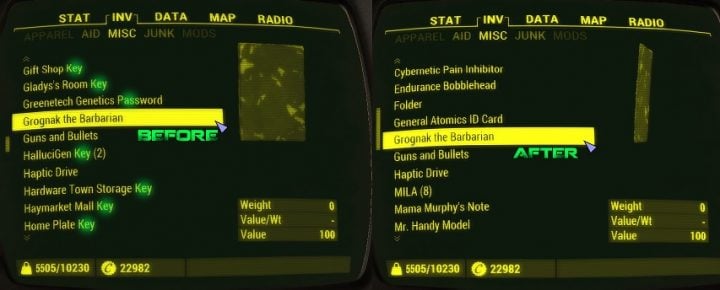 Let's start with one of our favorite PC Fallout 4 mods that quickly made it over to console.
keyNuker creates a key ring in your inventory that hides keys and passwords. With it installed, your MISC tab in on your Pip-Boy is going to be a lot more manageable, particularly if you're deep into the game with tons and tons of items listed.
The screenshot here shows you what the vanilla MISC tab looks like compared to the MISC tab with keyNuker installed. It's night and day.
This is one of our favorite Fallout 4 mods and one that should consider if you're tired of wasting time scrolling through hundreds (many of them worthless) of items.

This article may contain affiliate links. Click here for more details.