Fallout 4 VR Release Date, Features & Details
We finally have a Fallout 4 VR release date but the game won't be launching in October.
As we push into 2017, Bethesda and mod developers are keeping Fallout 4 alive in new and interesting ways.
The company is planning a new Creation Club for Fallout 4 and Skyrim Special Edition and mod developers continue to release new and exciting Fallout 4 mods on Xbox One, PS4, and PC.
There won't be any new DLC expansions but free updates, mods, and the highly anticipated Fallout 4 VR release should keep fans satisfied as we push toward the game's second birthday.
Fallout 4 VR was originally announced all the way back at E3 2016 in Los Angeles. It was confirmed onstage with Skyrim Special Edition, the Skyrim remaster Bethesda released for Xbox One, PS4 and PC back in October.
With that in mind, we want to take a look at everything we know right now about Fallout 4 VR, its content, and its highly anticipated release date.
Fallout 4 VR for PSVR?
When Bethesda confirmed Fallout 4 VR it confirmed the title for one virtual reality platform: The HTC Vive.
While there are other interesting VR devices out there like the Oculus Rift and Sony PlayStation VR, Bethesda hasn't confirmed a release for any platforms outside of the HTC Vive. If you're unfamiliar with the HTC Vive, you'll want to read up on it before the Fallout 4 VR release later this year.
The game is also rumored for another virtual reality platform.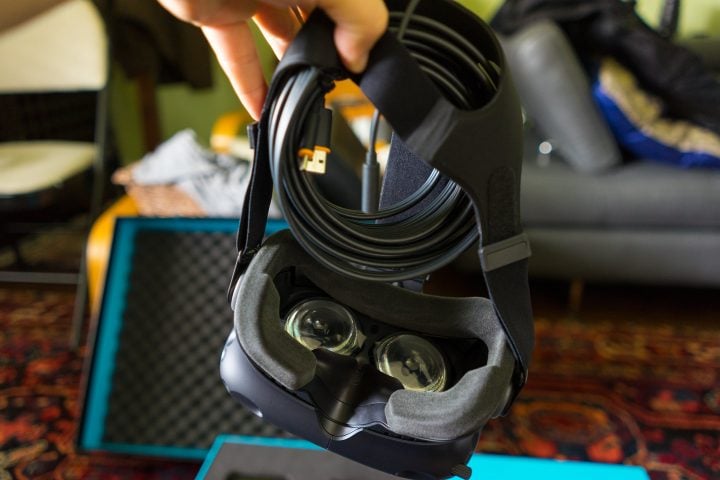 Nothing is confirmed but it looks like Fallout 4 VR might be following Skyrim VR to Sony's PlayStation VR sometime down the road.
The leak comes from a leaked GameStop flyer that showcases several upcoming PlayStation VR games including Skyrim and Doom. Curiously, the flyer lists the game with a 2017 release date. This lines up with a retailer pre-order page that emerged in June.
JB Hi-Fi has since taken the Fallout 4 VR for PSVR pre-order page down.
Fallout 4 VR Release Date
Last year, Bethesda promised a Fallout 4 VR release for 2017. The game is still on track for this year and the company's finally outlined a specific release date for the HTC Vive.
According to Bethesda, Fallout 4 VR will now be launching in December instead of in October as it originally promised. The company's confirmed a December 12th release for HTC Vive.
Just announced: @bethesda's @Fallout 4 VR will be released exclusively on the $599 @htcvive on Dec 12th – Read more https://t.co/Esv1CdsLmS pic.twitter.com/VHRY3wLAS8

— HTC VIVE (@htcvive) August 22, 2017
Fallout 4 VR pre-orders have begun ahead of the game's delayed release date. The game is up for order on Amazon and Steam for $59.99.
Fallout 4 VR Deals
If you don't want to pay full price for your copy you don't have to. Fallout 4 VR deals are already live.
Amazon's already taking 20% off pre-orders though you need an Amazon Prime account to take advantage of the offer. If you don't have an account, signup for a free trial.
Fallout 4 DLC Not Included
Fallout 4 VR won't feature a portion of Commonwealth. Instead, Bethesda's upcoming title will allow you to wander around the entire wasteland.
In an interview with Glixel, Todd Howard outlined the company's plan to bring the full version of Fallout 4 to HTC Vive owners.
In its E3 2017 announcement, the company once again made it clear that the "whole world is fully explorable" and that it "includes hundreds of locations, characters and quests."
haven't said. Stay tuned

— Pete Hines (@DCDeacon) February 21, 2017
Unfortunately, it looks like Fallout 4 VR will only include the base game at the start.
According to VR Focus, Fallout 4 DLC won't be included at launch. The company says that it's focused on the core game for virtual reality but that it's "looking at options to bring these add-ons in the future."
Bethesda released six Fallout 4 expansion packs including Automatron, Wasteland Workshop, Far Harbor, Contraptions Workshop, Vault-Tec Workshop, and Nuka World.
Fallout 4 VR Features
After a yearlong wait, we finally know what the final product will look like.
At its E3 showcase, Bethesda released the first Fallout 4 VR teaser trailer (seen below) which showcases the game in action on the HTC Vive.
The company's also released some screenshots that showcase Fallout 4 VR's combat interface and the Workshop menu.
Howard says the teleportation system that was present in the early Fallout 4 VR demo is still in the current version of the game
That said, the company is reportedly "experimenting with a few" other ways to move around the wasteland. The goal, he says, is to "to ship with as many as we can, because it's different for everybody." In addition to teleportation, the game is expected to include free locomotion and snap movement.
Players will also be able to use Microsoft's Xbox One controller to fight enemies and maneuver around the Commonwealth and its wasteland.
Bethesda says the game will be playable at Quakecon 2017 which stretches from August 24th to August 27th.
189 PS4 & Xbox One Fallout 4 Mods You Should Try Right Now
keyNuker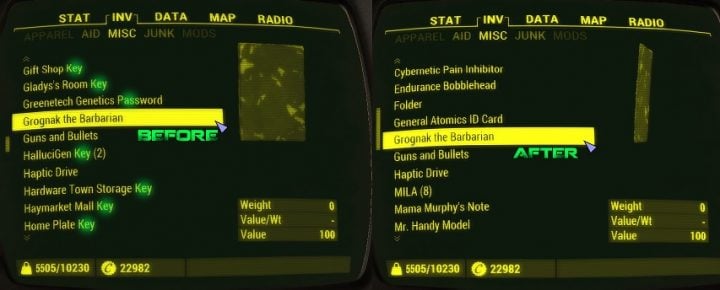 Let's start with one of our favorite PC Fallout 4 mods that quickly made it over to console.
keyNuker creates a key ring in your inventory that hides keys and passwords. With it installed, your MISC tab in on your Pip-Boy is going to be a lot more manageable, particularly if you're deep into the game with tons and tons of items listed.
The screenshot here shows you what the vanilla MISC tab looks like compared to the MISC tab with keyNuker installed. It's night and day.
This is one of our favorite Fallout 4 mods and one that should consider if you're tired of wasting time scrolling through hundreds (many of them worthless) of items.

As an Amazon Associate I earn from qualifying purchases.