Apple Watch Bands: 7 Things Buyers Need to Know
There are a lot of questions about Apple Watch bands as Apple Watch buyers still have many questions about how the Apple Watch bands will work, if you can use Apple Watch bands on the Apple Watch Sport and more.
After spending a lot of time researching common Apple Watch questions we discovered seven key details about Apple Watch bands that most buyers keep asking, and the answers to most of these.
If you want to know about a specific Apple Watch band you can try on an Apple Watch at Apple Stores to feel the materials and see how the special clasps work.
Apple Watch pre-orders started last week and the first Apple Watch deliveries will begin on April 24th. if you order today your Apple Watch may not ship until May or June, but reports suggest Apple may be able to deliver earlier than the estimates for some buyers.
You cannot buy the Apple Watch in stores at this time, but that will eventually change. for now you can only buy the Apple Watch online through Apple.
Here are the answers to common Apple Watch band questions.
Apple Watch Band Compatibility
The most common question so far is, "Can I use an Apple Watch band on the Apple Watch Sport?" This is a definite yes. The Apple Watch bands like the Milanese Loop or Link Bracelet will work with the Apple Watch Sport.
Initially some shoppers heard otherwise from Apple Store employees, but the bands clearly switch between Apple Watch and Apple Watch Sport without any problems. Some of the color combinations are only available when you buy an Apple Watch, like the Space Gray Link Bracelet, but you can swap between all the band options.
Apple Watch Band Sizes
When you look for an Apple Watch band replacement or one to add to your collection you will need to pay attention to two sizes. The first is the size of your Apple Watch. You cannot use a 38mm Apple Watch Band with the 42mm Apple Watch. Most shoppers know about that one, but they might not know that the Apple Watch bands also come in a range of sizes including Small, Medium and Large.
You'll want to wrap a string around your wrist and measure it to see how thick your wrist is. You can use this to compare to the sizes Apple lists for Apple Watch bands.
Apple Watch Sport Band includes two bands in the box so that you don't need to worry about picking the right size.  the Classic Buckle, Link Bracelet and Milanese Loop all only come in one size, but the length varies from the 38mm to 42mm Apple Watch. The Leather Loop and Modern Buckle come in various sizes.
Apple Watch Band Adapters
If you want to use your own Apple Watch band you can buy an Apple Watch adapter that will connect any normal 22mm wide watch band to your Apple Watch.
The Click Watch Band Adapter for Apple Watch is on Kickstarter for a few more days with options as low as $10-$12 that allow you to use a normal watch band with your Apple Watch. This is a Kickstarter so you are funding and then getting a product later, but eventually the Click Adapter should go on sale in other places.
Apple Watch Bands in Stores
You cannot buy the Apple Watch in stores yet, but we are hearing that you will be able to buy Apple Watch bands in Apple Stores on April 24th.
Right now this comes from Apple Store employees who told multiple users that the Apple Watch bands will be in stores later this month. Don't be surprised if this changes as the release arrives.
Third Party Apple Watch Bands
We are already seeing a number of third-party Apple Watch bands available online, but most aren't shipping until May. This is likely due to companies needing to tweak the design once they get an Apple Watch in.
Some of the Apple Watch bands on Amazon look great, but are clearly the images from Apple's website. Others offer affordable Apple Watch band alternatives with modern and classic buckle styles for $19.99.
Keep in mind that we will likely see more of these arrive as companies have more time to spend with the Apple Watch and can figure out the exact mechanism to connect to the Apple Watch.
Apple Watch Band Prices
Third party Apple Watch bands start under $20, but if you want to buy the Apple Watch bands from Apple you are in for a higher price. Here's the breakdown of Apple Watch prices.
Sport Band – $49
Classic Buckle – $149
Milanese Loop – $149
Leather Loop – $149
Modern Buckle – $249
Link Bracelet – $449
There are no Apple Watch band deals or discounts at this time and there are no deals for students or teachers.
Apple Watch Bands with Batteries
If you are worried about the Apple Watch battery life you might wonder if there is a Mophie Apple Watch band planned. We don't know about a Mophie option, but there is already a Apple Watch battery band available for pre-order.
The wipowerband charges with a Lightning connection and includes a 200mAh battery that will be able to charge the Apple Watch while you are using it. This is only available for pre-order right now, and many users may want to wait for a release and reviews before spending $89 to $99 for this accessory.
65 Exciting Things You Can Do With the Apple Watch
Answer Calls on the Apple Watch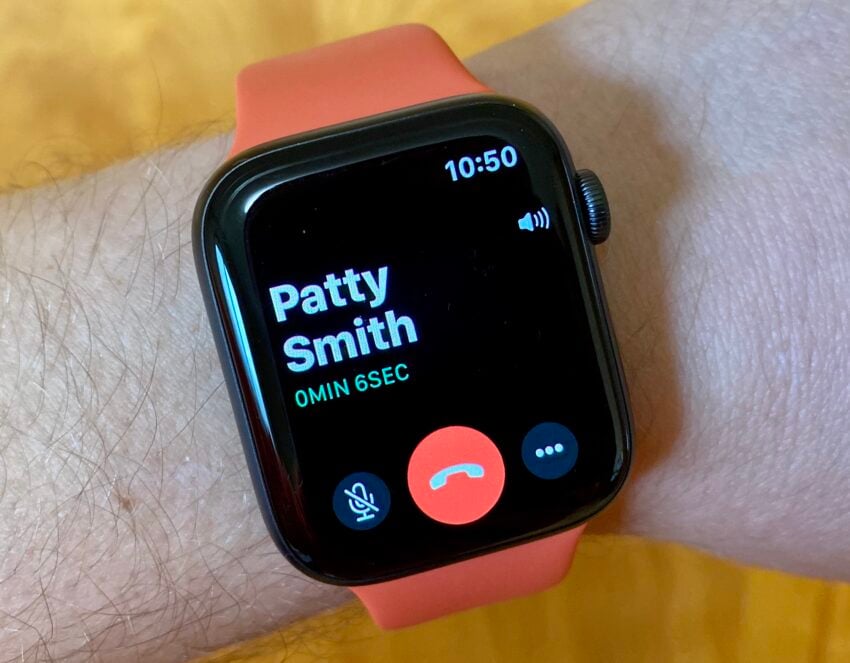 You can answer a call on your Apple Watch using it as a small Bluetooth speakerphone. You only want to use this for shorter calls because the audio quality isn't as good as when you are talking on speakerphone on your iPhone.
The Apple Watch only allows you to answer your calls on Speakerphone, so you won't want to use this all the time. It is very handy when you are working on a project or busy with your hands. Definitely be conscious of where you are taking calls. If you wouldn't talk on speakerphone, you shouldn't talk on your Apple Watch.
If you buy the new Apple Watch with LTE, you can even make calls on the Apple Watch without your iPhone nearby. This requires adding the watch to your plan for $10 a month. You cannot answer a FaceTime video call on the Apple Watch.