Apple Watch for Lefties: 5 Things to Know
As buyers prepare for Apple Watch pre-orders and the Apple Watch release date one of the biggest remaining questions we hear is, "Is there a left hand Apple Watch version?"
Apple doesn't mention an Apple Watch left hand mode on the Apple Watch website or on the Apple Watch store, but that doesn't mean there is no hope for lefties.
Here are five things left hand users need to know about the using the Apple Watch on a right hand. If the left and right is confusing to you, it's because Apple calls the option that lefties will want to use Right Hand mode, because that is where you'll wear the watch.
The Apple Watch starts at $350 for the 38mm version and $399 for the 42mm version of the Apple Watch Sport.. The Apple Watch release date is on April 24th in the U.S. and several other countries.
Here is what left hand users need to know about the Apple Watch.
Is there a Left Handed Apple Watch?
Apple sells the Apple Watch in two sizes, three versions and 38 combinations, but there is no left-handed Apple Watch. That doesn't mean you cannot use the Apple Watch as a lefty, but you will need to deal with some potential hang ups.
The Apple Watch is shown on the left hand in Apple promotional material, with the Digital Crown and button facing toward the wrist for use by a right hand. You cannot buy a left-handed Apple Watch that keeps the Digital Crown and button in the traditional position.
Left Hand Apple Watch Mode
Apple did confirm that you can use the Apple Watch as a left-handed user, by placing it on your right hand and then setting it to Right Hand mode. This indicates that the Apple Watch is on your right hand instead of your left.
Here's the companion app after connecting an apple watch. Loving the dark theme pic.twitter.com/T45prI7tak

— Hamza Sood (@hamzasood) March 13, 2015
Developer Hamza Sood activated the Apple Watch App and shared a screenshot on Twitter showing where users can change the Watch Orientation.
By turning on "Right Wrist" orientation the Apple Watch will allow for the Digital Crown controls to work on the other side fo the watch without the need to reverse direction.
How to Wear an Apple Watch on Right Hand
Even though Apple isn't listing it on the website now, there is a trick to wearing the Apple Watch on your right hand. You will need to choose the "Right Wrist" mode as outlined above. This happens during the initial setup. Next you will need to unhook the Apple Watch bands with the small buttons on the bottom of the Apple Watch.
Switch the position of the bands so that you can now strap it on without the need to deal with a reversed strap that would be hard to deal with.
The Digital Crown and button will face your hand, just like the examples Apple shows online, but the crown is now on the bottom.
Apple Watch Left Hand Mode Might be Odd
Even though the Apple Watch includes a left hand mode, it might not work for everyone. Steve Troughton-Smith shares his opinion earlier this month.
My left hand isn't accurate enough (with the right muscles) to operate Apple Watch's Crown in left-handed mode. Feels very wrong

— Steve Troughton-Smith (@stroughtonsmith) March 5, 2015
There will certainly be a learning curve of some kind as users adjust to finer controls of using a Digital Crown on either hand.
Apps, Accessories & Activity Tracking
There should be no real change in how Apple Watch apps work for lefties, but depending on how much you need to use the Digital Crown and the screen. So far we aren't seeing any Apple Watch apps that look explicitly hands off for lefties.
Most Apple Watch accessories are currently aimed at charging or adding new Apple Watch bands to your collection, so that shouldn't be an issue either.
When it comes to activity tracking for fitness, there shouldn't be any problems with left or right wrist wear as long as you set up the mode on the Apple Watch companion app.
65 Exciting Things You Can Do With the Apple Watch
Answer Calls on the Apple Watch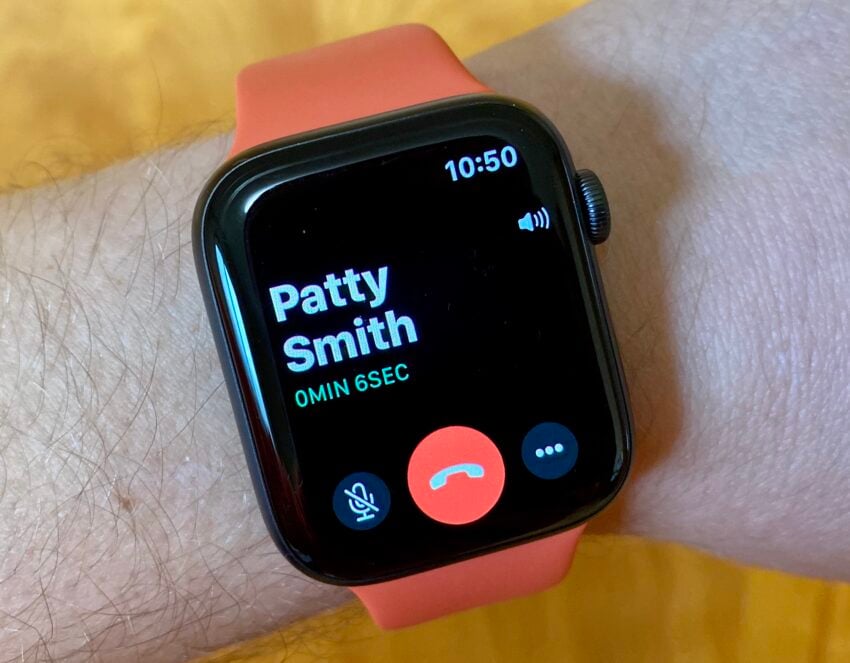 You can answer a call on your Apple Watch using it as a small Bluetooth speakerphone. You only want to use this for shorter calls because the audio quality isn't as good as when you are talking on speakerphone on your iPhone.
The Apple Watch only allows you to answer your calls on Speakerphone, so you won't want to use this all the time. It is very handy when you are working on a project or busy with your hands. Definitely be conscious of where you are taking calls. If you wouldn't talk on speakerphone, you shouldn't talk on your Apple Watch.
If you buy the new Apple Watch with LTE, you can even make calls on the Apple Watch without your iPhone nearby. This requires adding the watch to your plan for $10 a month. You cannot answer a FaceTime video call on the Apple Watch.

As an Amazon Associate I earn from qualifying purchases.