Apple Watch Offers iPhone AppleCare+ Add-On
If you missed out on the AppleCare+ window when you purchased your iPhone Apple offers a second chance to buy iPhone AppleCare+ coverage for the iPhone alongside the Apple Watch and Apple Watch AppleCare+.
Traditionally you can only buy AppleCare+ within 60 days of buying a new iPhone. After this window you can not purchase the extended Apple warranty that also covers accidental damage.
When you buy the Apple Watch and choose AppleCare+ for the Apple Watch you can also choose a more expensive option that includes AppleCare+ for the Apple Watch and the iPhone. This is $100 more than the  Apple Watch only option. This mirrors the cost of buying AppleCare+ with a new iPhone.
There is one catch to this option that is very important. The iPhone you want to add to AppleCare+ must be less than six months old and it must be undamaged. If your iPhone is already broken or is older than six months when you buy the Apple Watch you are out of luck.
Even if you normally skip the AppleCare+ option when you buy a new iPhone there are many reasons to buy AppleCare+ for the Apple Watch. Even though the watch is water-resistant it is not waterproof so if you submerge it for too long you will certainly wish you purchased AppleCare+ for the Apple Watch.
Another thing to consider is that AppleCare+ covers repair or replacement coverage including parts and labor including charging cables, accessories and the battery. If you are an active user and want coverage if you fall while working out with the Apple Watch this is an option you should consider.
You can buy AppleCare+ for the Apple Watch without the iPhone portion for $49 for the Apple Watch Sport, $69 for the Apple Watch and $1,500 for the Apple Watch Edition. The Apple Watch & iPhone AppleCare+ option is $100 more for each of these.
With AppleCare+ you get mail-in repair, carry-in repair and express replacement options. In addition to the repair and replacement options you get two years of phone support and an added year of the basic hardware warranty.
If you need a replacement of any accidental damage you will need to pay a deductible of $79 for the iPhone and an unknown amount for the Apple Watch.
When you choose this option of AppleCare+ for the Apple Watch and iPhone you need to provide your iPhone serial number to Apple within 60 days of purchasing the combination.
65 Exciting Things You Can Do With the Apple Watch
Answer Calls on the Apple Watch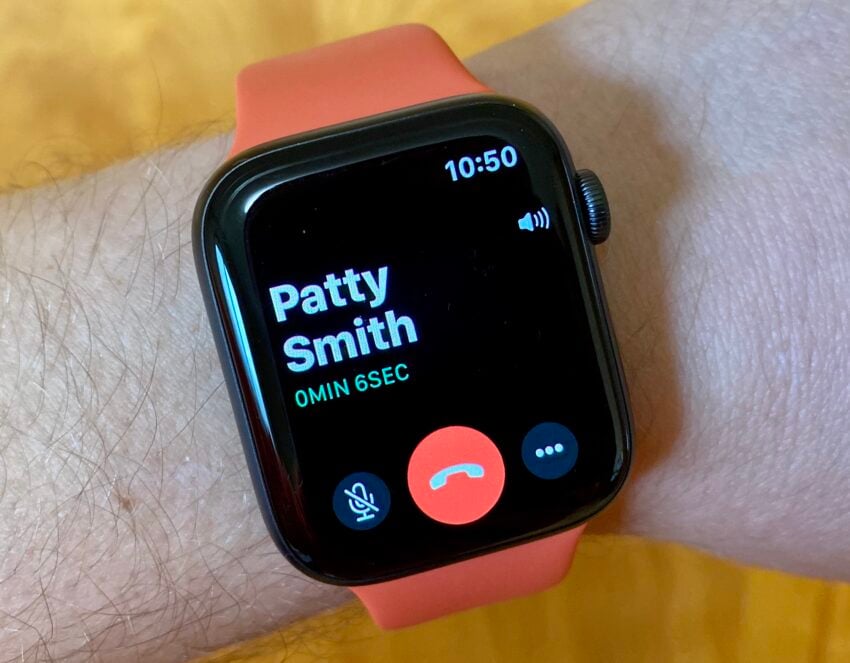 You can answer a call on your Apple Watch using it as a small Bluetooth speakerphone. You only want to use this for shorter calls because the audio quality isn't as good as when you are talking on speakerphone on your iPhone.
The Apple Watch only allows you to answer your calls on Speakerphone, so you won't want to use this all the time. It is very handy when you are working on a project or busy with your hands. Definitely be conscious of where you are taking calls. If you wouldn't talk on speakerphone, you shouldn't talk on your Apple Watch.
If you buy the new Apple Watch with LTE, you can even make calls on the Apple Watch without your iPhone nearby. This requires adding the watch to your plan for $10 a month. You cannot answer a FaceTime video call on the Apple Watch.

As an Amazon Associate I earn from qualifying purchases.