9 Things You Need to Know About Apple Watch Pre-orders
We finally know the Apple Watch pre-order start time, so you can add it to your calendar if you want to wake up late at night to be one of the first to order an Apple Watch. You might need to do this to make sure you get the Apple Watch on release day.
After skipping some pre-orders in recent years Apple confirmed the Apple Watch pre-order last month, and now we finally know when you can log on and pre-order the Apple Watch that you want.
This comes right on the heels of an Apple Watch AppleCare+ price leak that outlines how much it will cost to pay for a protection plan for the Apple Watch Sport, Apple Watch or Apple Watch Limited.
We recently shared 10 things you need to know about the Apple Watch release, including some pre-order details, but with more information available it's time to share more details with users.
Read: Why You Can't Afford the Apple Watch
The Apple Watch release date is two weeks after the Apple Watch pre-orders start. This gives Apple time to ship the Apple Watch to stores and to prepare Apple Stores for the option to try on the Apple Watch.
Apple Watch Pre-Order Start Time
The Apple Watch pre-order start time is 12:01Am Pacific on April 10th. Apple will start Apple Watch pre-orders for other time zones and in other countries around the same time.
This means you'll be staying up late on the West coast and getting up early on the East coast. Below you'll find a breakdown of when Apple Watch pre-orders start in your time zone.
Pacific – 12:01 AM
Mountain – 1:01 AM
Central – 2:01 AM
Eastern – 3:01 AM
This is the start time online. Apple Stores will not let users come in at midnight to place an Apple Watch pre-order.
Where To Place Apple Pre-Orders
You can place an Apple Watch pre-order online at the Apple Store, through the Apple Store app on iPhone and iPad or in an Apple Store when it opens.
The Apple Watch pre-orders will start at the same time on the Apple Store app and the Apple Store online. Odds are good that the Apple Store will go offline a few hours before the pre-orders start.We don't know if Apple Stores will open early yet, but that is a possibility.
Read: 7 Things The Apple Watch Does Without an iPhone
You cannot pre-order the Apple Watch at Best Buy or form a carrier like Verizon, AT&T or T-Mobile.
Use the Apple Store App
Whenever Apple offers pre-orders the company runs into problems with the website. if you download the Apple Store app from the iTunes App Store, you can often jump past the problems and order faster without timing out.
There is no need to pick plans or enter the information you typically need to enter with an iPhone purchase, so this should be an easy purchase to make.
If you are a business owner, you can also ask the business team to place the pre-order for you so that you don't need to get up early.
Apple Watch Pre-Orders & Release Day Sellout
Apple will not stop taking Apple Watch pre-orders until the Apple Watch release date arrives, but the odds are very good that within hours or at least half a day any Apple Watch pre-orders you place will not ship until after the Apple Watch release date on April 24th.
Some sizes, colors and options may sell out faster, so you will want to prepare for the Apple Watch pre-orders by knowing what you want and possibly by getting up early.
Apple Watch Release Day Pickup or Delivery
Depending where you order you can get the Apple Watch delivered on April 24th or pick it up at the store on the Apple Watch release date.
You can pre-order online for release day pickup or for delivery. If you order in an Apple Store we expect that you will be able to do choose the same options.
Apple Watch Appointments
Starting on April 10th you can use the Apple Store app to schedule an appointment at your local Apple Store to try on the Apple Watch. There will be some walk in options to try on the Apple Watch, but your best bet is to make an appointment.
During this time you'll be able to try on various Apple Watch and Apple Watch Sport models and bands and then place an Apple Watch pre-order in store.
You Need to Pre-Order to Buy On Release Date
If you want to buy the Apple Watch on April 24th you need a pre-order. Reports all say that Apple will not have added stock on hand at stores on April 24th. With a hot, new product this makes a lot of sense for Apple, but it could frustrate some users.
Read: 20 Exciting Apple Watch Apps
If you absolutely must have the Apple Watch on April 24th, you need to pre-order in store for pickup or online for delivery.
No Custom Apple Watch Band Combinations
Apple offers 10 Apple Watch Sport combinations, 20 Apple Watch combinations and 8 Apple Watch Edition combinations. If you want one of these models with a different band, you are out of luck. Instead you will need to buy the Apple Watch band separately from Apple and change it later.
If you buy the Apple Watch Sport, you can only get it with an Apple Watch Sport band. Even further if you want the Apple Watch or Apple Watch Sport in Space Gray you can only get them with specific bands.
Pick Your Apple Watch Size, Model & Accessories
When it comes time to order you will want to know which Apple Watch model you want, what Apple Watch band you want and if you want to buy Apple Watch AppleCare+ with your purchase.
Today you can use our guide to find the right Apple Watch size for your wrist and you can use the Apple Store app to favorite the models you like. Figure out these details and make sure you have payment method ready before midnight.
65 Exciting Things You Can Do With the Apple Watch
Answer Calls on the Apple Watch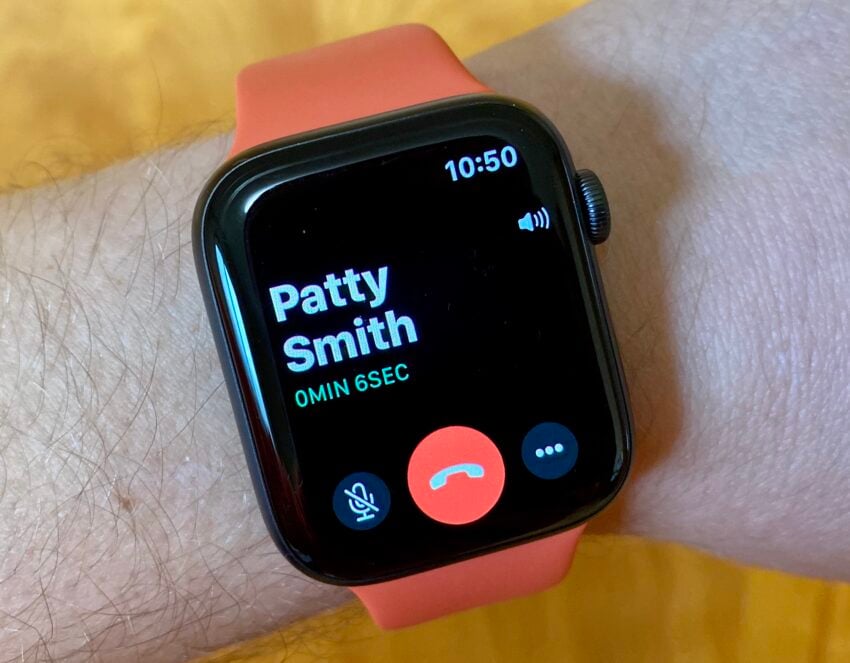 You can answer a call on your Apple Watch using it as a small Bluetooth speakerphone. You only want to use this for shorter calls because the audio quality isn't as good as when you are talking on speakerphone on your iPhone.
The Apple Watch only allows you to answer your calls on Speakerphone, so you won't want to use this all the time. It is very handy when you are working on a project or busy with your hands. Definitely be conscious of where you are taking calls. If you wouldn't talk on speakerphone, you shouldn't talk on your Apple Watch.
If you buy the new Apple Watch with LTE, you can even make calls on the Apple Watch without your iPhone nearby. This requires adding the watch to your plan for $10 a month. You cannot answer a FaceTime video call on the Apple Watch.

As an Amazon Associate I earn from qualifying purchases.