Apple Watch Pre-Orders: 7 Early Tips for Buyers
Apple Watch pre-orders start in early April, and you can already start to prepare for your pre-order and for the Apple Watch release date with these tips that will help you get the right Apple Watch and outline what you can expect from going to an Apple Store to try on the Apple Watch.
With the Apple Watch there are many combinations of size, color and watch bands that make for a bigger and possibly harder decision that you typically have with an iPhone or iPad purchase. Add in the fact that many people just want to try the apple Watch on to learn what it does and how it feels before they pre-order and the Apple Store Apple Watch experience is shaping up to be a brand new way to shop in the Apple Store.
You won't see any of this until you go in to an Apple Store on April 10th because the stores will transform overnight to include Apple Watch tables where you can look at the devices and where Apple Store employees will help you try them on.
Read: 20 Exciting Apple Watch Apps
Here is a collection of early tips for apple Watch buyers relating to Apple Watch pre-orders and what to expect in store on April 10th when you can start to try them on.
Apple Watch Appointments
Starting on April 10th you can go to an Apple Store to try on the Apple Watch, but you will need to make an appointment or at least wait for an opening to go hands on.
9to5Mac reports that Apple Stores will offer 15 minute appointments to try on the Apple Watch at 10 or more Apple Watch experience stations. Here you sill be able to try on various Apple Watch sizes, band options and Apple Watch models.
You don't need an appointment, but if you walk in without one you may see a short wait to go hands on. An employee will walk you through the Apple Watch features and other important details about the smart watch.
Apple Watch Pre-Order Date
The Apple Watch pre-orders start on April 10th, but you don't need to pre-order on this date if you aren't ready. You can pre-order the Apple Watch online and reports suggest you can also pre-order in store after you try one on.
We expect the Apple Watch pre-order time is in the middle of the night. Apple typically starts pre-orders for major devices at 12:01 AM Pacific or 3:01 AM Eastern. This isn't confirmed yet, but it is very likely that Apple will offer pre-orders before you can actually try the watch on.
Read: The Do's and Don'ts of Apple Watch Etiquette
It is also very likely that some combinations, like the Space Gray Apple Watch and Space Gray Apple Watch Sport will sell out faster than others during the pre-order period. A sell out won't mean Apple stops taking pre-orders, but the shipping date may slip well past the Apple Watch release date on April 24th.
Apple Watch Pre-Order for In Store Pickup
You won't need to wait for the Fedex or UPS delivery person to bring you your Apple Watch according to 9to5Mac. As part of the Apple Watch pre-order system, you should be able to reserve an Apple Watch for in store pickup from your iPhone or from a computer.
If you go in store to try on an Apple Watch before April 24th you will also likely be able to complete the Apple Watch reservation in store.
Compare Apple Watch Sizes
Right now you can start to decide which Apple Watch size you should buy. You can use a printable Apple Watch size guide or you can use the Apple Store app on your iPhone to compare the 438mm and 42mm Apple Watch sizes.
There is no set rule for how big your watch face should be, but you can check out our Apple Watch Size guide to figure out what Apple Watch size you should buy.
Pick Apple Watch Bands & Accessories
Use the Apple Store app to see the various Apple Watch Bands and Apple Watch models so that you can pick the watch that you want and the band that you love.
Read: Apple Watch vs Apple Watch Sport
The Apple Watch Sport and Apple Watch Sport bands both include two bands in the box, a medium and a large. With this in mind there is already an Apple Watch band trading service to help people trade the band they don't need for one in a different color. Use this service to see the different Apple Watch combinations online.
Apple also plans to sell Apple Watch bands in the Apple Store from $49.99 to $449.99. You can see the various options in the Apple Store now and check out the spare Apple Watch chargers.
Pick an Apple Watch Color
Most users will need to pick an Apple Watch color that is stainless or space gray. If you choose the Apple Watch Sport the options are stainless aluminum and Space Gray aluminum and if you go with the Apple Watch you can choose stainless steel and stainless steel with a Space Gray finish.
It looks like the Stainless options will match more Apple Watch bands, but you can use any band on any watch. Unless you upgrade to the $10,000 starting price for the Apple Watch Edition, these are the only color options you can choose.
Research Apple Watch Competitors
Before you decide to buy the Apple Watch you should check out the competition. Here is a fast look at other options you should at least consider before you buy an Apple Watch. The Pebble and Pebble Time are the only ones that works with the iPhone now, but there are rumors of Android Wear for iPhone in the works.
While you wait for the Apple Watch pre-orders, you can check what the Apple Watch can do in the slides below.
65 Exciting Things You Can Do With the Apple Watch
Answer Calls on the Apple Watch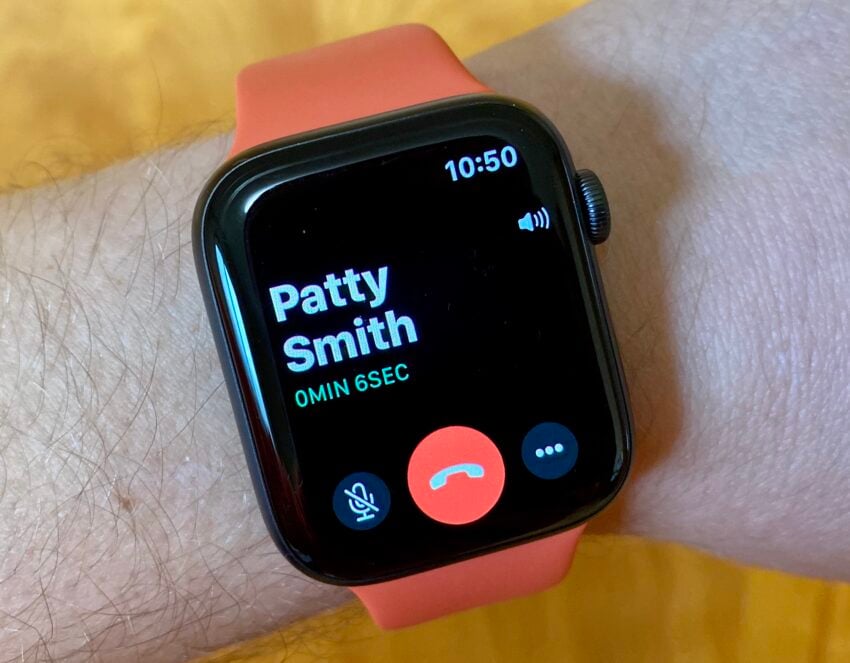 You can answer a call on your Apple Watch using it as a small Bluetooth speakerphone. You only want to use this for shorter calls because the audio quality isn't as good as when you are talking on speakerphone on your iPhone.
The Apple Watch only allows you to answer your calls on Speakerphone, so you won't want to use this all the time. It is very handy when you are working on a project or busy with your hands. Definitely be conscious of where you are taking calls. If you wouldn't talk on speakerphone, you shouldn't talk on your Apple Watch.
If you buy the new Apple Watch with LTE, you can even make calls on the Apple Watch without your iPhone nearby. This requires adding the watch to your plan for $10 a month. You cannot answer a FaceTime video call on the Apple Watch.