Apple Watch Release Date Confirmed
The Apple Watch release date is confirmed for April. Next month users will be able to walk into an Apple Store or go online and order the Apple Watch Sport, Apple Watch and Apple Watch Edition. At the Apple Event Tim Cook shared more details about the Apple Watch release.
Today Apple announced the Apple Watch release date, more details on the Apple Watch price and filled in many of the missing details.
Apple Watch pre-orders start on April 10th and you can check them our in stores on this date. The Apple Watch release date is April 24th. You can buy the Apple Watch direct from Apple. At this point you cannot buy the Apple Watch from Best Buy or from cell phone carriers.
Apple sells three models of the Apple Watch at various price points. The Apple Watch Sport and Apple Watch are priced reasonably enough to hit the budget of many users. The Apple Watch Edition in gold is more expensive with a focus on high-fashion.
Apple Watch Sport – $349 38mm and $399 42mm
Apple Watch – $549 to $1,049
Apple Watch Edition – $10,000 and up in limited quantities at select Apple Stores.
When you look at the Apple Watch, you see more than just a watch face. You can add weather, meetings and other details to the watch faces. When want to see more you can rely on glances.
Swipe up from the bottom of the Apple Watch to see glances. These are short and small glances into weather, music, and calendar information. You can also get notifications, manage email and even take calls on the Apple Watch. The Apple Watch also monitors your heart rate to track your overall fitness.
Apple invited Christy Turlington Burns on stage to highlight the health and fitness features of the watch. Christy ran the first half-Marathon with an Apple Watch. The Apple Watch can track your movement across a variety of exercise activities and can remind you to move. At the end of every week the Apple Watch will showcase your activity with a weekly summary.
You can switch between various Apple Watch bands so that you can wear a sport band while working out and upgrade to a fashionable band when you need to dress up. Apple Watch communicates with your iPhone with WiFi and Bluetooth so you can use the Apple Watch when you are at home and your iPhone is sitting in another room.
Some Apple Watch apps include a boarding pass from Passbook, Instagram, Uber and many others. In select hotels you can use the Apple Watch as your room key, without the need to stop at the front desk. With the right apps and accessories you can view security cameras and even opening a garage door.
The Apple Watch supports Apple Pay so you can make payments on the go. The Apple Watch supports notifications, showing you any alert that is on your phone including breaking news, sports scores and more.
The Apple Watch battery life is "all-day" according to Tim Cook. This is 18 hours of Apple Watch battery life.
You can see 25 things the Apple Watch can do in the slides below.
65 Exciting Things You Can Do With the Apple Watch
Answer Calls on the Apple Watch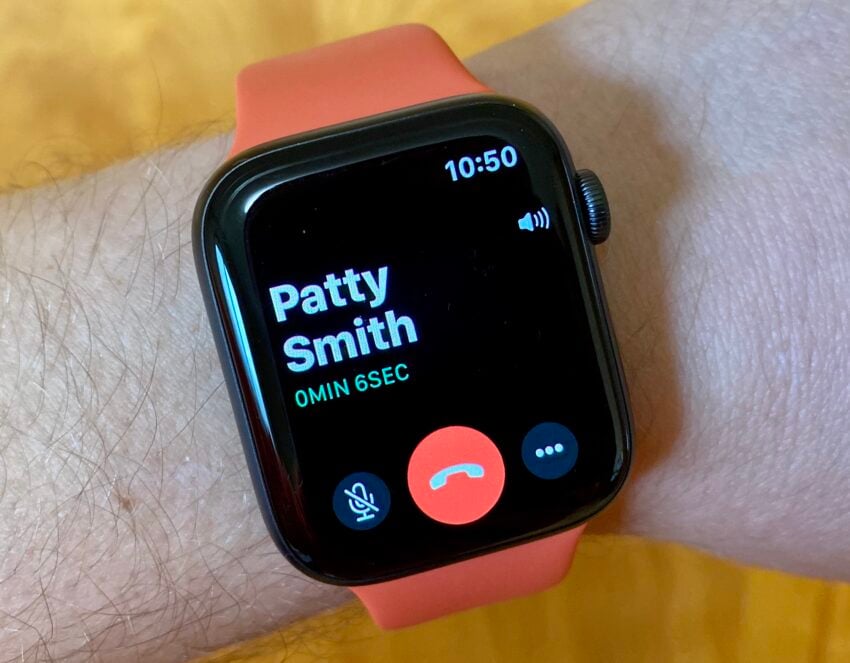 You can answer a call on your Apple Watch using it as a small Bluetooth speakerphone. You only want to use this for shorter calls because the audio quality isn't as good as when you are talking on speakerphone on your iPhone.
The Apple Watch only allows you to answer your calls on Speakerphone, so you won't want to use this all the time. It is very handy when you are working on a project or busy with your hands. Definitely be conscious of where you are taking calls. If you wouldn't talk on speakerphone, you shouldn't talk on your Apple Watch.
If you buy the new Apple Watch with LTE, you can even make calls on the Apple Watch without your iPhone nearby. This requires adding the watch to your plan for $10 a month. You cannot answer a FaceTime video call on the Apple Watch.