Apple Watch Shipments Start: 5 Things You Need to Know
The Apple Watch shipments are starting and that is great news for users who ordered right after midnight on April 10th. We are seeing reports of all Apple Watch models shipping, but some users are obviously worried because their Apple Watch order is still processing instead of preparing for shipment.
If you are waiting for your Apple Watch there are several important things that you need to know so that you don't go crazy waiting for your order status to update and to get your Apple Watch tracking number.
The earliest reports of Apple Watch shipments started on Sunday, but most started on Monday April 20th.  Apple still lists the delivery dates as a range from April 24 through May 8th for many users, but there are certainly some watches that will arrive on Friday.
Here is what you need to know about the Apple Watch shipments that started this week after months of hype and waiting.
Apple Watch Shipments & Early Delivery
The Apple Watch shipments started this week. The first step in this process is a credit or debit card charge. After this happens you should see your Apple Watch order status switch to preparing for shipment within a few hours. This is not instantaneous, so don't worry if this doesn't happen immediately.
Apple often ships quickly, but with instructions to hold the packages for delivery on the release date. There is often a few packages that slip through early, but don't expect an early delivery just because your tracking number initially shows a date before Friday.
Still Time for Apple Watch Deliveries By Friday
If you ordered right after midnight and your Apple Watch order status lists the first wave of April 24 through May 8th there is still hope. We are seeing Apple ramp up charges and shipments and expect to see widespread changes to order status in the next two days.
Depending how close you are to a distribution center and to shipping hubs you might not see a change in status until Wednesday or Thursday. There is no need to freak out about an order that is still processing.
If your deliver estimate is in a second or third wave it is unlikely that you will see a shipment this week, but you might soon see a bump up in release date soon after the first wave ships.
How to Check if Your Apple Watch Shipped
There are multiple ways to know if your Apple Watch order shipped. You can use our guide to check with Apple, check with your bank and direct with Fedex and UPS.
With a combination of these methods you should know as soon as something on your order changes. Refreshing and constantly checking the Apple Watch order status won't make it ship faster, but it won't hurt either.
Get an Alert with Apple Pay
If you used Apple Pay to buy the Apple Watch you will get a notification from the service when the charge hits your bank. This will appear as a notification on your lock screen and if you go to Passbook you can see the charges listed below the card you used.
If you go to Passbook and tap on the small i in a circle icon below the card to make sure card notifications are turned on.
Alert Credit Card if this is an Unusual Amount
If you don't typically spend this month on your credit or debit card you may want to contact the bank and let them know that this is a legitimate purchase. Sometimes a bank will see a major difference in purchase habits and hold the transaction.
You should also be on the lookout for an email that says we Couldn't Complete Your Order. If a failure happens you have seven days to set things right with your bank or Apple will cancel your Apple Watch order.
65 Exciting Things You Can Do With the Apple Watch
Answer Calls on the Apple Watch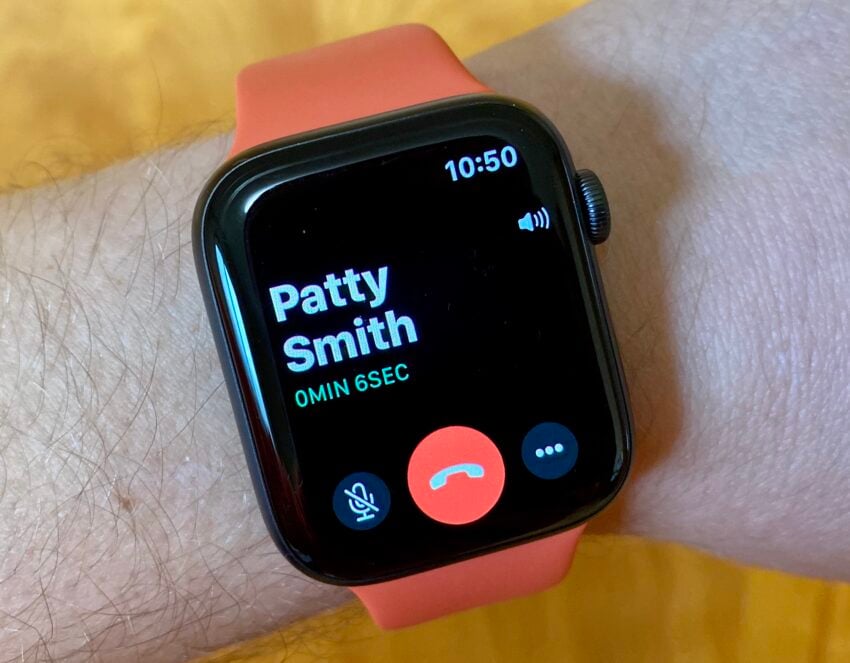 You can answer a call on your Apple Watch using it as a small Bluetooth speakerphone. You only want to use this for shorter calls because the audio quality isn't as good as when you are talking on speakerphone on your iPhone.
The Apple Watch only allows you to answer your calls on Speakerphone, so you won't want to use this all the time. It is very handy when you are working on a project or busy with your hands. Definitely be conscious of where you are taking calls. If you wouldn't talk on speakerphone, you shouldn't talk on your Apple Watch.
If you buy the new Apple Watch with LTE, you can even make calls on the Apple Watch without your iPhone nearby. This requires adding the watch to your plan for $10 a month. You cannot answer a FaceTime video call on the Apple Watch.

As an Amazon Associate I earn from qualifying purchases.