5 New Apple Watch Pre-Order Details
If you want to buy an Apple Watch that you get in two weeks you will need to take part in the Apple Watch pre-orders that start as soon as the clock ticks over to Friday on the west coast.
Apple is sharing new details about the Apple Watch pre-order process that you will need to know if you want a successful purchase and there are incredibly important details for any user that wants to buy more than one Apple Watch.
In a press release and in communication to business customers Apple outlined important new information about Apple Watch pre-orders.
Read: 25 Exciting Things the Apple Watch Can Do
The Apple Watch pre-orders start at 12:01 AM Pacific (3:01 AM Eastern) on Friday April 10th. This means a late night for users on the East coast and in the Midwest. The Apple Watch is available in three models with two sizes each and with multiple band options.
Here are the essential Apple Watch pre-order details that you need to know.
One Apple Watch Per Customer
Apple confirmed that you can only buy one Apple Watch per Apple ID. If you want to buy an Apple Watch for yourself and for a spouse or friend you will need to use their Apple ID for the purchase.
This may be a hassle for a small group of users, but it should cut down on resellers who would otherwise login at midnight to buy as many Apple Watch pre-orders as possible to resell them on eBay where some auctions are already listed above retail.
Apple Watch Pre-Orders Are Online Only
Rumors initially indicated that users could place an Apple Watch pre-order online or place an Apple Watch pre-order in store after trying on the Apple Watch at an Apple watch Try-on appointment. That is not the case. In the press release this morning and in an alert to business customers Apple announced that y0u can only place Apple Watch pre-orders online. If you go in store to try on the Apple Watch they can help you place an online order, but that's all.
No Apple Watch In Store Pickup
The Apple Watch release date is April 24th, but you cannot come in to the store to buy an Apple Watch. If you pre-order the Apple Watch online you can choose delivery to your home or business, but you cannot choose to pick it up in store.
You can take the Apple Watch in to an Apple Store for a personal setup, but you will not be able to pick it up there. This will change once the initial demand dies down.
You'll Need an Apple Watch Pre-Order
If you want an Apple Watch in April, you need to get online and place an Apple Watch pre-order tonight. this comes from an Apple Business team announcement and from Angela Ahrendts, Apple's senior vice president of Retail and Online Stores, who states,
"We are excited to welcome customers tomorrow and introduce them to Apple Watch, our most personal device yet. Based on the tremendous interest from people visiting our stores, as well as the number of customers who have gone to the Apple Online Store to mark their favorite Apple Watch ahead of availability, we expect that strong customer demand will exceed our supply at launch." 
Apple will not stop taking pre-orders after the release day deliveries sell out, but the delivery date will push out greatly.
Find Apple Watch Sales Locations
You'll need to order online, but if you want to see where you can buy an Apple Watch after that you can use the Apple Watch locate tool to find stores selling the Apple Watch. This tool also shows where you can buy the Apple Watch Edition, which is not on sale or available to try on at every Apple Store.
65 Exciting Things You Can Do With the Apple Watch
Answer Calls on the Apple Watch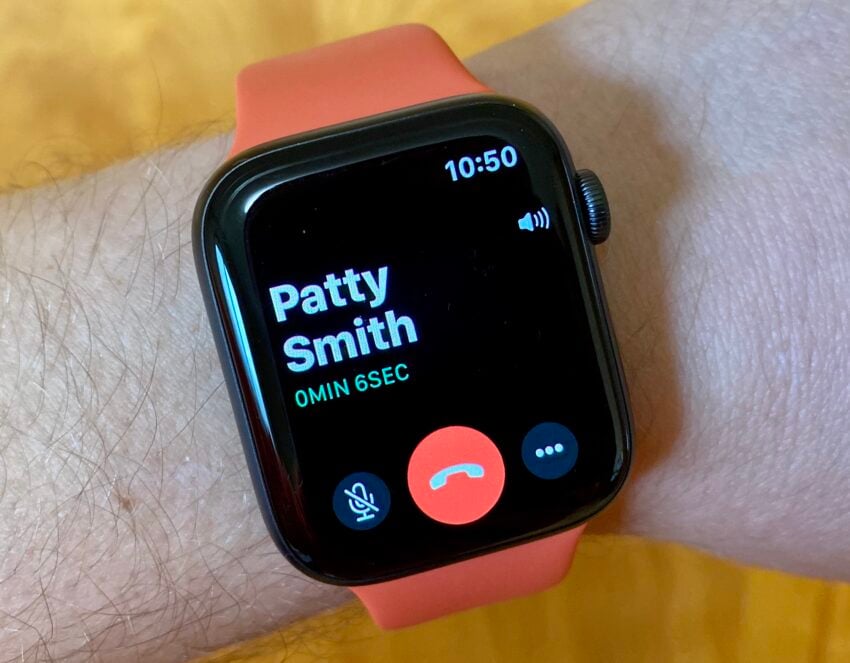 You can answer a call on your Apple Watch using it as a small Bluetooth speakerphone. You only want to use this for shorter calls because the audio quality isn't as good as when you are talking on speakerphone on your iPhone.
The Apple Watch only allows you to answer your calls on Speakerphone, so you won't want to use this all the time. It is very handy when you are working on a project or busy with your hands. Definitely be conscious of where you are taking calls. If you wouldn't talk on speakerphone, you shouldn't talk on your Apple Watch.
If you buy the new Apple Watch with LTE, you can even make calls on the Apple Watch without your iPhone nearby. This requires adding the watch to your plan for $10 a month. You cannot answer a FaceTime video call on the Apple Watch.