How Apple Watch Pre-Orders Work
New details outline how the Apple Watch pre-orders will work in April so that you can plan out your pre-order timing and get a better idea about how the process will work.
This is a mix of information that we've confirmed and what we expect from the Apple Watch pre-orders. We'll clearly identify the difference so you know what you still need to confirm before you go to an Apple Store.
The Apple Watch release date is set for April 24th online and in stores, but the pre-orders start two weeks before this so you can get started with your planning. We already shared tips for Apple Watch pre-orders to help you choose the right Apple Watch size and the model and Apple Watch bands you want.
Here are the important details about the Apple Watch pre-orders, Apple Watch try-on appointments and the process leading up to the Apple Watch release date.
Apple Watch Pre-Order Date
The Apple Watch pre-orders start on April 10th. This is two weeks before the Apple Watch release date. Apple already confirmed that you can pre-order online or in store.
You will need to go to an Apple Store if you want to see the Apple Watch in person. Carriers and retailers like Best Buy will not sell the Apple Watch at this time. There are a few high-end retailers across the globe where you can try on the Apple Watch or to buy it later in April.
At this point we don't know if the Apple Store locations will open early for the Apple Watch pre-order date, but we expect that they will open early on the Apple Watch release date.
Apple Watch Pre-Order Time
Apple did not confirm the Apple Watch pre-order time, but if there is one thing that we can count on from Apple it's a late night start.
Read: Apple Watch for Lefties
For key new product releases, Apple traditionally starts pre-orders at 12:01 AM Pacific, which is very early in the morning for anyone on the east coast. This is a 3:01 AM Eastern start time for many users in the U.S. We will likely know how this will play out before the pre-orders start, but it may not happen until the day of.
When & How to Schedule Apple Watch Appointments
Apple Stores will allow users to make Apple Watch appointments to try-on the various Apple Watch models. The appointments will last 15 minutes and if you are buying an Apple Watch Edition 30 minutes.
Read: Exciting Apple Watch Apps
By scheduling an appointment you can gain access to try on the Apple Watch without someone over your shoulder trying to steal your time with the watch. If you don't have an appointment you should still be able to go in and try on the Apple Watch, but you may need to wait for an opening.
According to 9to5Mac you can start booking an Apple Watch appointment to try the Apple Watch on starting on April 10th. You can do this online or in the Apple Store app. If you don't have an appointment, you can just stop in.
If you are an Apple Business customer you can contact a representative to try on the Apple Watch before the store opens during an iOS in Business event between April 10th and 24th. The exact date varies from one store to the next, but we found April 16th and April 18th are common dates.
It Matters Where You Pre-Order
Right now you can go online and order an iPhone 6 for in store pickup from Apple, but this is not something you can do right away with the Apple Watch according to reports.
Apple Stores confirmed that you can go in store on April 10th and pre-order the Apple Watch for pickup in store on the Apple Watch release date in late April.
If you pre-order the Apple Watch you need to choose delivery to your home or business according to a leak on 9to5Mac.
Apple Watch Release Date Pickup
If you choose to pre-order the Apple Watch in an Apple Store on April 10th, or before an unannounced cutoff date, you can come to the Apple Store to pick it up in store. Once the initial demand dies down, we expect that you will be able to order online and reserve for in store pickup.
Apple confirmed that no matter where you pre-order, you can go in to a local Apple Store for a personal setup session where an employee will help you pair the Apple Watch and customize it.
You can count on Apple Watch accessories and Apple Watch bands on sale in the Apple Store on release day.
65 Exciting Things You Can Do With the Apple Watch
Answer Calls on the Apple Watch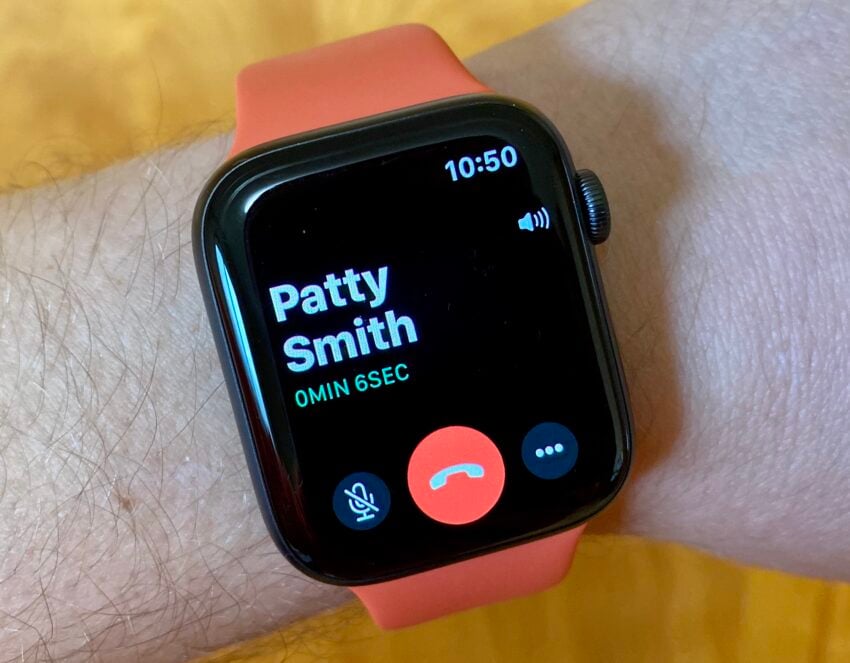 You can answer a call on your Apple Watch using it as a small Bluetooth speakerphone. You only want to use this for shorter calls because the audio quality isn't as good as when you are talking on speakerphone on your iPhone.
The Apple Watch only allows you to answer your calls on Speakerphone, so you won't want to use this all the time. It is very handy when you are working on a project or busy with your hands. Definitely be conscious of where you are taking calls. If you wouldn't talk on speakerphone, you shouldn't talk on your Apple Watch.
If you buy the new Apple Watch with LTE, you can even make calls on the Apple Watch without your iPhone nearby. This requires adding the watch to your plan for $10 a month. You cannot answer a FaceTime video call on the Apple Watch.

As an Amazon Associate I earn from qualifying purchases.