How to Check Apple Watch Order Status: 5 Ways to Know it Shipped
If you want to know if your Apple Watch shipped yet you can use these methods to check to see the status of your Apple Watch order. Of course checking will not make your Apple Watch ship faster, but as we pull close to the Apple Watch release date we expect to see shipments start very soon.
We are already seeing scattered reports of Apple charging users for Apple Watch pre-orders which is the last step before shipping your new watch to your door.
This guide will show you all the ways you can check your Apple Watch order status so that you can know as soon as your Apple Watch ships and your tracking number is available.
Apple will start shipping some Apple Watch orders this week if it is able to meet the April 24th release date that they company announced.
Right now the earliest Apple Watch shipping dates are listed as a range from April 24th through May 8th. We should soon see the shipments start. Here's how you can get an Apple Watch shipment notification and other ways to track your order.
Check Apple Watch Order Status
You don't need to wait for Apple to send you an email to know that your Apple Watch shipped. With the right apps or and knowing where to look you can get the tip-off even before Apple ships your Apple Watch.
Apple Watch Orders on Apple Website
Go to the Apple Store website and click on Check Order Status. You can see here what the order status is. You may see some small changes in the processing status before it ships.
On the Apple Store website you can also click Show Order Details and then turn on Shipment Notifications. This will send an email when your Apple Watch ships.
Apple Watch Shipment Notifications
If you already have your iPhone you should download the Apple Store app and login with your Apple ID and password.
Tap on Account and then tap on Order Status to turn on notifications. If prompted allow the store to send you notifications. With this on you will get a notification when the Apple Watch order status changes.
You can also tap on Orders and enter your password to check the Apple Watch order from your iPhone or iPad.
Check Your Bank Account
Just before the Apple Watch ships Apple will charge your bank account. If you can enable notifications on your phone for large purchases you can use this as a notification of its own.
If your bank doesn't support this feature you can still log in and check pending or complete charges to see if Apple charged you for the purchase price of your Apple Watch yet. Once this happens it is only a matter of time until Apple ships the watch.
Check Apple Watch Order Status with Reference
One other way you can check is to go direct to UPS  or Fedex and search by Shipment Reference. When you do this you need to use your 10-digit phone number as your tracking number.
This is a common trick to see if your iPhone order from Apple shipped early and it should work on the Apple Watch as well.
Go to the Fedex Track By Reference or to UPS and choose Track By Reference. Enter the phone number on your Apple Watch order, the shipping date ranges and destination information and click on Track.
Sign up for Fedex & UPS
Another great option is to sign up for My UPS and for Fedex Mobile tracking and to install the apps on your iPhone. The sign up is free and it takes only a few minutes.
Once set up you can tap and see any package coming to your house. These apps also give you access to the options to hold the package at a distribution center so you can pick it up there instead of waiting for it to arrive.
65 Exciting Things You Can Do With the Apple Watch
Answer Calls on the Apple Watch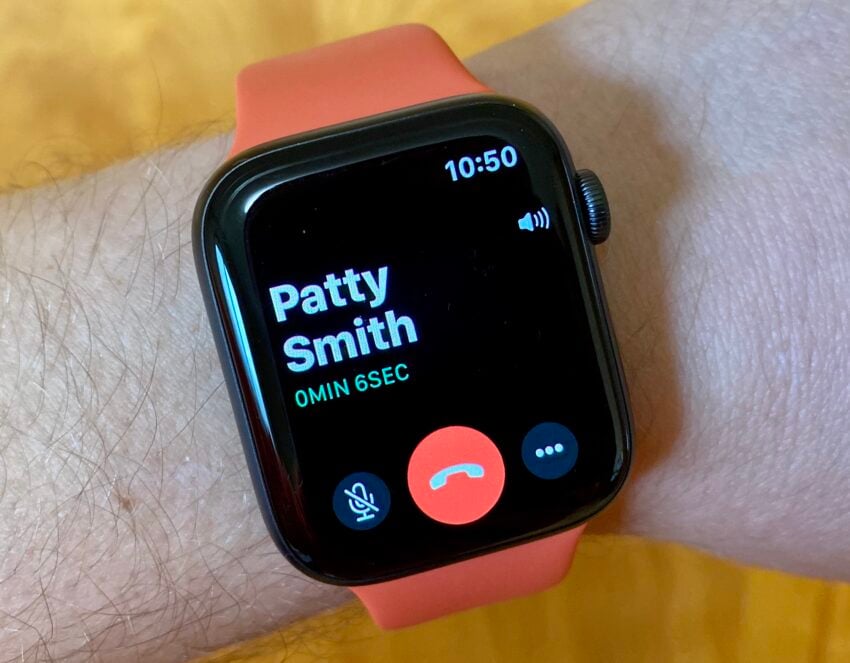 You can answer a call on your Apple Watch using it as a small Bluetooth speakerphone. You only want to use this for shorter calls because the audio quality isn't as good as when you are talking on speakerphone on your iPhone.
The Apple Watch only allows you to answer your calls on Speakerphone, so you won't want to use this all the time. It is very handy when you are working on a project or busy with your hands. Definitely be conscious of where you are taking calls. If you wouldn't talk on speakerphone, you shouldn't talk on your Apple Watch.
If you buy the new Apple Watch with LTE, you can even make calls on the Apple Watch without your iPhone nearby. This requires adding the watch to your plan for $10 a month. You cannot answer a FaceTime video call on the Apple Watch.