How to Prepare for the Apple Watch Delivery
The Apple Watch release date is this Friday and we'll walk you through how to prepare for your Apple Watch delivery with a collection of essential and important steps that will make sure your iPhone is ready to use with the Apple Watch as soon as it arrives.
After months of waiting the Apple Watch will soon be on our hands soon and if you want it to work great out of the box without additional setup and waiting you need to take a few steps now.
Read: How to Know if Your Apple Watch Shipped
You don't need to buy an Apple Watch stand, but if you want one to rest your Apple Watch on when it arrives you should order soon.
We'll assume you already have the Apple Watch order placed and you've tried on the Apple Watch. This will focus on users who are waiting for the Apple Watch to arrive so that they can start using it.
Some of this will be common sense for power users, but other users will certainly find actions that they need to take now to prepare for the Apple Watch shipments and deliveries.
Here are nine tips to Apple Watch buyers to prepare for the Apple Watch deliveries that start later this week.
Make Sure You Own an iPhone 5 or Newer
The Apple Watch only works with an iPhone 5 or newer. iOS 8.2 and iOS 8.3 work on the iPhone 4s, but this phone will not connect with the Apple Watch.
Read: What I Learned in an Hour with the Apple Watch
If you own an iPhone 4s or iPhone 4 you will need to take this time to upgrade to a new phone. Check out our iPhone 6 deals for April if you want to jump to the newest phone.
You can also buy an older iPhone 5 or iPhone 5c that is more affordable than the iPhone 6. It takes a little while to get this set up, so it is a good idea to buy this ahead of your Apple Watch delivery.
Update iPhone to iOS 8.2 or higher
In order to use the Apple Watch you need the Apple Watch app that comes with iOS 8.2. If you are jailbroken or just on an older version of iOS you will need to update now.
The iOS 8.2 and iOS 8.3 updates are free and both work with the Apple Watch. It is a good idea to jump straight to iOS 8.3. There are many bug fixes in the iOS 8.3 update that deliver fixes and performance improvements.
Here's how to upgrade to iOS 8.3 and what's new in iOS 8.3.
Update Your Apps
We're seeing a sharp uptick in iPhone apps that work with the Apple Watch and even though you cannot use the Apple Watch app store yet, you can download the new iPhone apps that add support for the Apple Watch.
Go to the App Store on your iPhone and update all the apps that you may want to use with the Apple Watch this week. The release notes include details on which apps work with the Apple Watch.
For users who already use automatic updates this isn't an issue, but any users turned this feature off after some apps broke with an auto update.
Clean Up Your Contacts
If your iPhone contacts are a mess, this is a good time to clean them up so that you can add the right contacts to the Apple Watch.
On the side of the Apple Watch is a button to access your favorite contacts with a push. You cannot select the Apple Watch contacts yet, but you can figure out what contacts you want on the watch and make sure you have the right contact info for them.
Open up the contacts app and clean up your contacts in the edit menu. If you need to do more cleanup you can remove duplicate iPhone contacts easily.
Learn How to Use the Apple Watch
Apple includes a collection of videos that explain how to use the Apple Watch. You'll save yourself time by watching these videos to learn the Apple Watch basics before your device arrives at your door.
https://youtu.be/_Zj5KisMVv8?list=PLHFlHpPjgk73J6C3PHUrDntzy6TQxBh44
The playlist above includes all the Apple Watch guide videos that are currently available including phone calls, Siri, Maps, Music, Messages, Faces and more.
Create iTunes Playlists
You can store some music on the Apple Watch so that you can listen to music without carrying your iPhone. This is one of the few things you can do on the Apple Watch without the iPhone.
https://www.youtube.com/watch?v=Pux_-R50Jew
You can only store a small amount of music on the Apple Watch, but it is enough that many users will enjoy this feature to listen to music while on the move.
Create a playlist or playlists that you want to sync to the Apple Watch. Sync this to your iPhone so that you can then sync it to the watch.
Set up Apple Pay
Check to see if your bank supports Apple Pay and if it does you can set up Apple Pay on your iPhone 6 or iPhone 6 Plus now.
Apple Pay will work with the Apple Watch even on older devices like the iPhone 5, iPhone 5c and iPhone 5s. This option may not appear until after you pair with the watch.
Think About Notifications
The Apple Watch can push notifications to your wrist, but you may not want to get every single notification on your wrist.
When you get the Apple Watch you will be able to control notifications in some fashion. We suggest thinking about what apps you want to get notifications for on your wrist and which ones will be too frequent or to annoying.
Pre-Sign for Delivery
If you are not going to be home when the Apple Watch delivery will happen you will likely need to pre-sign for the shipment.
Log in to your account and on the Apple Watch order status click on "Pre-sign for this shipment". Fill out the form and tape it to your door on the day you expect delivery.
65 Exciting Things You Can Do With the Apple Watch
Answer Calls on the Apple Watch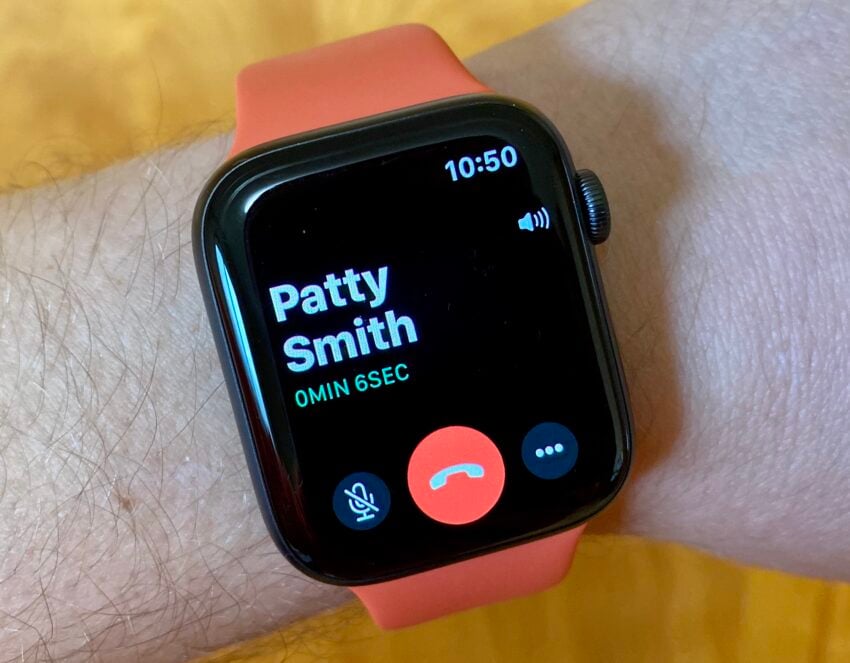 You can answer a call on your Apple Watch using it as a small Bluetooth speakerphone. You only want to use this for shorter calls because the audio quality isn't as good as when you are talking on speakerphone on your iPhone.
The Apple Watch only allows you to answer your calls on Speakerphone, so you won't want to use this all the time. It is very handy when you are working on a project or busy with your hands. Definitely be conscious of where you are taking calls. If you wouldn't talk on speakerphone, you shouldn't talk on your Apple Watch.
If you buy the new Apple Watch with LTE, you can even make calls on the Apple Watch without your iPhone nearby. This requires adding the watch to your plan for $10 a month. You cannot answer a FaceTime video call on the Apple Watch.

As an Amazon Associate I earn from qualifying purchases.