How to Send a Text Message from the Apple Watch
While you can make phone calls from your Apple Watch, you can also send text messages from the Apple Watch as well. Here's how to do it.
The Apple Watch is quite the device, and while it's a little over six months old now, it's still a very new smartwatch that even received its first major update since the initial release of the device back in April.
You can do all sorts of cool things on the Apple Watch, and while it relies on your iPhone for many of its functions, it's pretty impressive to essentially have a tiny computer strapped to your wrist, and one that make phone calls and send text messages without even touching your iPhone.
Read: Apple Watch Review
You can even use third-party apps that can run on your Apple Watch without needing your iPhone, with RunKeeper being one of them. RunKeeper can track your workouts without needing your iPhone on your person, which is pretty cool, but it's a feature that highly benefits having your iPhone with you for more accurate results since the Apple Watch doesn't have built-in GPS.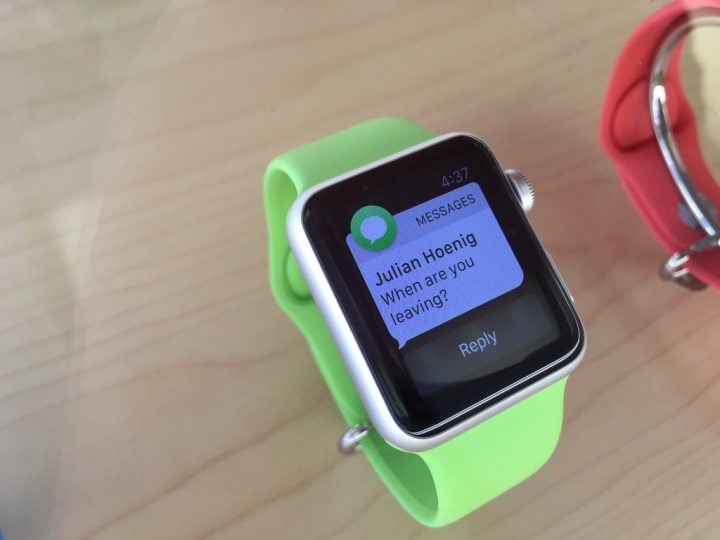 In any case, one nice feature of the Apple Watch is the ability to send text messages to another user right from the Apple Watch without even touching your iPhone. Here's how it works.
Sending Text Messages from Your Apple Watch
One thing to keep in mind when sending text messages from your Apple Watch is that there's no full-fledged QWERTY keyboard to type on, as that would be pretty ridiculous. Instead, you can use either pre-determined smart replies or voice dictation.
First of all, let's select a contact to send a text message to. You can do this by clicking on the side button to bring up your Favorite contacts or open up the Messages app from the app layout screen and either selecting an existing conversation or Force Touch on the screen to create a new text message.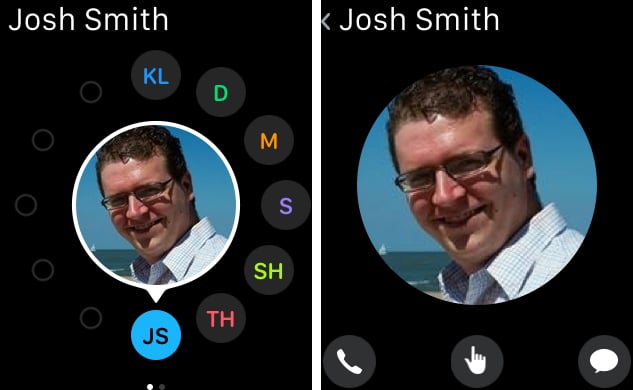 More likely than not, you'll begin a text message from your Favorites list, so simply select a contact and then tap on the speech bubble icon in the bottom-right corner. From there, you'll see a list of some "smart replies" that you can use, which are tailored to the person you're messaging based on past conversations. You can also add and customize more phrases by going into the Apple Watch app on your iPhone and navigating to Messages > Default Replies.
If the person you want to send a text message to isn't in your favorites, then you'll need to open up the Messages app from the app layout, Force Touch on the screen and select New Message. Tap on Add Contact and tap on the plus icon at the bottom to select a contact from your Contacts list. After that, tap on Create Message. You'll then receive the same screen as above.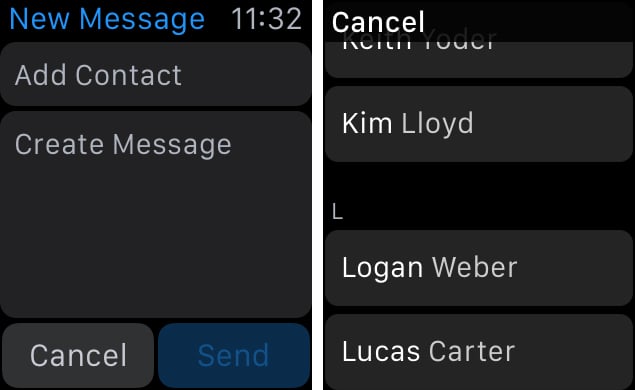 If there's no pre-determined phrase listed that you want to say, you can tap on the microphone icon to dictate your text message and then tap Done in the upper-right corner. Your watch may then ask you whether you want to send it as an audio message or a text dictation. In the future, you can have it automatically choose one by default in the Apple Watch app on your iPhone by going to Messages > Audio Messages.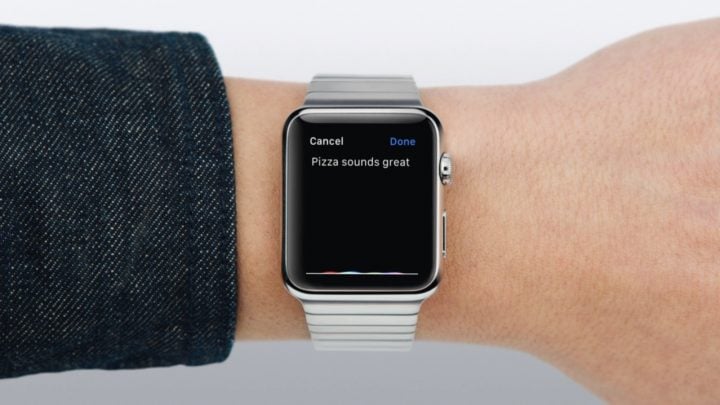 Next to the microphone icon is an emoji button, which allows you to send all kinds of animated emoji to someone through a text message if text alone isn't your cup of tea. You can select an emoji by spinning the Digital Crown to scroll through the options, and then click Send in the upper-right corner of the screen.
Replying to Text Messages from Your Apple Watch
If you receive a text message, you can reply to it from your Apple Watch.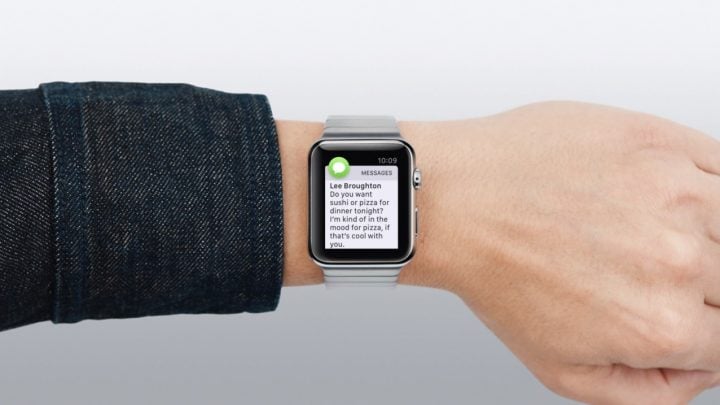 Raising your wrist will display the text message, and you can use the digital crown or the screen to scroll through the message. Then at the bottom, you can either Reply or Dismiss the text message.
Replying to the text message will give you the same options as above. You can choose from a list of smart replies or use voice dictation to create your own reply. You can also send an emoji.
65 Exciting Things You Can Do With the Apple Watch
Answer Calls on the Apple Watch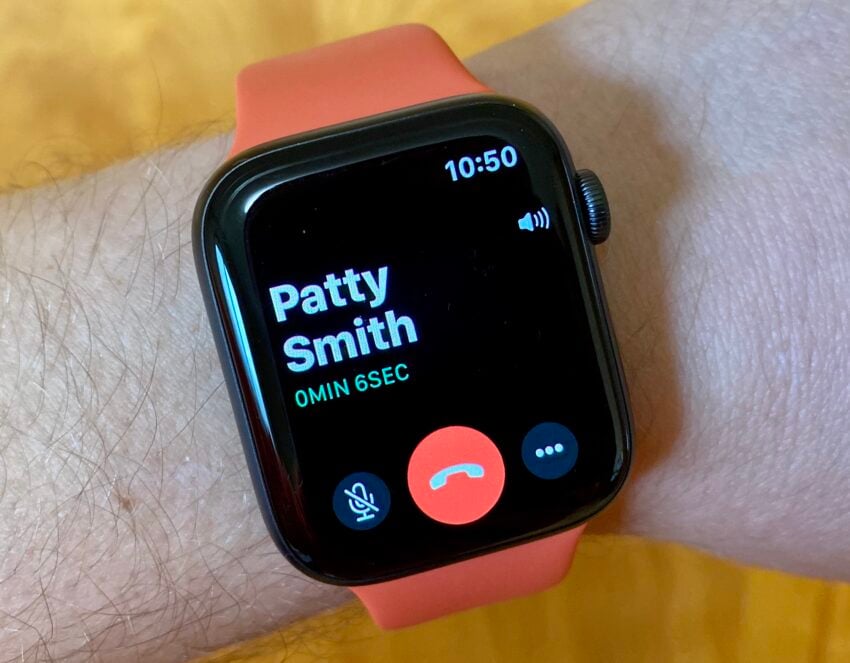 You can answer a call on your Apple Watch using it as a small Bluetooth speakerphone. You only want to use this for shorter calls because the audio quality isn't as good as when you are talking on speakerphone on your iPhone.
The Apple Watch only allows you to answer your calls on Speakerphone, so you won't want to use this all the time. It is very handy when you are working on a project or busy with your hands. Definitely be conscious of where you are taking calls. If you wouldn't talk on speakerphone, you shouldn't talk on your Apple Watch.
If you buy the new Apple Watch with LTE, you can even make calls on the Apple Watch without your iPhone nearby. This requires adding the watch to your plan for $10 a month. You cannot answer a FaceTime video call on the Apple Watch.