How to Use the Apple Watch Activity App
One of the big features on the Apple Watch is its fitness tracking abilities. Here's how to use the Apple Watch's Activity feature in order to become more active in your everyday life.
While the main features of the Apple Watch are all about creating an extension of your iPhone and putting it on your wrist, Activity is a feature that isn't hidden by any means, but is merely a secondary feature that can be extremely helpful for users who are looking to get back into shape and become more healthy.
While Activity could technically be considered an Apple Watch app of sorts, I feel like it's more of a feature that's built into the smartwatch. The device has all sorts of sensors that track your movement and translate it into readable data that you can then look at on your Apple Watch in order to meet your goals.
Read: 30 Apple Watch Tips, Tricks & Hidden Features
However, before we dive into how to use the Activity feature on the Apple Watch, it's important to know exactly what Activity is on the device and what it tracks.
Apple Watch Activity App
Simply put, the Activity feature on the Apple Watch tracks your movement throughout the day by gathering up a few different points of data, like steps taken, your heart rate, and whether or not you're sitting or standing.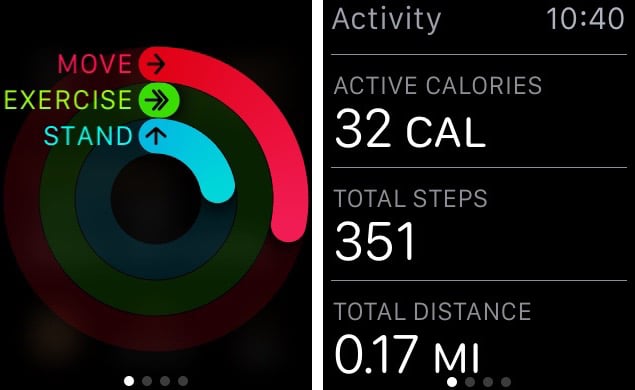 While it's not 100% accurate, it at least gives you a good idea of how much you're actually moving around throughout the day and whether or not you need to move around more than you are.
There are three main things that Activity tracks: How much you move in general, how much you exercise, and how often you stand up and move around every hour.
Read: How I Lost 25 Pounds Using the iPhone
In fact, these three things make up the three rings that you see front and center when you open up Activity on your Apple Watch (as well as the Activity app on your iPhone). The red ring is the Move ring, the green ring is the Exercise ring, and the blue ring is the Stand ring. Your goal every day is to fill up all three rings and increase your goal every now and then. That's basically how Activity works.
How to Use Apple Watch Activity
To access the Activity app on your Apple Watch, click on the Digital Crown and then find the app that has the three round colorful circles. Tap on it to open it up.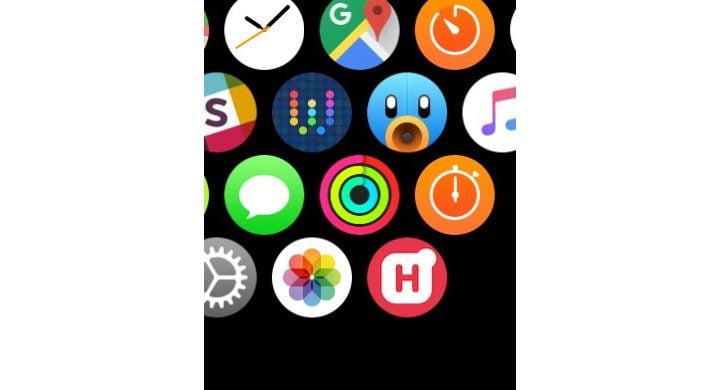 If you haven't yet opened up the app and set up, this is where you'll set it up. Tap on Get Started and then enter in your information such as your gender, age, weight, and height. Tap on Continue and then set an initial goal to go after. Then, tap Start Moving. You can also set up the Activity app on your iPhone.
Once the app is set up, it will begin tracking your activity. To get a better idea of each of the rings, here's what they track exactly:
Move: The Move ring tracks calories burned. The more calories you burn, the further the ring moves on. Your Apple Watch can automatically adjust your goals based on how often you move around on a daily basis. You can also adjust the goals yourself if you find Apple's own smart adjustments to be off a bit.
Exercise: The Exercise ring is self-explanatory. It tracks how often you're getting exercise. Essentially, if your Apple Watch detects a higher heart rate when you're moving around, this could count toward your Exercise goal.
Stand: The Stand ring tracks how often you're standing, but not how many minutes or hours that you're standing. Instead, as long as you get up and move around a bit every hour, that counts toward your Stand goal for the day. This ring is made up of 12 hours, so if you got up and moved around for a couple of minutes each hour for 12 hours, you'll fill up your Stand ring.
To view your activity progress throughout the day, you can simply just open up the Activity app on your Apple Watch or your iPhone. The iPhone app provides you with a bit more information, where you can look at a calendar of your Activity history and view past activity.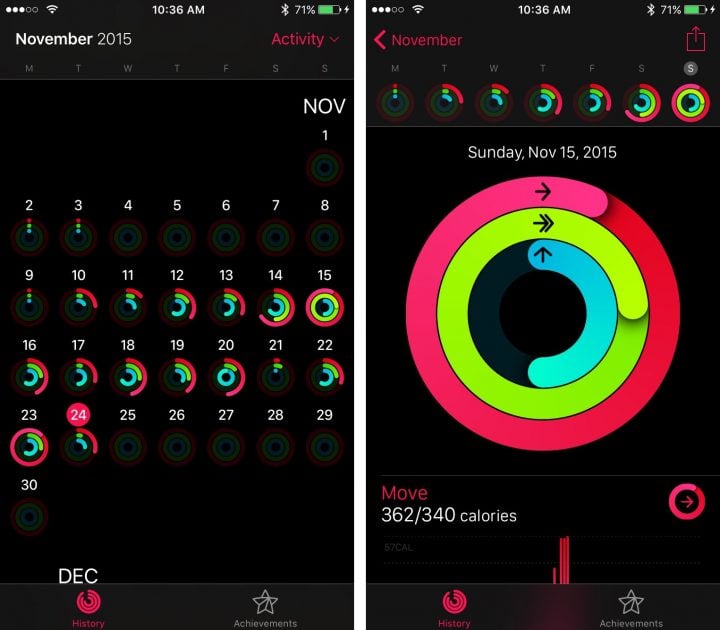 You can also add the Activity Glance to your Apple Watch for quicker access to the app. Simply just go into the Apple Watch app on your iPhone and tap on Glances. From there, tap Edit in the top-right corner and then tap on the green plus icon next to Activity to move it into the top section if it isn't already.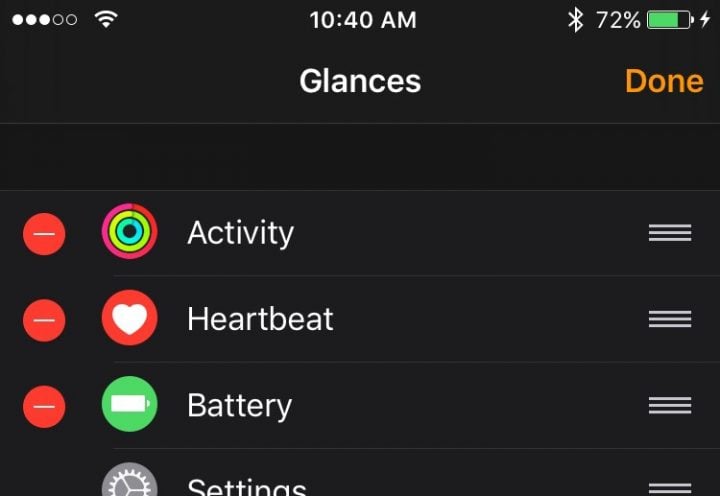 Now, on your Apple Watch, you can simply swipe up to bring up Glances and view the Activity app quickly and easily. Keep in mind that the Activity Glance will only let you view the three rings. For any further information, you'll have to go into the Activity app, which you can do by just tapping on the rings to open it up.
Customizing Activity Notifications
Do you need reminders when to get up and move around? Or are you interested in getting alerts on your progress throughout the day? You can customize notifications that you'll receive on your Apple Watch.
Go into the Apple Watch app on your iPhone and select Activity. From here, there are several toggle switches that you can adjust. You can receive stand reminders, progress updates, and notifications whenever you complete a goal or gain an achievement.
While the Apple Watch can do all sorts of cool stuff like answer phone calls and reply to text messages, it's secret feature is getting you in shape and moving around more, and that's perhaps the best part: your Apple Watch is making you move around more without really even knowing it, and you feel compelled to meet your daily goal.
65 Exciting Things You Can Do With the Apple Watch
Answer Calls on the Apple Watch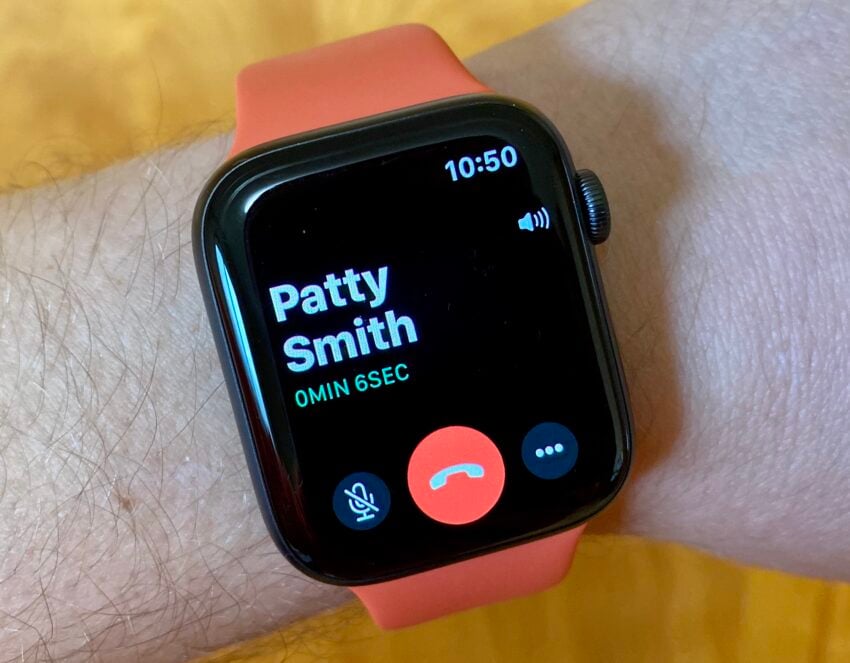 You can answer a call on your Apple Watch using it as a small Bluetooth speakerphone. You only want to use this for shorter calls because the audio quality isn't as good as when you are talking on speakerphone on your iPhone.
The Apple Watch only allows you to answer your calls on Speakerphone, so you won't want to use this all the time. It is very handy when you are working on a project or busy with your hands. Definitely be conscious of where you are taking calls. If you wouldn't talk on speakerphone, you shouldn't talk on your Apple Watch.
If you buy the new Apple Watch with LTE, you can even make calls on the Apple Watch without your iPhone nearby. This requires adding the watch to your plan for $10 a month. You cannot answer a FaceTime video call on the Apple Watch.

As an Amazon Associate I earn from qualifying purchases.