How to Watch Apple Event Live Stream: Windows, Android & Mac
You can watch the March 2015 Apple Watch event live on Windows, Android, Mac, iPhone and iPad to see all the new Apple Watch features and possibly a new MacBook Air Retina. You can also count on an iOS 8.2 release announcement at the event.
Update: How to Watch the September 2015 Apple Event for the iPhone 6s and iOS 9.
This guide will show you how to watch the March Apple event live from almost any device so you can see the reveal as it happens, even if you don't use a Mac. We also outline the Apple Watch event start time for various time zones.
There is an official Apple Watch live stream that will show Tim Cook and other Apple executives on stage today, March 9th, so you don't need to look for a YouTube Apple event live stream.
Read: Apple Watch Release Date Confirmed
Officially the Apple Watch event live stream is only available on Mac, iPhone, iPad, iPod touch and Apple TV. If you don't have one of these, or just want to watch on a bigger screen we'll show you how to watch the Apple Event live on Windows so you don't have to wait for the full replay to go online later today or tomorrow.
The last Apple event live stream was smooth, but in September it wasn't. This was the first time Apple showed off the Apple Watch on stage. Today we expect to learn more about the Apple Watch features, Apple Watch price, how Apple Watch bands will work and more. You can also count on Apple Watch release date announcement and possibly Apple Watch pre-order information.
If you want to watch the Apple Watch event live stream on Windows the process is a little more complicated, but we have a feeling you'll want to see this event on a screen bigger than your iPhone's.
2015 Apple Watch Event Start Time
The March Apple event starts at 10AM Pacific / 1PM Eastern on March 9th. If you are watching from work or from a late lunch , here is what you need to watch the Apple event live stream on almost any device.
08:00AM – Hawaii
10:00AM – Pacific
11:00AM – Mountain
12:00PM – Central
01:00PM – Eastern
02:00PM – São Paulo
06:00PM – London
07:00PM – Paris
09:00PM – Moscow
02:00AM – Tokyo (6/11)
03:00AM – Australia (6/11)
05:00AM – New Zealand (6/11)
Use these Apple event start times to know when you need to tune in to watch the Apple Watch event live.
How to Watch Apple Watch Event Live on iPhone, iPad, Mac or Apple TV
The best way to watch the Apple event live on the iPhone, iPad or Mac is to go to Apple.com/live in Safari. This link takes you to the Apple Watch live stream and about 10 minutes before the event you should see the video come to life.
Visiting this link in Chrome or another browser will not work, so make sure you use Safari to watch the Apple Watch event live stream on your Apple devices.
Read: Apple Watch Do's and Don'ts
If you prefer to watch on a bigger screen you can watch the Apple Watch event on your Apple TV. For this to work you need the Apple TV 2 or Apple TV 3 with recent software. Go to the Special Events app on the main screen to watch the Apple Watch event live on Apple TV.
How to Watch the Apple Watch Event Live on Windows & Android
Watching the Apple Watch event live on Windows is a little more involved, but you can still set this up in less than 10 minutes. You need to download the free VLC Player and when the Apple event live stream starts you will need to get the link from that page.
To get started, download VLC Player and install on your Windows computer. If you plan to watch at work you should make sure you can install this now. If you don't have permissions to install the software, you can try installing a Chrome VLC plugin. On Android you need to download the VLC Player from the Google Play Store.
On Windows click on Media -> Open Network Stream. In the box that appears you need to paste the URL of the March Apple event live stream. On Android tap on the triangle with WiFi waves coming out of it, this is to the right of the search icon. Paste the URL below into the pop up.  Twitter user D, discovered the Apple Watch event live stream URL so that you can watch the event live on Windows and Android
https://p.events-delivery.apple.com.edgesuite.net/1503ohibasdvoihbasfdv/m3u8/atv_mvp.m3u8
Another option is to install the VLC plugin in Chrome and visit the Apple live stream page. The plugin should detect the live stream and play it in your browser.
March 2015 Apple Event Expectations
At the first 2015 Apple event you can count on Tim Cook and other executives to answer many remaining Apple Watch questions including when will Apple Watch pre-orders start, what are the Apple Watch prices and when is the Apple Watch release date.
We already know much about the Apple Watch, but this event should answer most of the remaining questions that buyers need to know before trying one on in store.
All signs also point to an iOS 8.2 release today or the announcement of the iOS 8.2 release date in the near future. The iOS 8.2 update adds an Apple Watch companion app that lets users control the Apple Watch. We could hear Apple talk about the rumored iOS 8.3 beta that will point to a public iOS 9 beta later this year.
Rumors are split on a 2015 MacBook Air Retina release at this event. or the last year rumors focused on a 12-inch MacBook Air with a Retina display and a smaller redesigned body. We could see Apple announce this today and put it up on sale immediately. The Apple Store is currently down.
Check out what the Apple Watch can do in the slides below.
65 Exciting Things You Can Do With the Apple Watch
Answer Calls on the Apple Watch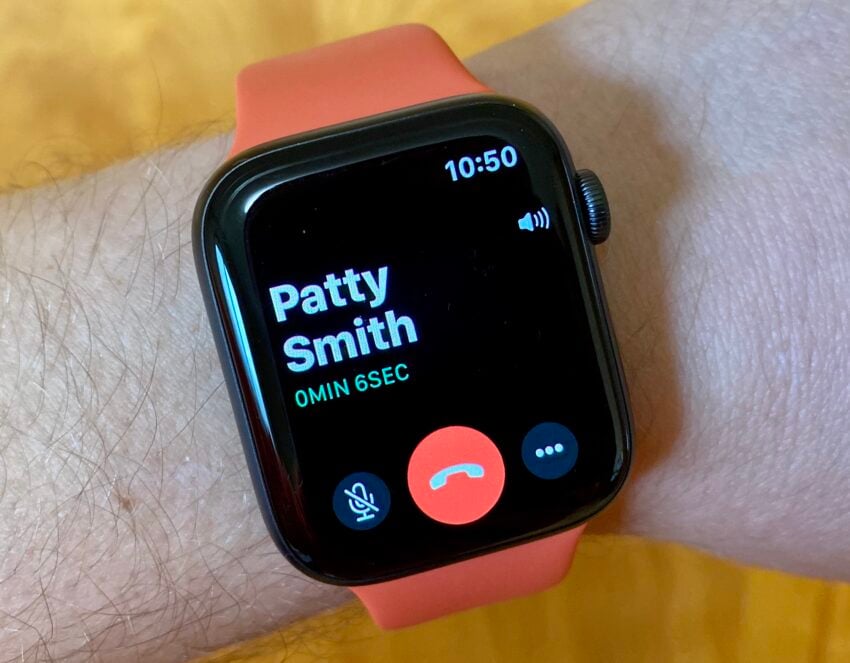 You can answer a call on your Apple Watch using it as a small Bluetooth speakerphone. You only want to use this for shorter calls because the audio quality isn't as good as when you are talking on speakerphone on your iPhone.
The Apple Watch only allows you to answer your calls on Speakerphone, so you won't want to use this all the time. It is very handy when you are working on a project or busy with your hands. Definitely be conscious of where you are taking calls. If you wouldn't talk on speakerphone, you shouldn't talk on your Apple Watch.
If you buy the new Apple Watch with LTE, you can even make calls on the Apple Watch without your iPhone nearby. This requires adding the watch to your plan for $10 a month. You cannot answer a FaceTime video call on the Apple Watch.

As an Amazon Associate I earn from qualifying purchases.