iPhone 5s, Apple Pay & Apple Watch: What You Need to Know
There is no iPhone 5s Apple Pay support yet, but the Apple Watch release will allow iPhone 5s, iPhone 5c and iPhone 5 owners to make payments using the Apple Watch.
In the months after the Apple Pay announcement we've seen an uptick in the number of stores that support Apple Pay payments and in the number of banks and credit unions that are part of Apple Pay.
In April we will see another step in the evolution of the payment solution when Apple Pay iPhone 5s support finally arrives with an iOS 8.2 update and the Apple Watch release.
Apple announced the Apple Watch in 2014, and Apple Pay is already in use on the iPhone 6 and iPhone 6 Plus, but it isn't until the Apple Watch arrives to bring the needed NFC support that we will see the iPhone 5s Apple Pay option go live.
For users who are eager to use Apple Pay and take their wallet mobile, the Apple Watch release is an important date. The iPhone 6 and iPhone 6 Plus support the payment service and we should see it on the iPhone 6s this fall, but many are stuck on contracts and are waiting for Apple Pay support on older iPhones.
It won't be cheap to get iPhone 5, iPhone 5c or iPhone 5s Apple Pay support, but it will be cheaper than buying an iPhone 6 off contract. The Apple Watch price is $349 to start. That is for the Apple Watch Sport. The Apple Watch and Apple Watch limited will retail for more than that, and in the case of the Watch Limited it will be much higher.
Apple Pay + iPhone 5s + Apple Watch
Still, the ability to gain access to all of the Apple Watch features with older iPhones and add Apple Pay to the iPhone 5s, is an interesting value proposition.
Once you have the Apple Watch paired with the iPhone 5s, Phone 5 or iPhone 5c you can use it to make payments at one of the growing number of Apple Pay supported retailers. If you see an Pay logo or a PayPass style logo you can make a payment there by tapping the Apple Watch to the payment area.
You will need to have the Apple Watch paired to the phone and Apple Pay configured for this to work. If you leave your iPhone at home, the Apple Watch will not let you make a payment.
To pay in store with Apple Pay on the Apple Watch you will need to double tap the button next to the Digital Crown. This will activate Apple Pay. You can pay at a variety of stores including Apple, American Eagle, Bloomingdale's, Disney Store, Chevron, McDonald's Macy's, Meijer, Panera, Subway, Staples, Sephora, Walgreens, Whole Foods and more.
Apple Pay on the iPhone 5s, iPhone 5 and iPhone 5c support the same cards and banks as Apple Pay on the iPhone 6. The list grows often, but many smaller banks and community banks are not on the list. The Apple Pay service supports Visa, MasterCard and American Express. There is no support for Discover.
What's Missing from iPhone 5s Apple Pay Support
There is one thing that iPhone 5, iPhone 5c and iPhone 5s Apple Pay users will miss out on while using the payment service on the Apple Watch. The Apple Watch Apple Pay support only works in stores that accept Apple Pay.
If you own the iPhone 6, iPhone 6 Plus, iPad Air 2 or iPad mini 3 you can also use Apple Pay in apps. This includes Disney, Panera, lyft, Staples, Target, Stubhub and Starbucks. In stores that support Apple Pay you can still use the Apple Watch to make an Apple Pay purchase with the iPhone 5s, but you can't use it in the numerous Apple Pay apps.
What The Apple Watch Can Do
The Apple Watch does more than let you use Apple Pay on the iPhone 5s and other iPhones. You can change watch faces, get alerts, use Siri, get directions and much more. Check out the most exciting things the Apple Watch can do in the slides below.
65 Exciting Things You Can Do With the Apple Watch
Answer Calls on the Apple Watch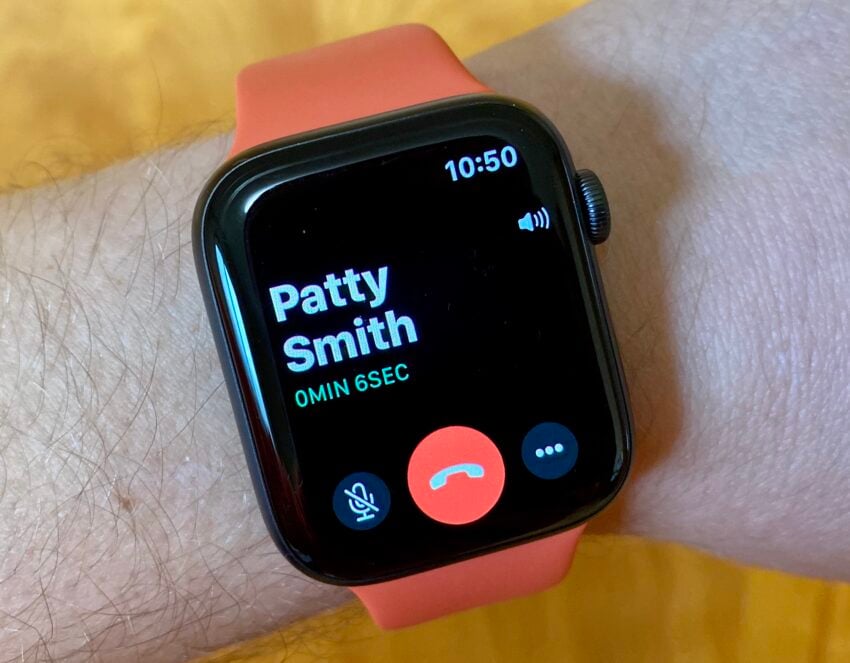 You can answer a call on your Apple Watch using it as a small Bluetooth speakerphone. You only want to use this for shorter calls because the audio quality isn't as good as when you are talking on speakerphone on your iPhone.
The Apple Watch only allows you to answer your calls on Speakerphone, so you won't want to use this all the time. It is very handy when you are working on a project or busy with your hands. Definitely be conscious of where you are taking calls. If you wouldn't talk on speakerphone, you shouldn't talk on your Apple Watch.
If you buy the new Apple Watch with LTE, you can even make calls on the Apple Watch without your iPhone nearby. This requires adding the watch to your plan for $10 a month. You cannot answer a FaceTime video call on the Apple Watch.