5 New Apple Watch Release Date Details
The Apple Watch release date in the U.S and several other countries is quickly approaching, and while you have a few weeks of waiting left most shoppers will need to take action in less than a week. This early guide to the Apple Watch release date will cover the latest information including how to buy the Apple Watch.
You might think that you can walk into an Apple Store on the Apple Watch release, or at least line up in a long line like you do for the iPhone, but that is not going to result in a good experience as you won't come away with an Apple Watch.
Even though Apple featured the Apple Watch at two different events the company continues to let new information trickle out about how to use the Apple Watch, what it's like to wear it and how to order the Apple Watch.
Up until the latest official announcement it looked like ordering the Apple Watch online would only allow users to choose delivery, but there is a new confirmation that could convince you to get up for the middle of the night Apple Watch pre-order process.
Apple Watch Release Date
The Apple Watch release date is April 24th in stores and online. The Apple Watch pre-orders start this Friday April 10th. This is two weeks before the Apple Watch release date and it is an essential step for users to take.
On Friday Apple confirmed to CNET that there are no walk-in purchases on the Apple Watch release date. Everything will run through an Apple Watch reservation system online.
Read: 7 Things You Can Do on the Apple Watch Without the iPhone
The Apple Watch pre-orders start this week and will last through the Apple Watch release date, but if you want to walk into a store and buy an Apple Watch on April 24th you'll need to taker action early.
Apple Watch Pre-Order for In Store Pickup
Up until last week rumors indicated that you could not place an online order to pick up the Apple Watch at a local Apple Store on the Apple Watch release date. the good news for users who aren't close enough to pull off two trips to the Apple Store in two weeks is that it is possible to order the Apple Watch online for in-store pickup on the Apple Watch release date.
Read: 9 Things You Need to Know About Apple Watch Pre-orders
Apple confirmed on Friday that you can place an order for the Apple Watch online for shipment or for pickup in a local Apple Store.
How to Buy the Apple Watch
Here's how to buy the Apple Watch online or in store. You can start the process in either location. If you are a business owner you won't get an Apple Watch deal, but you can get help from a business specialist to place your order for you.
Buy Apple Watch Online
You can buy the Apple Watch online in the Apple App Store app or on Apple.com. Here you can choose the model you want and decide if you want to pick it up in a store on the Apple Watch release date or if you want Apple to ship it to you. These orders start at 12:01 AM Pacific on April 10th.
Buy an Apple Watch at an Apple Store
You can also go to an Apple Store to try on the Apple Watch on April 10th. After you try on one of the various models and combinations that they offer you can choose to place an order in the store. This will likely involve using the online checkout process in the store.
Read: 20 Exciting Apple Watch Apps
Apple Watch Questions Answered
You can call a specialist at Apple to get your Apple Watch questions answered so that you are ready to buy and ready to get one on the Apple Watch release date. Call 1-800-My-APPLE to talk to an Apple Watch specialist about the watches.
Schedule Apple Watch Try-On
Starting on April 10th you can schedule an appointment to try on the Apple Watch in store. This will be a 15-minute demonstration to try on various Apple Watch sizes, models and bands. You can't try on every single combination, but this will let you experience some of the Apple Watch features and figure out if you should buy the 38mm or 42mm Apple Watch size and which model and band you like best.
Read: Why You Can't Afford the Apple Watch
Apple Watch Guided Tour Videos
If you can't go to an Apple Store you can use the Apple Watch Guided Tour videos for a virtual Apple Watch try-on experience. These new videos walk you through what the Apple Watch can do. Here are four Apple watch videos you need to see before the Apple Watch release date.
https://youtu.be/LHdVkPrdRYg
The video above is a short introduction the Apple Watch, including what it can do when you connect to the iPhone. This video also shows some of the common Apple Watch tasks including heart rate monitoring, notifications, motion sensing and more.
https://www.youtube.com/watch?v=kMhqSeNMSDA
In this next video you'll see how Apple Watch messages work. When connected to the iPhone you'll get a notification and you can choose to reply from your wrist with a canned reply or by dictating to the Watch. That's just a start. The Apple Watch also lets you send voice messages and Apple Watch emoji.
https://youtu.be/qPYtz6vSMOw
In the minute-long video above Apple highlights the Digital Touch features that let you share a heartbeat or share a sketch with a friend.
https://www.youtube.com/watch?v=N6ezjg6-0hU
Finally, Apple offers a good look at the Apple Watch faces. You can only use Apple Watch faces provided by Apple, but you can add many small pieces of information to the face including how many details are on the display, the color of the on-screen information, calendar events, weather and more.
Check out 25 exciting things the Apple Watch can do in the slides below to see more about what you can do with the Apple Watch.
65 Exciting Things You Can Do With the Apple Watch
Answer Calls on the Apple Watch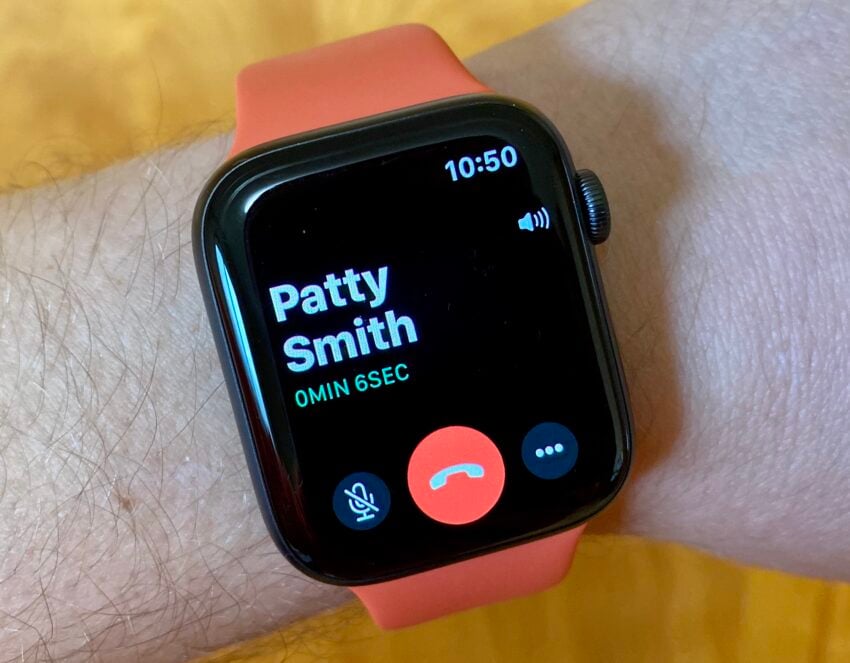 You can answer a call on your Apple Watch using it as a small Bluetooth speakerphone. You only want to use this for shorter calls because the audio quality isn't as good as when you are talking on speakerphone on your iPhone.
The Apple Watch only allows you to answer your calls on Speakerphone, so you won't want to use this all the time. It is very handy when you are working on a project or busy with your hands. Definitely be conscious of where you are taking calls. If you wouldn't talk on speakerphone, you shouldn't talk on your Apple Watch.
If you buy the new Apple Watch with LTE, you can even make calls on the Apple Watch without your iPhone nearby. This requires adding the watch to your plan for $10 a month. You cannot answer a FaceTime video call on the Apple Watch.