T-Mobile Offering Zero Down Apple Watch
It wasn't long ago that T-Mobile did away with contracts and moved to offering smartphones for equal monthly payments. No early termination fee – if you wanted to leave the carrier, you just paid off your phone and went.
Now, in what seems to be a first-of-its-kind offering, the company is making Apple Watch available for the same deal. Starting this Friday – which is also the launch day for Apple's new iPhone 6s and iPhone 6s Plus – T-Mobile will let customers pick up an Apple Watch Sport for zero money down. Zero-interest payments are spread out over two years.
Unlike buying a smartwatch from Apple's retail stores, you won't be able to come in, try on the Watch, and pick out any band you want – instead, there's a limited selection of Watch bands available – the most popular choices are packaged in, however, and you'll still be able to buy additional bands directly from Apple.
The available models include:
Apple Watch Sport – Silver Aluminum with White Sport Band (38mm & 42mm)

Apple Watch Sport – Space Grey with Black Sport Band (38mm & 42mm)

Apple Watch Sport – Rose Gold with Lavender Sport Band (38mm only)

Apple Watch Sport – Rose Gold with Stone Sport Band (42mm only)

Apple Watch Sport – Gold Aluminum with Antique White Sport Band (38mm)

Apple Watch Sport – Gold Aluminum with  Midnight Blue Sport Band (4

2mm)
T-Mobile is limiting the financing option to in-store purchases made at one of the company's 203 participating locations.  You can find a full list here.
Buyers who pick up a 38mm model can expect to pay just $14.54 a month for two years, and an additional four cents the final month. If you want a 42mm Apple Watch Sport, you'll need to shell out $16.62 each month, with the final month costing an additional twelve cents.
If you're content to pay full price – or just not lucky enough to live near one of the limited cities – you'll be able to snag one of the Sport packages on T-Mobile's website (a nice option if you'd prefer to pick up a phone at the same time). They'll also be offering the stainless steel Apple Watch with a White Sport Band, and Spack Black stainless steel model with Black Sport Band, in both sizes, on their website.
65 Exciting Things You Can Do With the Apple Watch
Answer Calls on the Apple Watch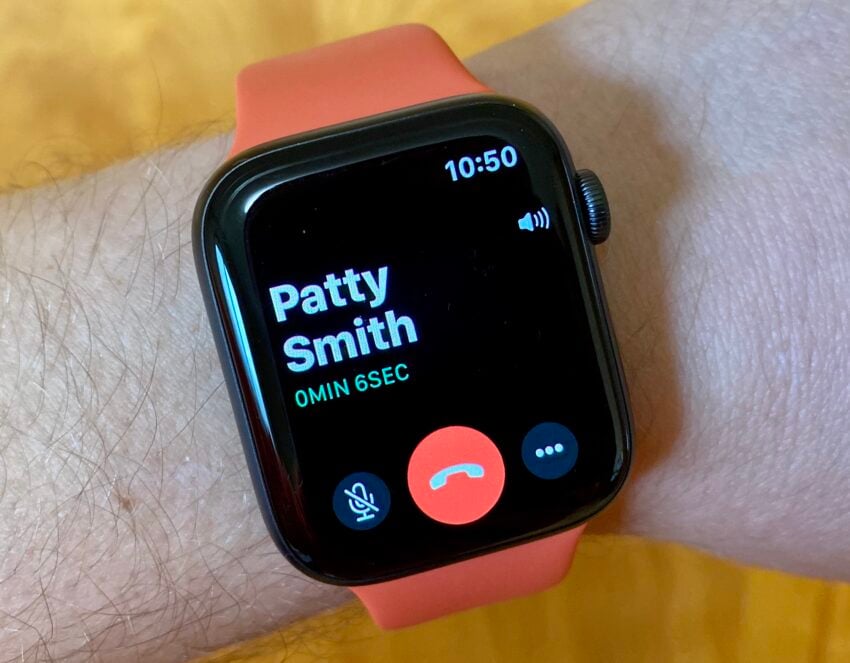 You can answer a call on your Apple Watch using it as a small Bluetooth speakerphone. You only want to use this for shorter calls because the audio quality isn't as good as when you are talking on speakerphone on your iPhone.
The Apple Watch only allows you to answer your calls on Speakerphone, so you won't want to use this all the time. It is very handy when you are working on a project or busy with your hands. Definitely be conscious of where you are taking calls. If you wouldn't talk on speakerphone, you shouldn't talk on your Apple Watch.
If you buy the new Apple Watch with LTE, you can even make calls on the Apple Watch without your iPhone nearby. This requires adding the watch to your plan for $10 a month. You cannot answer a FaceTime video call on the Apple Watch.